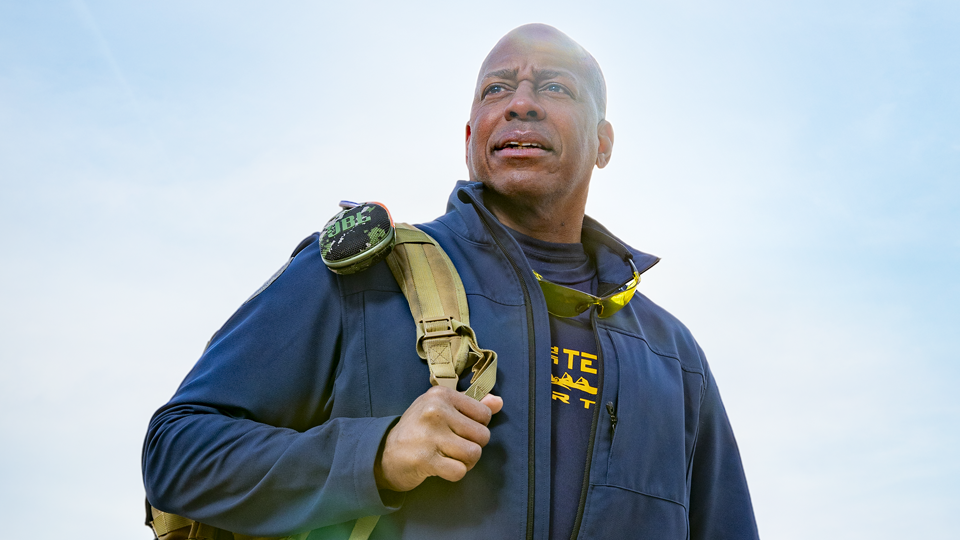 EMT alumnus helps keep city beaches, parks and neighborhoods safe
Lloyd Seawright was never a Boy Scout. But he is always prepared.
At a moment's notice, the muscular Seawright can administer first aid to a gunshot victim, pile up heavy sandbags to stanch flooding from a swollen river, pull a homeowner from a burning building and clear away fallen trees from a storm-ravaged road or save a swimmer from the chilly, treacherous waters of Lake Michigan.
Almost like a superhero, Seawright casts a watchful eye over his environs, always vigilant, always ready to respond. He learned how to save lives and respond to emergencies at MATC, graduating from the college's Emergency Medical Technician program in 2012.
"The basics of everything I know I received at MATC. It was the beginning of my real emergency-medical background and I took to it like a fish in water," Seawright said.
Today, Seawright serves as a beach ambassador at Milwaukee's Bradford Beach, volunteers for the American Red Cross, handles security details for clients and works with a private firm that offers disaster-response support around the world.
He also helps evaluate EMT and paramedic candidates at MATC as an activity facilitator, assisting students completing their National Registry psychomotor exams, said Michael A. Jankowski, MATC's Emergency Medical Services department chair.
Over the past several decades, Seawright has trained to handle explosives, deal with domestic disturbances and conduct many types of water rescues. He has helped stem destructive flooding in Burlington and Waterford in Racine County and control a major fire in Bayside last year that displaced more than 100 residents. Most days, he is on call for Response Systems Inc., a private disasterpreparedness and disaster-response firm that covers the globe.
On July 22, 2022, Seawright didn't hesitate to help a 30-year-old man who was shot on Milwaukee's Brady Street. He was nearby with friends, heard the gunshots and jumped into action. Seawright, who always travels with a backpack filled with medical supplies, found the victim, applied a tourniquet using a belt and waited with him until help arrived. The man was taken to the hospital and survived.
"You never want to be the guy on the spot, but I'm always ready if it happens," Seawright said. "I travel with that kit because what good would it do just sitting at home?"
As an adventurous kid growing up on Milwaukee's east side, Seawright hardly stayed inside. He participated in Cub Scouts and became a Webelo — the level just before becoming a Boy Scout. But he was too impatient to advance and ventured out on his own.
"Some friends of mine and I started our own survival group," he said. "We got ourselves some tents, some uniforms and we camped out, learning skills like hunting and fishing."
Seawright believes everyone should know basic first aid, how to administer CPR, how to swim and even how to forage for food.
"We don't have near enough EMTs, paramedics, police officers, firefighters and lifeguards. We need to make ourselves as prepared as we can be," Seawright said. "Save yourself, save your family, save your friends, save your neighbors. You learn to read, you learn how to do math. Everyone should know how to swim. Everyone should know CPR. These are life skills."
For Seawright, perhaps his most important messages are delivered as a representative of the Beach Ambassador Project. The program was organized by the University of Wisconsin Sea Grant Institute, Milwaukee Community Sailing Center, Milwaukee Riverkeeper, Milwaukee Water Commons and Coastline Services LLC in response to four drownings at Milwaukee's McKinley Beach in 2020.
The ambassadors walk the city beaches and educate beachgoers about water safety and water quality.
"Lake Michigan is a beautiful body of water that can turn into a beast very quickly," Seawright said. "When you reach out like that and someone listens, you get a real feeling of success. You hope they spread and share the message with their friends, their families and their community."
Seawright is always on the move and always wants to learn more. He plans to undergo ice-rescue training, swift-water rescue training and high-ropes training.
"Doing this has been very satisfying for me. The brotherhood and camaraderie among people who do this is very strong. It's a close-knit family," he said. "It can be challenging at times, but it's immensely rewarding."
To learn more about MATC's EMT program, visit matc.edu/course-catalog and search "EMT."