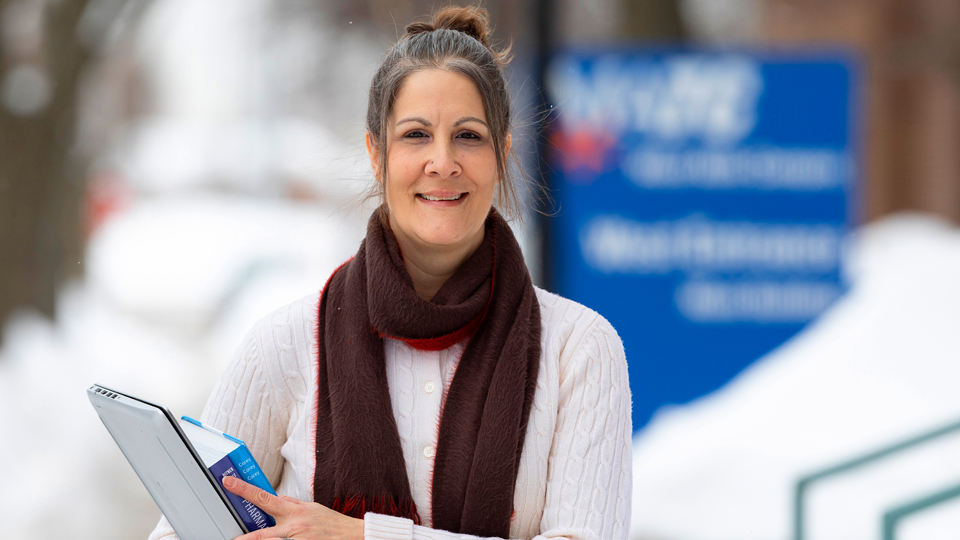 Instructors, staff help student succeed in online courses
After a 30-year hiatus from college, MATC Human Service Associate student Lynette Zarcone started the Fall semester in a fully online environment. There was one major issue — she had no experience using computers.
"I'm so happy I pushed through because I ended up getting A's in all of my classes."
MATC spoke to Zarcone about her semester:
Your first semester back after decades away from school came during the coronavirus pandemic. How did you feel as you were enrolling?
I guess I didn't know what I was getting myself into. I'm glad I didn't because I would've given up on myself before I even started. I'm so happy I pushed through because I ended up getting A's in all of my classes.
You've described yourself as being computer illiterate. What apprehensions did you have, if any, when you found out all classes were online?
My biggest apprehension was the idea of not having the chance to talk to someone if I had questions. Or maybe it was not knowing Microsoft Word. I especially didn't know what Blackboard was, which turned out to be pretty easy. I watched a lot of YouTube to learn things. It consumed me.
What motivated you to come back to school?
I've always wanted to go back to school since I first stopped. I would always talk myself out of it. And now, with my age, it started to feel like a pipe dream. A good confidant of mine pushed me to do it finally. I thought, what's the worst that could happen. This past year has been so depressing. I felt I needed to do something positive. I also have a 23-year-old son that I wanted to make proud. I wanted to show him that you can always follow your dreams.
You mentioned that you finished the semester with all A's. How were you able to be successful?
I would say it's been the staff at MATC. Everybody was amazing, from the day I went to register. I was a fish out of water, and the gentleman who helped me was so patient, and he took his time with me. That was the theme of this entire semester.
My Pathway advisor helped me set up my schedule for the next two years. My instructors were beyond amazing. I asked a lot of questions, and they were always there to answer all of my emails. For being online, communication was fantastic.

Apply to MATC today at matc.edu/apply, and join students like Lynette Zarcone who are pursuing their second chance at a meaningful career