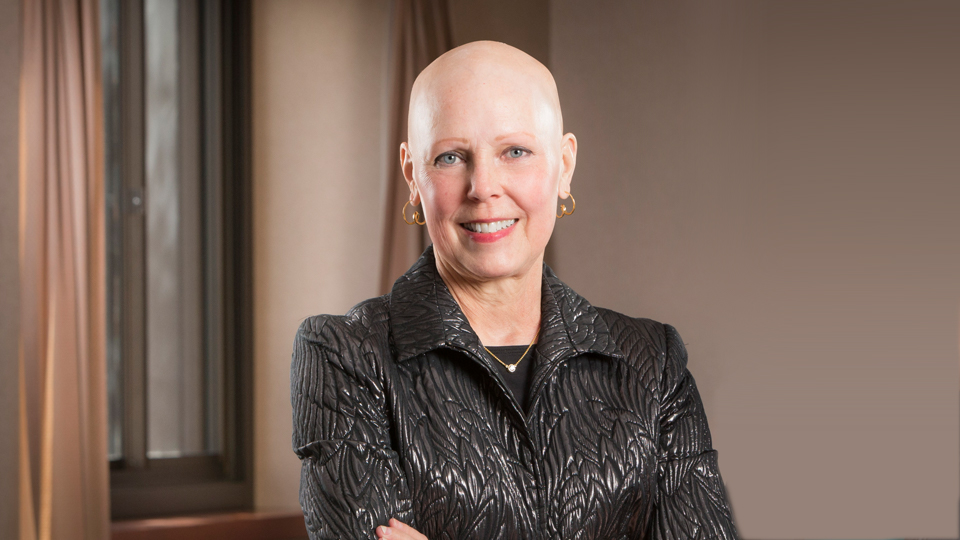 Melanie Cosgrove Holmes rose from temporary worker to ManpowerGroup vice president
Former MATC Board Chair Left Legacy of Caring and Commitment
When Melanie Cosgrove Holmes lost a more than 20-year battle with breast cancer on November 23, 2020, at the age of 70, Milwaukee Area Technical College lost a great advocate. A member of MATC's District Board from 2008-14 and its chair from 2010-12, she also served as a member of MATC's Foundation Board and was a major donor to the MATC Promise – a college-access program that provides free tuition to eligible students.
The world also lost a talented executive who was dedicated to the needs of employers and employees. In a fairy-tale-like success story, Holmes rose from being a temporary worker in 1982 at Milwaukee-based ManpowerGroup to hold the position of vice president, world of work solutions, when she retired from the multinational Fortune 500 corporation in 2013.
Holmes began at Manpower as word processors were beginning to replace typewriters. Realizing that very few people knew how to use the new machines, Holmes seized upon the opportunity to lead development of a software called SkillWare that would be used to teach staff throughout the world to use word processors.
Her work caught the attention of Manpower executives who provided her the opportunity to attend and earn a prestigious Executive Master of Business Administration degree from Northwestern University's Kellogg School of Management.
As a high-level corporate executive, Holmes turned her attention to helping the community by serving on the MATC District Board. Fellow board member Lauren Baker said it was an honor to serve with Holmes because of her integrity.
"She had a deep sense of what was right and what was wrong. It was woven into her being," Baker said. "She was brilliant, had a wicked sense of humor and a love of life. She was eternally optimistic and had a way of not letting negative things overcome her. She was compassionate and able to really see the needs of our lower-income students. She loved being on the MATC board."
Dr. Vicki J. Martin, MATC president, said Holmes was board chair when Dr. Martin served as MATC's interim president a decade ago. She remembers working closely with Holmes and forging a friendship with her in later years. "Melanie was inspiring and supportive," she said. "She really appreciated and embraced the small things in life. She found humor in them. She showed such grace and courage while battling cancer."
We were so proud to say that she was on our board and grateful for the tremendous impact she made on the college and in our service to students.
Because Holmes was so knowledgeable about preparing people for the work world and understanding what employers need, her background was perfect for MATC's board, Dr. Martin explained.
"Our missions definitely aligned," she said. "Melanie's work with Manpower involved developing talent for the workforce pipeline. MATC benefited from her experience at Manpower. Her service on our board was important to our institution and I know that MATC was important to her as well. We were so proud to say that she was on our board and grateful for the tremendous impact she made on the college and in our service to students."
Holmes also was known for being "exceedingly generous," her sister Susan Holton said. Holmes left $100,000 in her will to the MATC Foundation Inc. to support the MATC Promise, which provides free tuition based on financial need and academic criteria for qualified students. She chose to direct family, friends and colleagues to give to the MATC Foundation in her obituary.
She also was generous with her time.
"She developed many people to become successful managers," said Terry Hueneke, retired executive vice president of Manpower. "Melanie believed in working with people and mentoring them. Her team really looked up to her."
Holmes also committed to helping others facing breast cancer. She co-founded the ABCD (After Breast Cancer Diagnosis) organization, which has helped more than 100,000 breast cancer patients and families through mentoring and support.
"She was always cheerful, looking on the bright side of things, despite the fact that she had chemo every week for 10 years," said Holton. "She was one of the strongest, bravest people I've ever known."
To give a gift in honor or memory of an MATC advocate, contact MATC Foundation Executive Director Laura Bray, braylm@matc.edu. 
If you have included the MATC Foundation in your estate plan, or would like information on this, please contact Monika Walloch, wallocms@matc.edu. Also visit matc.edu/foundation/how-to-give/bequests.html.