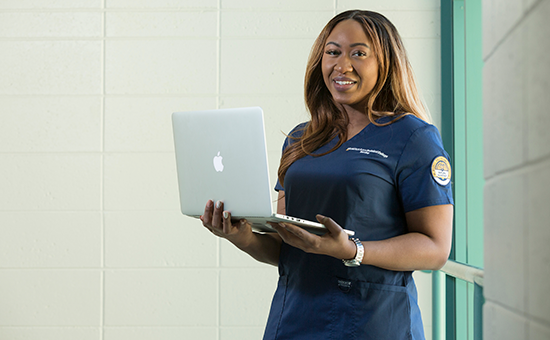 MATC Adult Promise Student Reclaims Her Dream by Pursuing Nursing Career
Carissa Peters dreamed of pursuing a degree in healthcare. She enrolled as a full-time student at Xavier University of Louisiana as soon as she graduated from Milwaukee Public Schools' Riverside University High School in 2009. But, as happens to many students, Peters found herself quickly overwhelmed by rapidly accumulating college debt.
She was forced to drop to part-time status, hoping to slow the drain on her finances. After three years, she had to leave college altogether.

Peters returned to Wisconsin and landed a full-time job as a flight attendant. But she didn't forget her dream of working in healthcare.

In spring 2018, she began searching for a way to study nursing as a part-time student. She knew it would be difficult, if not impossible, to pursue a nursing program while her job demanded she regularly fly cross-country.

Then Peters saw an intriguing story on MATC's website announcing the launch of the MATC Promise for Adults, which helps cover tuition and fees for eligible students. She was excited to see that she met all the criteria.

She lived in the MATC district, was at least 24 years old, earned less than $56,000 annually, had at least six college credits but no degree, and wanted to return to college to earn an associate degree in an in-demand career after at least a two-year absence from college.

"I was so amazed and happy when I found the MATC Promise for Adults," Peters said. "It was so out of the blue. I've never heard of anything like this. I never thought I'd see this in my lifetime."
Innovative public-private partnership
Promise programs are a relatively new approach to ensuring that financial constraints do not prevent individuals from earning college degrees. MATC's Promise for Adults is an expansion of the college's first-in-the-state Promise for New High School Graduates, which was launched in 2015.

The innovative public-private partnership approach combines federal and state financial aid with private donations to fill the gap between what aid provides and the cost of tuition. To date, the MATC Foundation Inc. has raised more than $2 million from more than 230 private donors in support of the MATC Promise.

Both Promise programs met with great interest. In the Fall 2018 semester, 750 qualifying Promise students were enrolled at MATC. Since its inception, MATC's Promise students have earned 20,000 college credits. The MATC Promise received two 2019 Milwaukee Awards for Neighborhood Development Innovation (MANDI) — the Associated Bank Trail Blazer Award and the Wells Fargo People's Choice Award.
There's no excuse not to finish college with the financial help I've received from MATC. I'm so grateful to the donors who have made this possible.
In announcing the establishment of the adult Promise in May 2018, MATC President Dr. Vicki J. Martin said, "We are offering this program in direct response to the urgent needs of our community — where area employers are desperate to fill the middle-skill jobs, while at the same time many local residents lack the resources and support to gain the degrees necessary for these positions."

She explained, "We know that college costs and concern about student debt are major deterrents for students interested in returning to college. Studies show that 60 percent of adults who started college but didn't earn degrees want to return. We want to ensure that the tuition and finances are not the reason people with financial challenges cannot return to school. We want everyone to have an opportunity to better their lives, while providing the talent pipeline for area employers."

Grateful for Promise program and donors

For Peters, the MATC Promise for Adults is a godsend because she can afford to attend MATC full time. "I still have a load of debt from Xavier," she said. "I didn't want to take on more debt. I want to pay it off. It is such a heavy load. If I had to worry about money, I'd have to attend college part time. I could only have taken two classes a semester at most. It would have taken me five semesters to do what I'm doing this year with help from the MATC Promise for Adults."

She also is grateful that so many of her credits from Xavier transferred to MATC. She expects to petition for MATC's Registered Nursing program in August 2019 and graduate with her associate degree in nursing in 2021. She plans to utilize the MATC-Cardinal Stritch University concurrent enrollment program to earn her bachelor's degree in nursing. Eventually, she wants to earn a doctor of nursing practice degree from Marquette University and become a certified nurse anesthetist.

Peters also is juggling a full-time job as an imaging patient assistant at Advocate Aurora Health St. Luke's South Shore to cover other expenses and pay off her Xavier debt. But she said the heavy financial pressure has been relieved. "There's no excuse not to finish college with the financial help I've received from MATC," she said. "I'm so grateful to the donors who have made this possible. It's truly a promise made by adult Promise donors to empower many financially disenfranchised adults to live out their dreams."
For information on how you can support the MATC Promise, contact Donor & Alumni Relations Coordinator Bob Holland at 414-297-6825 or hollanrj@matc.edu, or Donate Now.