---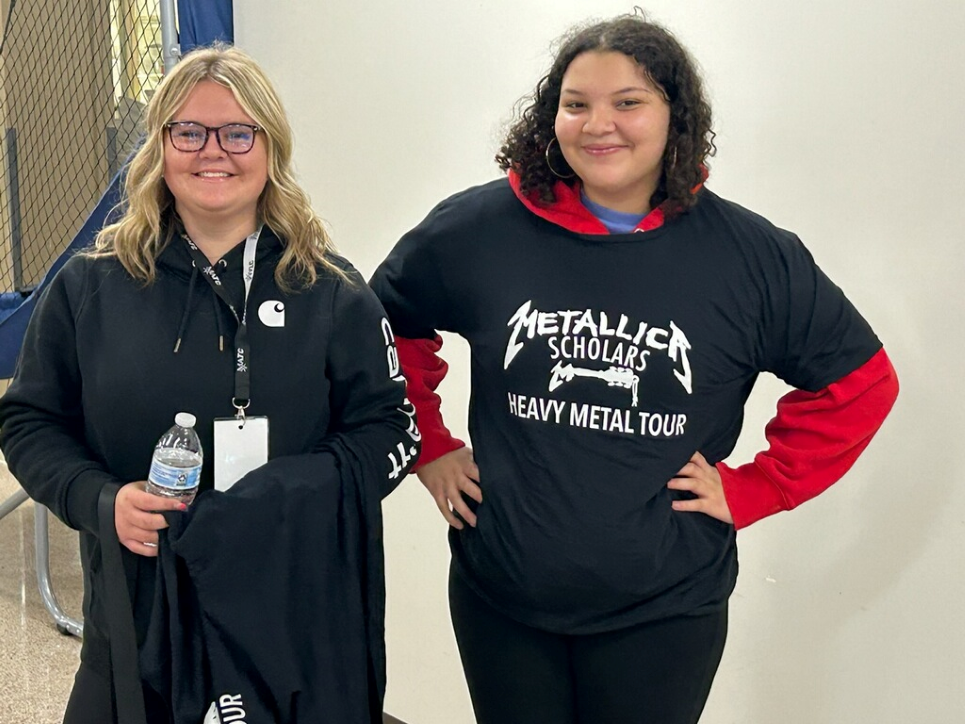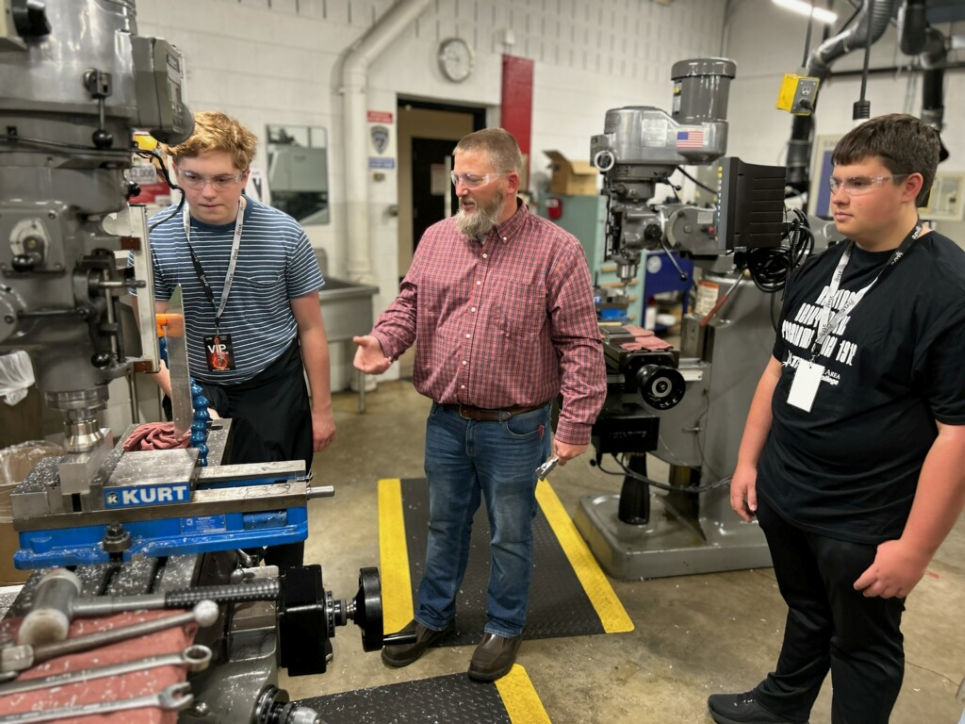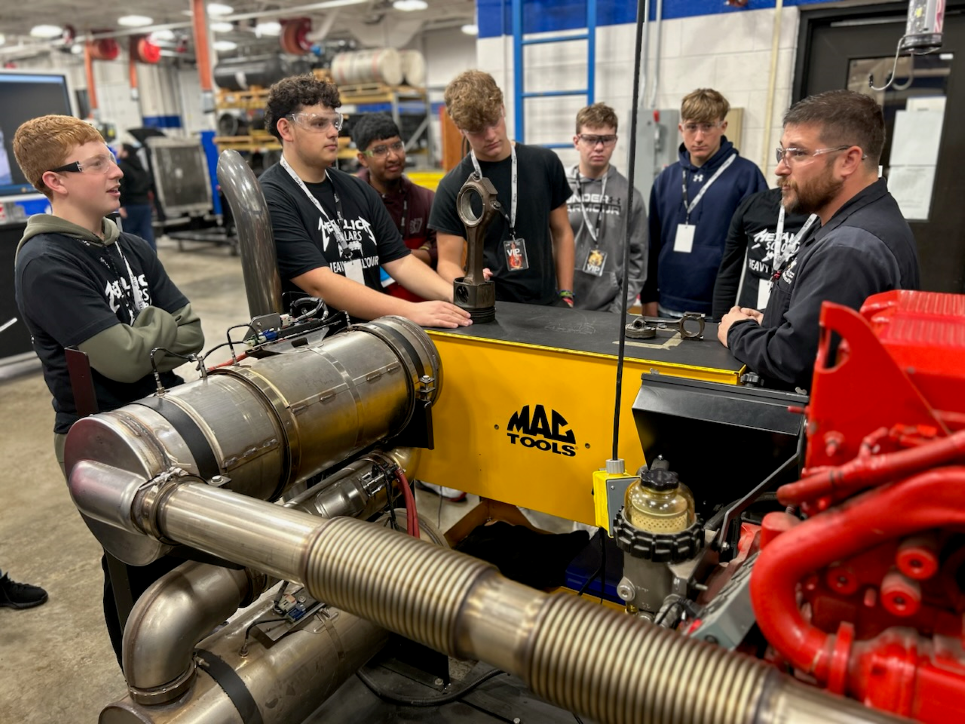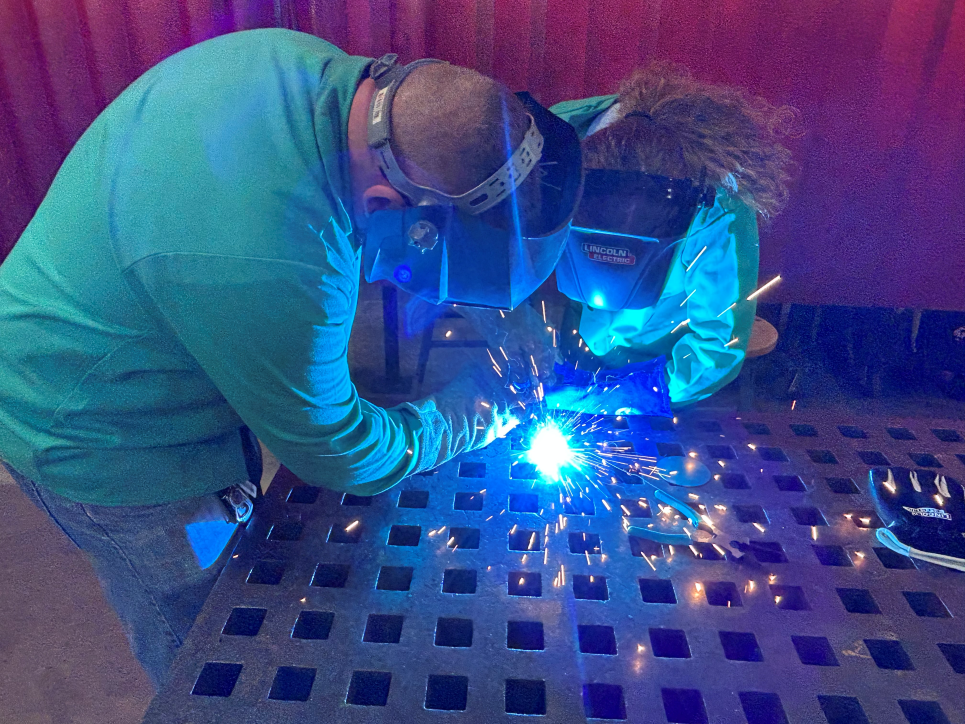 I think it's important to give students a full menu of what careers are ahead of them and give them a real taste of the actual workforce.
Ashlee Koehn stands barely 5 feet tall in her white Chuck Taylor sneakers. Two intricate braids of blonde hair frame her small face. She speaks in a soft, shy voice.
She also absolutely loves having a welding torch in her hands.
At a recent visit to the welding lab at Milwaukee Area Technical College's Oak Creek Campus, Koehn didn't hesitate to don a protective coat, gloves and helmet and set sparks flying.
"I've been welding for about four years, and I really enjoy it," said Koehn, a senior at Franklin High School. "It's something I've become pretty good at and is definitely something I want to do."
Koehn was one of nearly 150 high school students who gathered at MATC's Oak Creek Campus on Wednesday, October 25, to explore and experience careers in manufacturing such as computerized equipment, robotics, welding, building automated systems, tool and die making, diesel powertrain servicing, and automotive maintenance.
Students from South Milwaukee, Oak Creek, Franklin, Cudahy, Whitnall, Greendale and St. Francis high schools participated in the "Heavy Metal Tour." The daylong event was sponsored in part by All Within My Hands (AWMH), a nonprofit established by the members and management of the rock band Metallica to support and advance careers in "heavy metal" manufacturing fields.
The goal of the event was to expose students to the opportunities in manufacturing and perhaps change their perception of those careers, said Patricia Torres Nájera, Ph.D., regional director of MATC's Oak Creek Campus. 
The students spent the morning at the Oak Creek campus touring workspaces and labs dedicated to welding, truck driving, tool and die making and auto repair. After lunch, they traveled to and visited several local employers, including Regal Rexnord, Eaton, ATI Forged Products and Carma Laboratories.
"I think it's important to give students a full menu of what careers are ahead of them and give them a real taste of the actual workforce," said state Sen. Chris Larson, who represents Milwaukee, Oak Creek, Cudahy, St. Francis, South Milwaukee, and Franklin, and who attended the event. Also attending the event were state Rep. Jessie Rodriguez, who represents southeastern Milwaukee County, and Oak Creek Mayor Daniel Bukiewicz.
"This is great for the kids," said Tom Backes, a technical education and youth apprenticeship instructor at Cudahy High School and a former MATC instructor. "We have about 750 students at Cudahy, and our tech ed classes serve about two-thirds of them. Programs like this are important for spreading the word about technical education."
Students also received Metallica T-shirts and posed for photos to show their support for the AWMH Metallica Scholarship program. In July 2022, MATC was selected from a competitive field of community colleges across the country to receive $100,000 from AWMH.
"The mission of Metallica's All Within My Hands aligns perfectly with our mission, which is to offer an education that transforms lives, industry and community," MATC President Dr. Vicki J. Martin said at the time. "This funding will help students enroll in our high quality, in-demand programs that meet local employer and community needs —  leading to careers that provide family-supporting wages and better lives."
So far, 40 of MATC's first 49 Metallica scholarship recipients have graduated and another four are expected to graduate in December.
Koehn, the senior from Franklin, plans to be an MATC graduate at some point. While attending classes at Franklin, she works as a welder at Krones Inc., an international manufacturer with a facility in the Franklin Industrial Park. 
She has become proficient in all types of welding, especially laser welding. She recently crafted a pumpkin out of small horseshoes — a job that required a series of tiny welds on the back of the shape, she said.
Koehn said she has submitted her application to MATC and plans to earn an associate degree in Welding Technology, then start a career in welding. 
"That's what I want to do," she said. 
Learn about programs offered in MATC's Manufacturing, Construction and Transportation Pathway
About All Within My Hands (AWMH): Established by the members and management of Metallica in 2017 as a means to invest in the people and places that have supported the band, AWMH is focused on supporting sustainable communities through workforce education, the fight against hunger and other critical local services. All expenses of the AWMH are covered by the band, the board and a few special friends so that 100% of donations go to the organizations it supports. AWMH is a registered 501(c)(3) nonprofit organization.
ABOUT MATC:
Wisconsin's largest technical college and one of the most diverse two-year institutions in the Midwest, Milwaukee Area Technical College is a key driver of southeastern Wisconsin's economy and has provided innovative education in the region since 1912. Nearly 28,000 students per year attend the college's four campuses and community-based sites or learn online. MATC offers affordable and accessible education and training opportunities that empower and transform lives in the community. The college offers more than 180 academic programs; and transfer options leading to bachelor's degrees with more than 40 four-year colleges and universities. Overwhelmingly, MATC graduates build careers and businesses in southeastern Wisconsin. The college is accredited by the Higher Learning Commission.