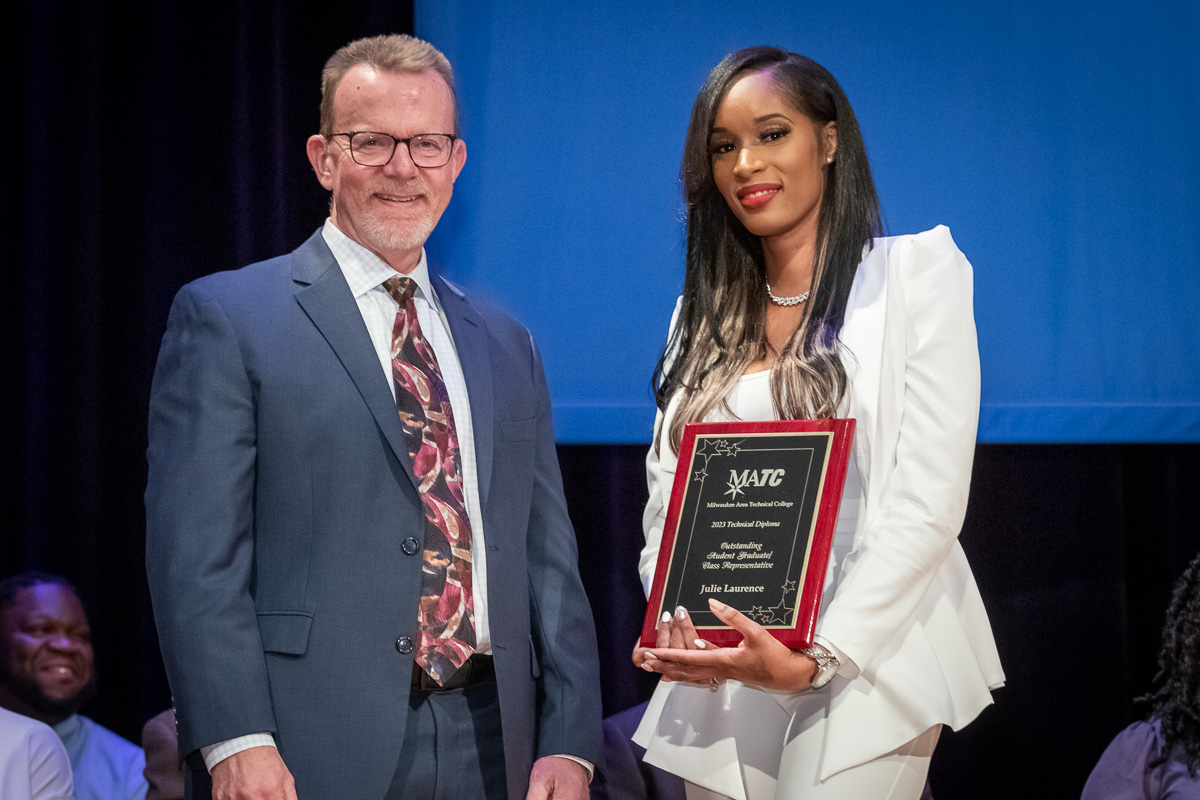 MATC gives individuals like me hope of becoming something more. And because of MATC, I will be something more.
MILWAUKEE – Julie Laurence Brown will never forget the day she found out she had a brain tumor.
"I was devastated," Brown recalled about that day in 2020. "Like they say in the movies, my life flashed before me."
But by being forced to suddenly, painfully contemplate death, Brown found her true purpose in life.
After her tumor diagnosis, along with not knowing how the tumor came about and the impacts of the COVID-19 pandemic, she started to feel self-conscious about her appearance and thought about undergoing cosmetic surgery. Instead, she began making her own hair care and skin care products that enhanced one's natural beauty without taking such invasive measures. 
"I was becoming much more aware of what I was putting into my body and on to my body," she said. 
Doctors removed the tumor Dec. 15, 2020, and she discovered her journey had instilled her with a new lease on life. "I felt like I was walking with a purpose," she recalled. "Going through this taught me patience and gave me a new outlook. The challenges of 2020 motivated me to live more consciously."
She started her own business called Melanin Jewel, a beauty line that offers products and services to enhance a person's natural beauty with minimal effort, and enrolled in Milwaukee Area Technical College's Aesthetician program, based at the college's Mequon Campus. 
Brown thrived in the one-year program, compiling a 4.0 GPA and being nominated for the National Society of Leadership and Success. She also volunteers at community churches, offering women in shelters and refuge centers free facial treatments and donating beauty products for holidays or community events. 
For her academic achievements, exemplary leadership and community involvement, Brown was selected as MATC's Outstanding Technical Diploma student for the Spring 2023 semester. 
Brown made quite the impression on her instructors and her fellow students.
"Julie exemplifies humility and maturity in the classroom," said Tamara Purnell, an instructor in the college's Aesthetician program. "In addition to her drive for academic excellence, she shows genuine interest in developing her skills, challenging her abilities and being a great role model for her peers. Her calm and calculated attitude has impressed me. She always shows kindness when working with guests and keeps a positive attitude in the classroom." 
"More than getting work finished and out of the way, she strives to understand and apply the material in daily life," said Megan Jackson, an instructor in the Barber and Cosmetology programs. "She strives to become a successful business owner, not only concerning the financial realm, but also to better her community."
"She is always inquiring and learning the latest techniques and the reasons behind them, to have a better understanding of aesthetics," said Dana McIntosh, an MATC aesthetics instructor. "I have no doubt that she will serve with distinction and make a positive impact on the aesthetics industry."
Brown took several business courses at MATC in 2012, hoping to earn an associate degree in Business Management. But she stopped due to unforeseen circumstances.
For Brown, MATC offered the flexibility, affordability and educational quality she was looking for. "MATC gives individuals like me hope of becoming something more," she said. "And because of MATC, I will be something more."
Brown also attended the college at no cost thanks to the Ellen and Joe Checota MATC Scholarship Program, a full-ride award that covers tuition, books, course fees, equipment, supplies and transportation. Unveiled in August 2022, the scholarship program helps eligible students pursuing technical diplomas and certificates earn their credentials and enter the workforce quickly. 
Her dream is to expand her brand and continue to promote and empower the message of "enhance your natural beauty with minimal effort" so that we all can live and be the jewels we are meant to be. 
"People come for facials and massages, but they really want to unwind. That is their me time," Brown said. "Reality can be a hard thing to face and maybe we can help them feel better about dealing with everything."
Learn more about MATC's aesthetician program
About MATC: Wisconsin's largest technical college and one of the most diverse two-year institutions in the Midwest, Milwaukee Area Technical College is a key driver of southeastern Wisconsin's economy and has provided innovative education in the region since 1912. More than 25,000 students per year attend the college's four campuses and community-based sites or learn online. MATC offers affordable and accessible education and training opportunities that empower and transform lives in the community. The college offers more than 170 academic programs — many that prepare students for jobs immediately upon completion and others that provide transfer options leading to bachelor's degrees with more than 40 four-year colleges and universities. Overwhelmingly, MATC graduates build careers and businesses in southeastern Wisconsin. The college is accredited by the Higher Learning Commission.