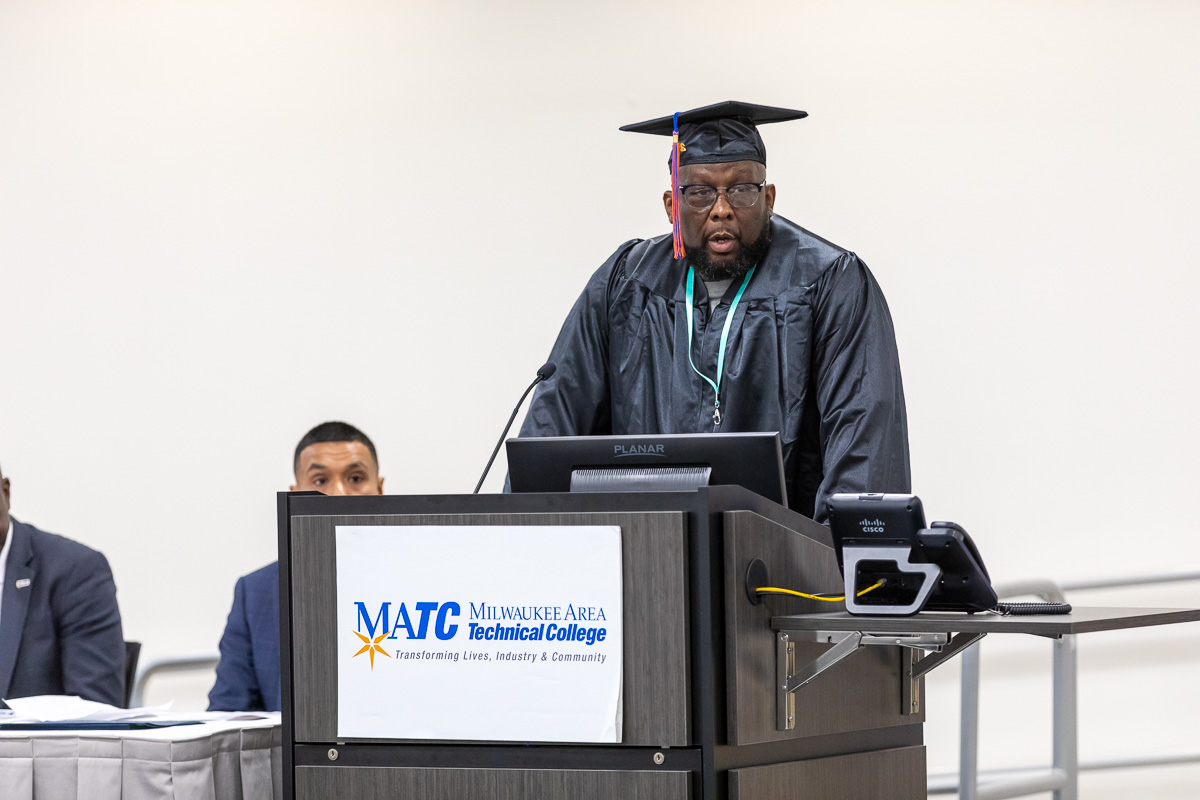 Every man that graduates from the Second Chance Pell program will need a first chance to apply the skills and education they have obtained. A fair and impartial opportunity is all we ask.
MILWAUKEE – Given an opportunity to radically change the direction of his life, Mark Roberson took it.
Now he just wants a chance to show how much.
Bad decisions and several arrests landed Roberson in a state correctional facility. While serving time, Roberson learned to weld in a correctional education program through Milwaukee Area Technical College.
On May 22, Roberson was one of the five men in the care of the Wisconsin Department of Corrections who received welding certificates at a ceremony held at MATC's Downtown Milwaukee Campus.
The men participated in MATC's Second Chance Pell program, which provides federal aid to people in state and federal prisons so they can receive postsecondary education while serving their sentences.
"Every man that graduates from the Second Chance Pell program will need a first chance to apply the skills and education they have obtained," said Roberson, who served as the student speaker at the completion ceremony. "A fair and impartial opportunity is all we ask."
The program participants attended classes every weekday and on Saturdays. "We gave you the foundation," MATC Instructor Dave Lunz told graduates during the ceremony. "Now it's your chance to build on it."
Once released, the men could return to MATC to further their welding education or use the certificate to secure welding jobs that start at more than $20 an hour. 
"The demand for skilled workers like you is high," said Wisconsin Department of Corrections Secretary Kevin A. Carr, who spoke at the ceremony. "The opportunities are out there."
MATC was the first Wisconsin college to participate in the Second Chance program, which was created in 2015. "We have been a pioneer in securing financial aid for those in care of the state," said MATC President Dr. Vicki J. Martin. 
Statistics have shown that those who participate in the Second Chance program cut their chances of returning to prison almost in half, said Sadique Isahaku, dean of MATC's General Education Academic & Career Pathway. 
See coverage of Second Chance graduation
A 2018 RAND Corporation study showed that inmates who participate in educational programs while in prison have a 48% lower chance of ending up back in prison within three years of release than those who don't.
MATC first offered classes to those in care of the state in 2017 and has had seven groups complete courses since then. So far, no program participant who has been released has returned to prison, Isahaku said.
At the May 22 graduation, numerous objects that the participants created during their classes were displayed. 
"Welding is an art form and it's about craftsmanship," said Michael Lozano, coordinator of MATC's Correctional Education program. "Now you can shape and connect materials. You can help create the bridges and structures that form the backbone of our society. The world awaits your talent."
The welding certificates also represent the possibility of a better future, a world without trouble, without bars, without confinement, Carr said. "In life, something will always go wrong," he said. "It's how you deal with what happens that makes all the difference."
The men in the program ask only for a chance to show they have figured out how to constructively manage their lives and can be productive members of society, Roberson said.
"These opportunities are key," Roberson said. "They are key to reducing recidivism. They are key to sending people home for good."
Learn about MATC's correctional education program
About MATC:
Wisconsin's largest technical college and one of the most diverse two-year institutions in the Midwest, Milwaukee Area Technical College is a key driver of southeastern Wisconsin's economy and has provided innovative education in the region since 1912. More than 25,000 students per year attend the college's four campuses and community-based sites or learn online. MATC offers affordable and accessible education and training opportunities that empower and transform lives in the community. The college offers more than 170 academic programs — many that prepare students for jobs immediately upon completion and others that provide transfer options leading to bachelor's degrees with more than 40 four-year colleges and universities. Overwhelmingly, MATC graduates build careers and businesses in southeastern Wisconsin. The college is accredited by the Higher Learning Commission.