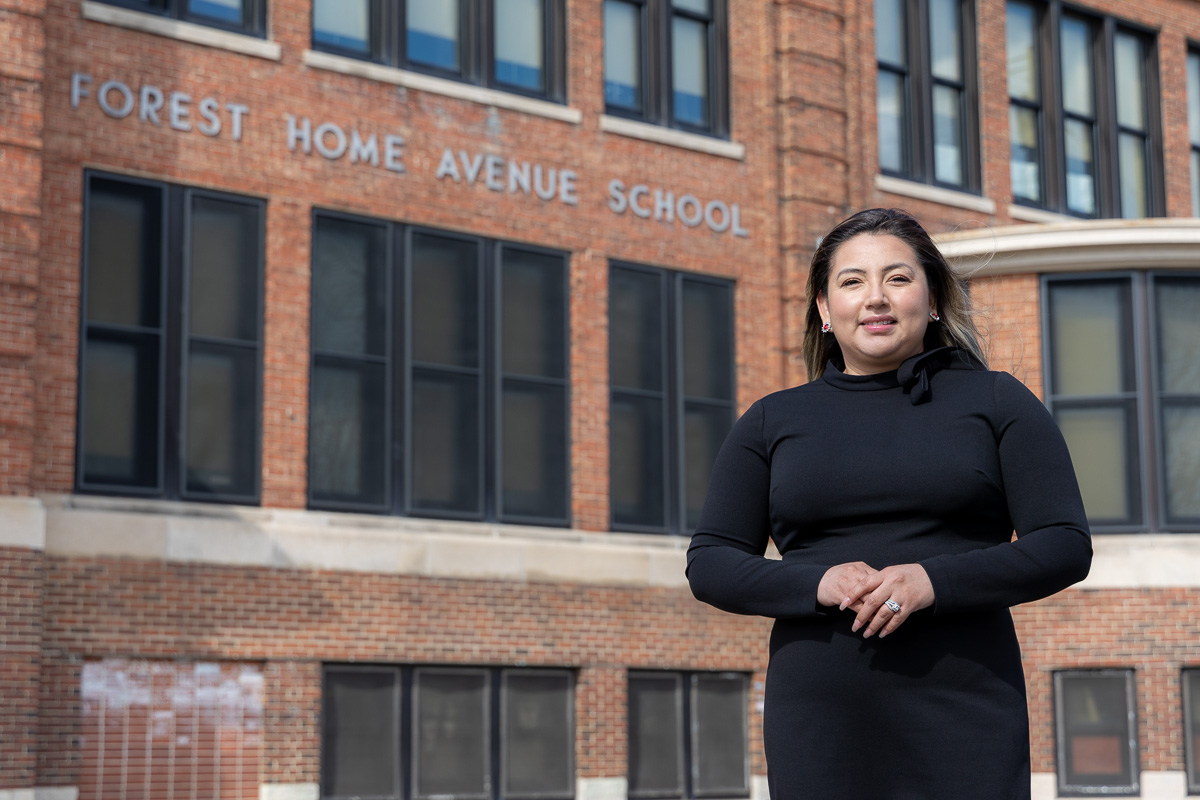 Many people didn't think I could do anything and hearing those things hurt. But I have taken everything negative and used it to keep going and give it everything I have.
MILWAUKEE – Celina M. Echeveste-Duket is all about accentuating the positive and eliminating the negative.
"I heard a lot of people telling me no in my life," said Echeveste-Duket, who has taught early childhood education courses at Milwaukee Area Technical College since 2015. "Many people didn't think I could do anything and hearing those things hurt. But I have taken everything negative and used it to keep going and give it everything I have."
Echeveste-Duket has poured her mind, body and spirit into earning two college degrees, participating in community events, volunteering at St. Rafael the Archangel parish as a teenager and now at the Basilica of St. Josaphat, and being an outstanding educator.
To honor her achievements and accomplishments, the life-long Milwaukee resident was recently named the 2022 Hispanic Woman of the Year by United Migrant Opportunity Services (UMOS), which offers services for domestic violence prevention, immigration, workforce development and education to the city's Hispanic/Latino/Latina community.
Watch the UMOS award presentation
"I felt proud to win this award because it makes my parents proud," Echeveste-Duket said. "I always want to do that. They came from very poor situations, and they were always there for me."
Her parents grew up in Mexico and came to the United States after they married in 1980. Echeveste-Duket, born in 1985, attended Milwaukee Public Schools and graduated from MPS' Hamilton High School in 2003.
She enrolled in the nursing program at Alverno College but never felt the calling, she said. "My heart wasn't there," she said. "I really didn't like blood, and after three years, I decided I couldn't do it."
She switched, earned a degree in psychology and through an internship, took a job as a home health worker, providing therapy to children on the autism spectrum. She fell in love with working with special needs children.
She enrolled at the University of Wisconsin-Milwaukee's Post-Baccalaureate Special Education Teacher Certification program and earned certification in special education instruction and a master's degree in exceptional education. She also obtained a bilingual certification in early childhood teaching from UWM. She then earned her teaching license from the Wisconsin Department of Public Instruction. 
While attending her college classes, she worked at MPS' Forest Home Avenue School. She served kindergarteners – students three to five years old – with special needs. For her efforts, she won the 2019 Educator of the Year Award from the Wisconsin Association for Bilingual Education, as well as the Distinguished Level of Performance recognition from Milwaukee Public Schools.
In 2015, Echeveste-Duket joined MATC as a part-time childhood development instructor. The role transitioned into a full-time faculty position in 2020. She teaches between five and seven classes each year, carefully guiding and molding the childhood educators and care providers of tomorrow. 
"I tell them that during their careers they will be a nurse, a therapist, a mother, a laundress, a social worker," she said. "They're going to be everything for these children."
A great early childhood worker must be patient, open-minded, creative, inquisitive, able to be comfortable outside of their comfort zone and, of course, love children, she said.
"When you love doing this, it will never feel like a job," she said.
Echeveste-Duket loves teaching, volunteering and helping in the community. These days she gets plenty of positive reinforcement from her husband, sister, parents, friends and colleagues. Their encouragement and support has made all the negativity she heard so many times so many years ago a distant memory.
"Don't let anyone tell you you can't do something," Echeveste-Duket said. "You can do whatever you want. You always need to have dreams."
Read about MATC's Early Childhood Education program
About MATC: Wisconsin's largest technical college and one of the most diverse two-year institutions in the Midwest, Milwaukee Area Technical College is a key driver of southeastern Wisconsin's economy and has provided innovative education in the region since 1912. More than 25,000 students per year attend the college's four campuses and community-based sites or learn online. MATC offers affordable and accessible education and training opportunities that empower and transform lives in the community. The college offers more than 170 academic programs — many that prepare students for jobs immediately upon completion and others that provide transfer options leading to bachelor's degrees with more than 40 four-year colleges and universities. Overwhelmingly, MATC graduates build careers and businesses in southeastern Wisconsin. The college is accredited by the Higher Learning Commission.