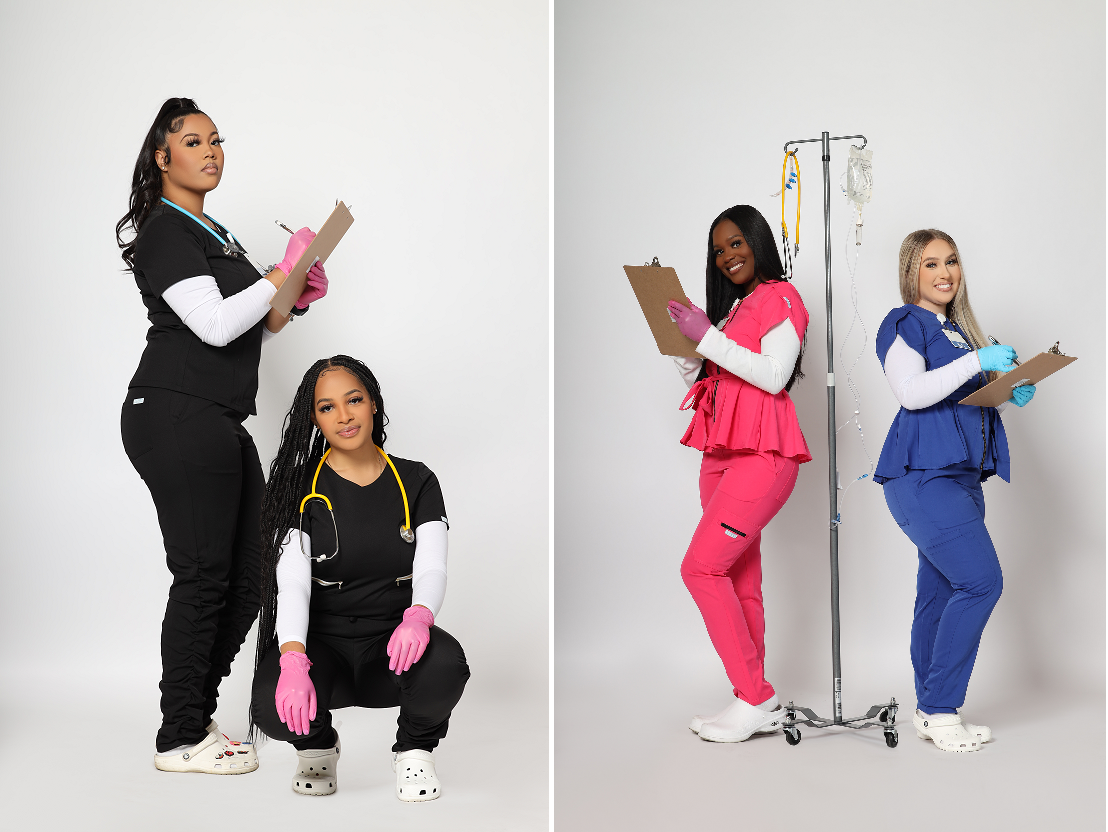 When I was a nursing student, scrubs just weren't that cute. They're scratchy. They're boxy. The pants don't fit right. I always say if you look good, you're going to feel good. I wanted to come to work in cute scrubs that made me feel great and ready to conquer the day.
MILWAUKEE – Katie Jackson believes you can look good while making people feel good.
As a registered nurse working in the 21st century, Jackson doesn't wear the once-familiar starched white dress and cap uniform. Instead, she dons comfortable, practical scrub tops and pants and Crocs for her shifts.
And now Jackson, a 2021 nursing graduate from Milwaukee Area Technical College, is bringing fashion to those functional garments. The Milwaukee native has started her own line of nursing wear and accessories called NurseBae LLC. Through her website, Jackson sells scrub sets, outerwear, jackets and accessories that help nurses look and feel their best while healing, teaching, comforting, nurturing and saving lives.
"When I was a nursing student, scrubs just weren't that cute," Jackson said. "They're scratchy. They're boxy. The pants don't fit right. I always say if you look good, you're going to feel good. I wanted to come to work in cute scrubs that made me feel great and ready to conquer the day." 
She launched her line in October 2022. "The first day I sold four things," she recalled. "I was kind of sad that it wasn't more but really excited that it was working."
Thanks to a vigorous professional and personal social media presence, Jackson has sold items in more than a dozen states and the Virgin Islands to all kinds of medical professionals, including certified nursing assistants, dental hygienists and aestheticians. She keeps a map pinpointing every state and country where she makes a sale. "I want to touch all 50 states," she said. 
In 2023 Jackson plans to offer a casual line of crewnecks and t-shirts, along with more accessories like croc pins and stethoscope cases. 
Her website and social media posts usually feature Black and other nurses of color wearing her products. "I'm always trying to connect with minority communities and highlight those people in healthcare," said Jackson, who is Black. "I wanted my scrub line to highlight the African American women working hard in the healthcare field, despite all of the adversity we may encounter."
Jackson has always had a flair for fashion. At Milwaukee Public Schools' Rufus King International High School, she styled hair and applied makeup to fellow students for special events like prom and homecoming dances. That gig morphed into a YouTube channel and a blog, where Jackson to this day makes entries discussing her life and career.
"I just go with the flow," she said. "I talk about all kinds of subjects. It's a way to talk about my scrubs, my life, my nursing career."
Growing up, Jackson didn't have any particular role models who influenced her in becoming a nurse. She said her mother considered going into medicine at one time, so there were several medical books at home that Jackson read which sparked her interest.
After high school, Jackson considered attending a Historically Black College or University (HBCU) in the south, but then she was accepted into MATC's Promise for New High School Graduates program, which provides free tuition for eligible high school students.
"You can't beat free school," Jackson said.
She completed her pre-requisite classes, then received an associate degree in Registered Nursing in 2021. She finished her MATC education without borrowing any money. 
"The first two years are pretty much the same no matter where you go, so you might as well do it for cheaper," she said. "I didn't have a huge amount of money saved up for college. My father told me I would regret not taking two years of college for free, and he was right."
After graduation, she worked at Froedtert Hospital for several months, then signed with an agency to be a traveling nurse. She has worked at various medical locations in the region.
"MATC really prepared me for what I am doing in the working world," Jackson said. "I know some people think MATC isn't a real college, but you have to work very, very hard to get your degree there. MATC is a fantastic place to start your career."
Follow Katie Jackson on: 
Instagram: @n.ursebae
Twitter: @nursebaescrubs
About MATC: Wisconsin's largest technical college and one of the most diverse two-year institutions in the Midwest, Milwaukee Area Technical College is a key driver of southeastern Wisconsin's economy and has provided innovative education in the region since 1912. More than 25,000 students per year attend the college's four campuses and community-based sites or learn online. MATC offers affordable and accessible education and training opportunities that empower and transform lives in the community. The college offers more than 170 academic programs — many that prepare students for jobs immediately upon completion and others that provide transfer options leading to bachelor's degrees with more than 40 four-year colleges and universities. Overwhelmingly, MATC graduates build careers and businesses in southeastern Wisconsin. The college is accredited by the Higher Learning Commission.