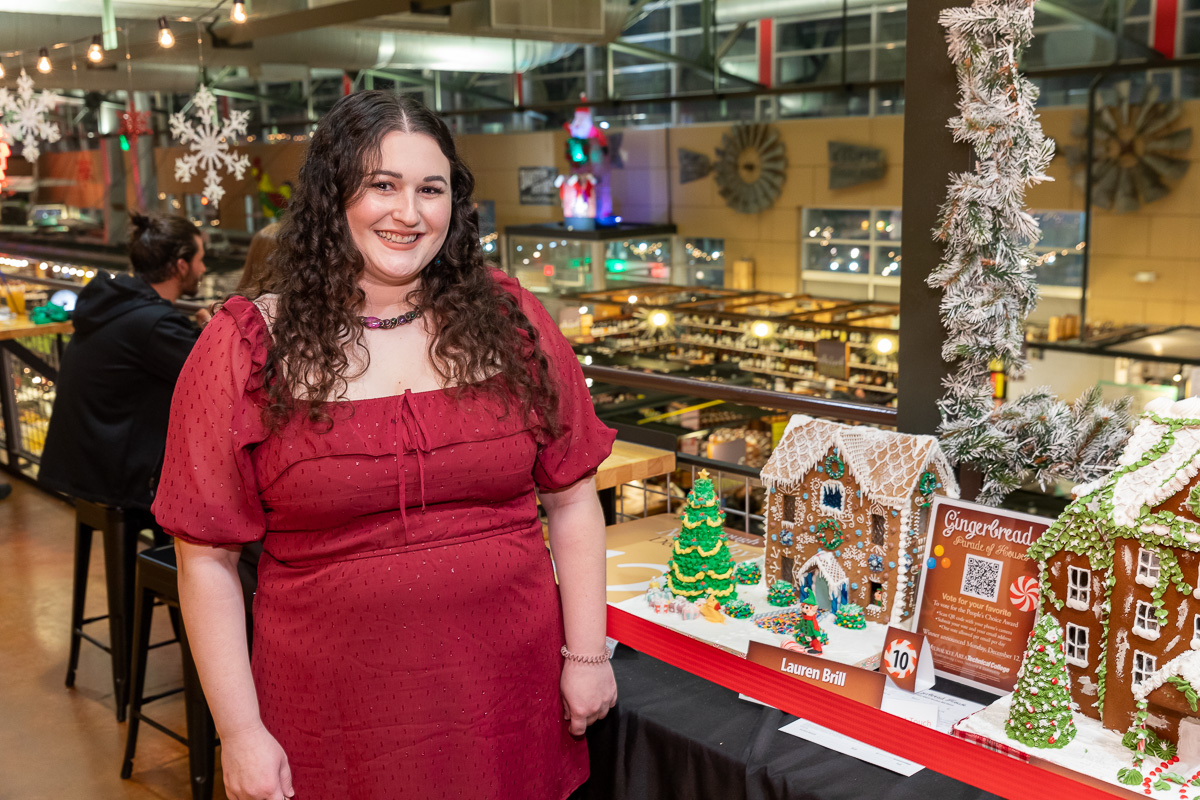 MILWAUKEE – Lauren Brill turned out to be an artist after all.
Brill graduated from Mequon Homestead High School and attended the University of Kansas to study vocal performance, hoping to become a professional singer.
She returned to Wisconsin a few years later and, at the urging of her mother, enrolled in the Baking & Pastry Arts program at Milwaukee Area Technical College.
"I have always loved anything and everything creative," said Brill, who turns 25 on December 27. "Singing, music, art. Baking and cake decorating are part of that."
She clearly has found a stage to spotlight her talent. On Monday, December 12, Brill won first place in MATC's annual holiday Gingerbread House Competition. Her confectionary creation was judged the best among seven entries designed and constructed by students in MATC's Baking & Pastry Arts and Culinary programs.
"I'm stoked because I did not expect this," said Brill, in her third semester at MATC. "I didn't enter the contest last year because I didn't think I was ready. I needed to get more experience before I tried it."
Joynear Duncan won second place, and Eden Hyatt was awarded third place.
The award ceremony was held at the Milwaukee Public Market, 400 North Water Street, where the gingerbread houses had been displayed since December 1. Each house was for sale via silent auction, with the proceeds going to the MATC Foundation.
Visitors also could vote online for their favorite entry. More than 1,500 votes were tabulated and Baking & Pastry Arts student Elizabeth Cueto Coronado won the People's Choice Award.
Each winner received a medal and a cash award from the Wisconsin Baking Association.
Brill's creation was a stylish two-story home with an elf standing in the front yard near a splendidly decorated Christmas tree. "I had never made an entire gingerbread house from scratch," she said. "But I think it came out really nice.
"This is a very forgiving art form," Brill added. "If you make a mistake, you can always fix it or do it over. You can scrape things off and fix them with icing. You can make everything perfect."
For Cueto Coronado, creating her people pleasing house took several sleepless nights. "For some reason, I was always working on it at 2 a.m.," she said. "That's the time everything would come together for me."
Cueto Coronado's house featured painstakingly crafted windows, three blue round visitors in the front yard and a highly-detailed bag of candy on the roof.
"I've always had a passion for baking," said Cueto Coronado, who graduated from Milwaukee Public Schools' Rufus King High School. "I learned by making things for family birthdays. It's really fun and very rewarding."
MATC's gingerbread house competition started in 1995, said Cheryl Miranda, an educational assistant in MATC's Consumer/Hospitality Services department and cake decorating instructor. In 2011, the college partnered with the Public Market to display the entries.
The competition was held online for the past two years because of the COVID-19 pandemic, said Miranda, who has worked at MATC for 38 years. "It's wonderful being back at the Public Market," she said. "This provides such a great experience for our students and helps get MATC's name out into the community."

Learn more about MATC's Baking and Pastry Arts Program
About MATC: Wisconsin's largest technical college and one of the most diverse two-year institutions in the Midwest, Milwaukee Area Technical College is a key driver of southeastern Wisconsin's economy and has provided innovative education in the region since 1912. More than 25,000 students per year attend the college's four campuses and community-based sites or learn online. MATC offers affordable and accessible education and training opportunities that empower and transform lives in the community. The college offers more than 170 academic programs — many that prepare students for jobs immediately upon completion and others that provide transfer options leading to bachelor's degrees with more than 40 four-year colleges and universities. Overwhelmingly, MATC graduates build careers and businesses in southeastern Wisconsin. The college is accredited by the Higher Learning Commission.