Program Information
Location:

Downtown Milwaukee Campus


Pathway:

STEM

Program Code:

31-603-1

Offering:

In-class

Degree Type:

Technical Diploma

Start Dates:

August/January
About the Chemical Processing Technician Diploma
DESCRIPTION
Apply your interests in preparing chemical solutions and using chemical apparatus to the work performed in industrial operations. Through this program, you will gain skills required for working in industrial chemical processing and a pilot plant operations.
Employment prospects for program graduates are strong, locally and nationally. Success in the workplace requires the ability to work independently and accurately, with a minimum level of supervision.
You can apply your credits toward completing the Chemical Technician associate degree.
Additional program details: This program focuses on the role of a chemical processor through the structure and operations of an industrial chemical plant. The responsibilities and functions of the various plant activities are examined from the perspective of the chemical process technician working in a pilot plant operation and/or industrial chemical processing.
---
Related Programs
Chemical technicians assure the quality of the products made in the manufacturing, chemical and allied industries. This program trains you to perform as an analyst or chemist's assistant in various industries.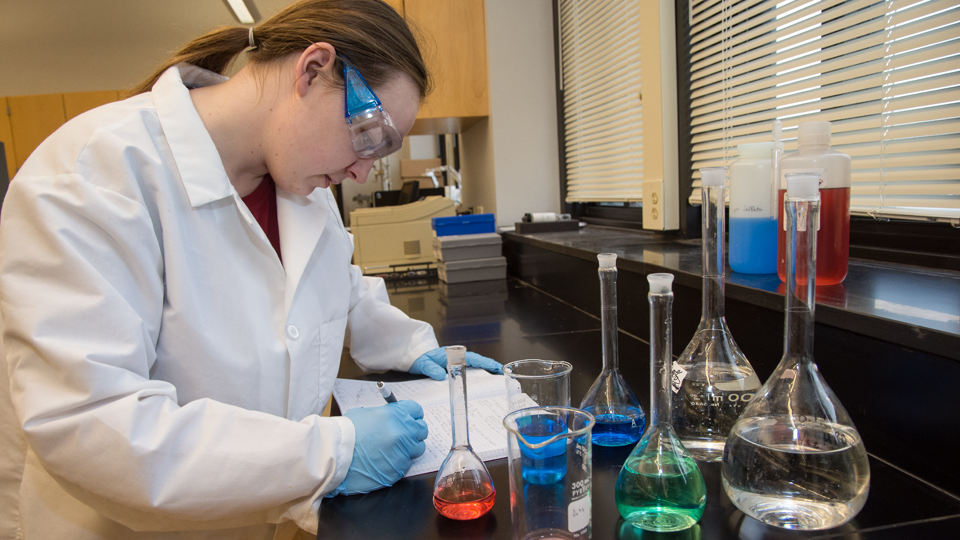 The Associate of Science – Chemical Technology: Pre-Major provides the first two years of bachelor's degree credit courses that will transfer to four-year colleges and universities. MATC's state-of-the-art labs give students an advantage as they prepare for bachelor's degree studies and the workforce. Students who plan to transfer should consult with the four-year college/university regarding specific requirements for a major and the credit transfer details
Detailed Program Information
2021-22 Curriculum
| Course | Course Name | Credits |
| --- | --- | --- |
| ENG-195 | Written Communication | 3 |
| CHEMT-101 | Chemical Laboratory/Process Safety ‡ | 2 |
| CHEMT-103 | Introduction to Chemical Technology | 2 |
| CHEMT-111 | General Chemistry 1 ‡ | 5 |
| ENG-197 | Technical Reporting | 3 |
| CHEMT-105 | Introduction to Instrumental Methods | 3 |
| CHEMT-112 | General Chemistry 2 ‡ | 5 |
| PHYS-139 | Survey of Physics | 3 |
| | TOTAL CREDITS | 26 |
‡ Prerequisite required.
Program curriculum requirements are subject to change.
Current MATC students should consult their Academic Program Plan for specific curriculum requirements.
Search for available classes now (link) to see course descriptions, class times and locations.
Already a student? You can visit Self-Service (link) and choose Student Planning to register for classes.
2021-2022 Program Card
View/print the program card: front (png) | back (png)
Important Dates
Program Outcomes
Apply knowledge of chemical apparatus, equipment and procedures in various production, research and control operations
Communicate and receive precise chemical data and procedures
Use software for process control and chemical inventory
Practice plant safety procedures
Utilize safety data sheets and global harmonization system
Maintain, clean, or sterilize chemical processing equipment
Develop or administer programs of sampling and analysis to maintain quality standards of raw materials, chemical intermediates, or products
Monitor product quality to ensure compliance with standards and specifications
Prepare chemical solutions for products or processes, following standardized formulas, or create experimental formulas
Career Outlook
Employment prospects for program graduates are strong, locally and nationally. Success in the workplace requires the ability to work independently and accurately, with a minimum level of supervision.
Employers will require you to demonstrate the ability to follow standard operating procedures, utilizing Six Sigma and Lean methodologies, and have compliance with regulatory rules and company policies related to manufacturing the products.
Possible Careers
Pilot Plant Technician
Quality Control Lab Technician
Process Control Technician
Chemical Processor
Admission Requirements
One year of high school chemistry, or equivalent.
Scholarships
READY TO TAKE THE NEXT STEP? 
Use the buttons below to get more information, visit the college or apply now. 
Request Info    Visit Us    Apply Now
QUESTIONS?
STEM Academic & Career Pathway
414-297-6319
stempathway@matc.edu