For students and employees
Already one of the most diverse colleges in the Midwest, MATC strives to become a more equitable and inclusive place for all its students and employees. College officials in July presented a comprehensive and holistic plan to do just that.
"Our aspirational goal is to position MATC as a premier diverse and inclusive college," said Eva Martinez Powless, Ph.D., chief diversity, equity and inclusion officer. "This entails coming together to promote equitable outcomes for all students and employees, and by working diligently toward a more inclusive environment for everyone that works and learns at MATC."
The plan will help the college break down barriers that stand between students, instructors and staff by providing a safe place where differences are valued and celebrated.
"We promote awareness, training and crucial conversations to move beyond our individual biases, whether unconscious or implicit, to create an inclusive environment that welcomes, accepts and respects all students and employees while serving the unique needs of each individual," said Elle Bonds, vice president, Office of Human Resource Services. "This resonates through the attitudes and behaviors of all those who work and learn at the college."
The plan identifies four improvement areas, or Pillars for Change, to guide the college's diversity, equity and inclusion efforts for the next five years: Climate, Employee Experience, Student Experience and Institutional Commitment. The plan details goals and objectives for each area.
The DEI plan was guided by the college's Diversity, Equity and Inclusion Task Force, which collected input at large and small group meetings, from employee affinity groups, from individual employees and students, and from community groups.
The plan builds on current efforts, enhances existing strategies and develops new approaches for building leadership capacity for equity, Dr. Martinez Powless said.
"We recognize that lasting change is only possible when we make intentional and incremental efforts toward collective goals," she said. "Through this plan, we are committed to consistent and intentional progress toward a culture of equity and inclusion."
Access MATC's DEI Plan at matc.edu/diversity
Additional Information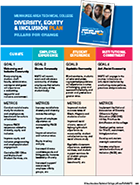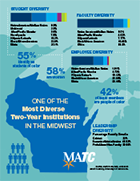 Diversity graphic (pdf)