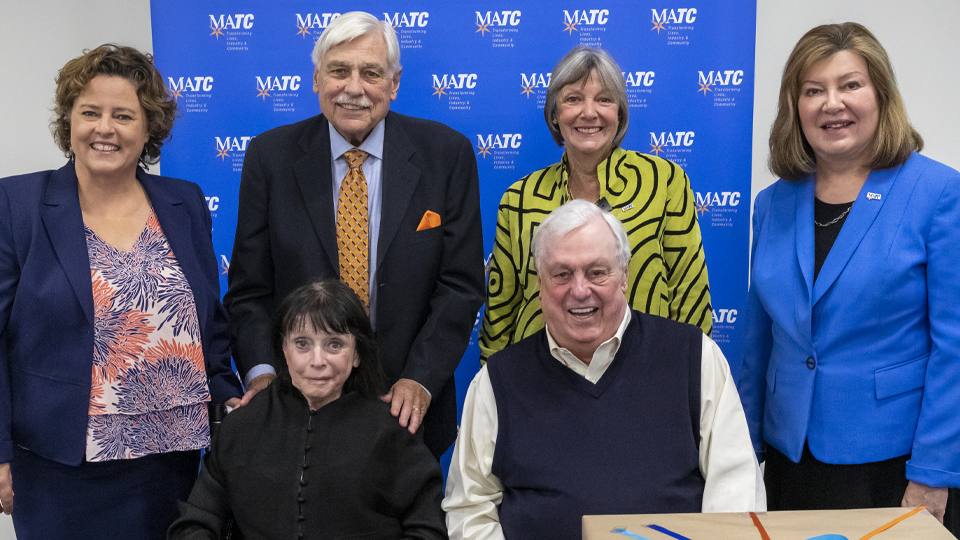 Ellen and Joe Checota MATC Scholarship Program 
a full ride scholarship to quickly earn a technical diploma or certificate 
Joe Checota is ready to reward those ready to work hard. Checota, a long-time Milwaukee resident and highly successful developer of medical facilities, and his wife, Ellen, have committed $5 million to MATC to fund scholarships for students in short-term trade and technical programs. In August 2022, MATC officials unveiled the Ellen and Joe Checota MATC Scholarship Program at the college's Downtown Milwaukee Campus. Combined with $2.5 million in donations that will be matched two-to-one, the gift represents the largest-ever scholarship investment in the 110-year history of the college.
The scholarships are also the most comprehensive offered by the school, covering not only tuition, but also books, equipment, meals, transportation, housing at the Westown Green student apartments and child care, said MATC President Vicki J. Martin, Ph.D.
Through the scholarships, MATC can help students seeking to complete their education and quickly start careers. And that will provide Milwaukee-area employers with urgently needed workers including carpenters, plumbers, electricians, medical and dental assistants, website developers, property managers, welders, auto mechanics, barbers and cosmetologists.
"We always wanted to be in a position to help trade and technical students better their lives," said Joe Checota, chairman and CEO of Landmark Healthcare Facilities LLC. "People who want to dig in and work and make a better life for themselves and their families. That's what this program is all about."
Every dollar contributed to the Checota MATC Scholarship Program will be matched by Joe and Ellen Checota $2 for every $1, up to $5 million. MATC has begun a campaign to raise $2.5 million to fulfill this match and bring the fund's total to $7.5 million.
At the August event, the college also announced the first matched gift: $500,000 from Frank Daily and Julianna Ebert, who is president of the MATC Foundation board.
"We are completely committed to your vision and your goal of raising these funds," Ebert told the Checotas during the event.
The scholarship program will showcase the college's wide variety of technical programs; eliminate many barriers for students to attend MATC; and benefit businesses and industries in the region that need trained workers as soon as possible, Ebert said.
We always wanted to be in a position to help trade and technical students better their lives.
The Checotas' initial funding plus the gift from Daily and Ebert gave MATC $1.5 million to spend on scholarships right away. With that money, MATC had the funds to provide full-ride scholarships for between 300 to 400 students for the 2022-23 academic year.
In the Spring semester, which begins in January 2023, the scholarship program will open to eligible students pursuing short-term technical diplomas and certificates, including newly enrolled and returning students. The total number of participants could reach more than 1,500 students, Dr. Martin added.
"This is a major investment for student success," Dr. Martin said. "It's such a life- and game-changer for our students."
The scholarships will give students the tools and the support they need to take the next steps to a fulfilling career, noted Erik Riley, advisor for the college's Manufacturing, Construction and Transportation Pathway.
"This program will remove the barriers so many students face, so they can focus on what they are here for," Riley said.
Laura Bray, MATC's vice president for college advancement and external communications, and executive director of the MATC Foundation, encouraged Milwaukee-area businesses and individuals to contribute funds, which will be matched two to one, and ensure the community has a vibrant, successful and rewarding future.
"We understand your vision to make lasting change," Bray told the Checotas. "Not just for today's students, but for their children and their children's children. We hope this will create a legacy that lives here for many generations."
The couple, who have lived and worked in Milwaukee for decades and raised their children in the city, are excited to see the fruits of their investment. "I encourage others to contribute both small and large gifts so we can spend this money as fast as possible," Joe Checota said.
Support the Ellen and Joe Checota MATC Scholarship Program at matc.edu/donate.