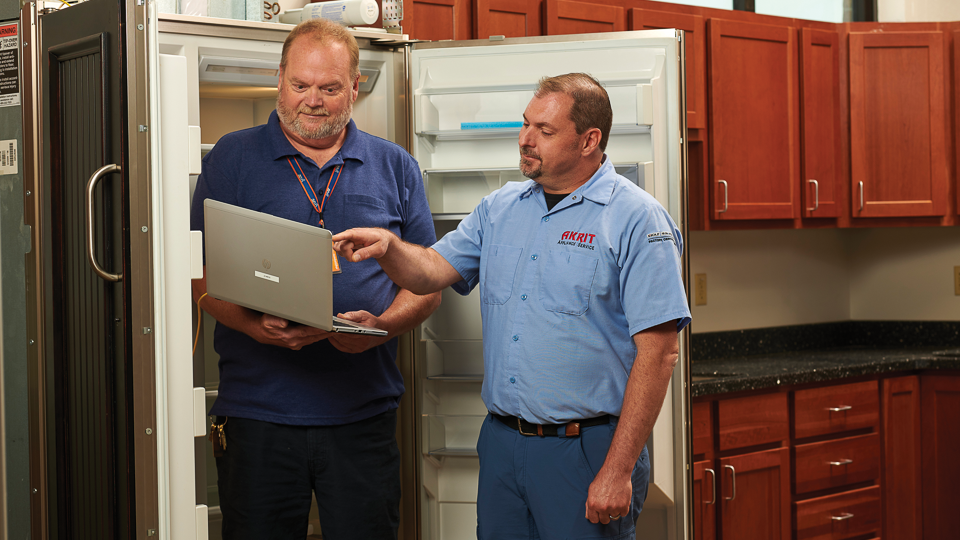 MATC Appliance Technician grads are in demand
If you think you spend a lot of time in your kitchen, you haven't met instructor Jim Rehm. He has six kitchens and spends countless hours in them guiding students through hands-on learning in appliance installation, service and repair.
Rehm, an MATC alumnus who has 35 years of experience in the consumer repair business, is the lead instructor of MATC's Appliance Technician program. He teaches most of the courses and explains how to work with major appliances such as automatic washers, dryers, ranges, refrigerators and dishwashers.
One of the only programs of its kind in the U.S.
MATC has one of the few appliance technician programs nationwide. Students learn to truly analyze and understand a situation — and not simply change parts until an appliance returns to working order. They gain a fundamental understanding of electricity to help them troubleshoot. Students also work on soft skills because they will spend significant time on the job interacting with customers.
"I spend about 90% of my time on house calls," explained 2018 graduate Jason Manske. "We try to come in as friendly as possible and always respect their property. It's important to keep your area clean and clean up after yourself."
Manske originally started in the parts department at Akrit Appliance Service and enrolled in MATC's Appliance Technician program when he expressed an interest in advancement. 
He enjoys the fairly consistent weekday hours and lack of repetition. "You make good money immediately. It's a mix of working with your hands and solving problems," Manske said. "It's never the same thing every day. It's something new thrown at you all the time. It keeps everything interesting and fresh."
Great opportunity for high school graduates or career changers
Full-time students can complete MATC's technical diploma program in two semesters and graduates earn $16 to $19 per hour, according to Rehm. Those working on high-end appliances can earn significantly more hourly and qualify for bonuses, making their yearly income above $60,000.
MATC helps strengthen the diverse talent pipeline for local employers. 
"I get calls all the time from employers looking for technicians," said Rehm. New appliances have a "life expectancy" of five to 10 years; Rehm sees more appliance failures than in the past.
Kevin Cokain is a vice president at Akrit Appliance Service, which provides technicians for both high-end residential and commercial needs. He supervises several MATC graduates and agrees that demand is really high for skilled technicians. 
"It's a great opportunity for prospective students or people looking to make a career change," he noted. "This is a trade that can give you a stable and very good income. We're not as susceptible to trends in the economy as some other trades that are tied to construction and building. In a good economy, new appliances are being sold and we get a lot of warranty work. In a down economy, a lot of repairs are needed."
Keep working your way up, keep applying what you know and keep going.
Before becoming an instructor in 2013, Rehm worked for two different companies: a small independent TV repair shop in Milwaukee and American TV and Appliance. This work experience helps ensure his classroom instruction is practical. He volunteered as an advisor to MATC's appliance repair program while working full time in the field. This feedback helped ensure the curriculum evolved to meet employer needs.
The work has changed over the decades. "It used to be mechanical – this part touches that part – but we've moved into electronics, and now everything is a computer asking the machine to do different functions," explained Rehm. In some instances, technicians use a kit that looks more like a briefcase than a traditional toolbox and often start a repair by connecting a laptop or tablet for diagnostic details.
Throughout the program, he focuses on instruction and advice from the perspective of a career veteran. "Keep working your way up, keep applying what you know and keep going," recommended Rehm. And, of course, read your appliance manual!
To learn more about MATC's Appliance Technician program, visit matc.edu/course-catalog and search "appliance."