HOT JOB MARKET FOR ALUMNI OF MATC'S HEATING/COOLING/REFRIGERATION PROGRAMS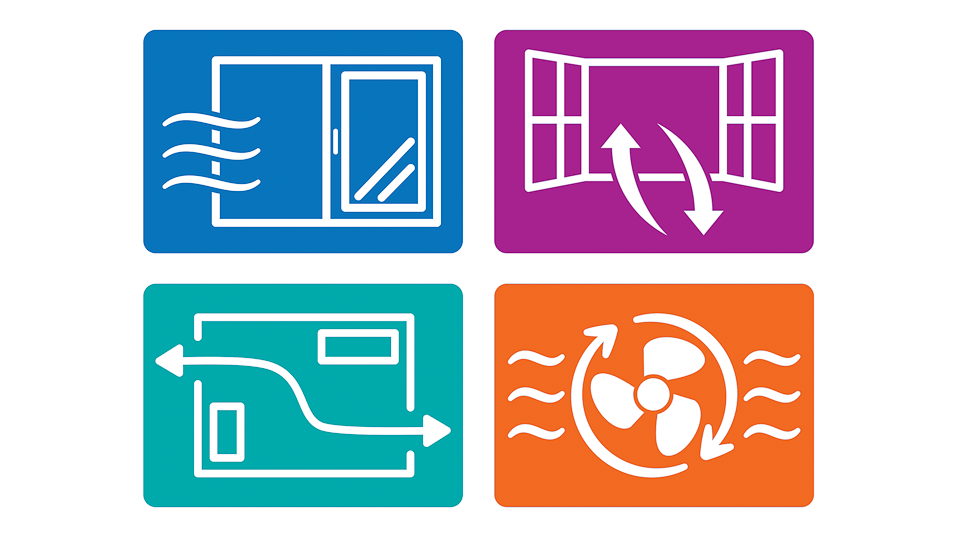 The coronavirus pandemic made people and business owners think more critically about air purity, including heating, ventilation and air conditioning (HVAC) systems. Industry experts recognize MATC as one of the top schools in the U.S. for training the workforce to install and service air conditioning, refrigeration and heating equipment.
When Roberto Cisneros' employer laid him off after the coronavirus pandemic hit, he didn't waste any time in pursuing a new career with stronger opportunities. He enrolled in the Refrigeration, Air Conditioning and Heating Service Technician technical diploma program at the Oak Creek Campus. After graduating in May 2021, he immediately began working in the industry and is now with Burant Heating and Air Conditioning LLC in Franklin. 
"When I started the job, they said I was a lot more informed than other new people. They were impressed that I already knew some technical things," Cisneros said.
When I started the job, they said I was a lot more informed than other new people. They were impressed that I already knew some technical things.
The college offers a 30-credit technical diploma and a related 64-credit associate in applied science degree; the associate degree credits transfer to partnering four-year colleges. Graduates of both programs are prepared for a career with steady demand. 
"The trades are always looking for people, and this is a vast industry that's paying really well," said David Polk, MATC's director of apprenticeship programs.
MATC SPOTLIGHT
Partnership Gets Students Started Early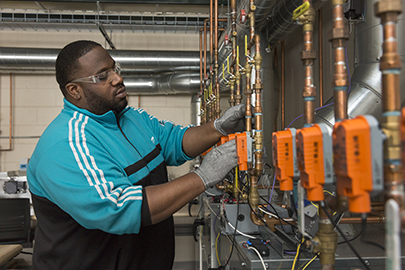 Automated Building Systems program student
at MATC Oak Creek Campus
Through a unique community collaboration, 20 sophomores at Milwaukee Public Schools' Barack Obama School of Career and Technical Education learn about heating, ventilation and air conditioning (HVAC) at their high school from an MATC instructor. They receive credit for both high school and college, which is known as "dual credit." At the end of the school year, students will already have college credit on their transcripts.
The HVAC Dual Enrollment Academy classroom is decked out in new equipment donated primarily by Johnson Controls, which makes heating and air conditioning products along with fire protection, security systems and other equipment for large buildings. The company's North American headquarters in Glendale is not far from the school's location on Sherman Boulevard. Donations also came from Auer Steel, a local HVAC supply company, and the Plumbing Mechanical Sheet Metal Contractors' Alliance for tools and materials. A related Johnson Controls four-year renewable financial gift to the MATC Foundation will
fund a dedicated HVAC retention coach and on-site learning opportunities at both Obama and MATC campuses.
Future plans include adding courses for juniors and seniors — and even adults via evening classes.
Technical training can lead to a 'clean' job
Students who excel at assembling puzzles are likely to be a good match for the career because they can envision the finished project before it is installed. They will gain a background in mathematics, drafting, electricity and thermodynamics at MATC.
"There are a lot of 'clean' jobs like building automation that deal more with technology and computer programming rather than hanging ductwork and installing a furnace," said Polk. Some graduates such as Cisneros work in homes while others work on the largest buildings in the region.
Polk also pointed out that Wisconsin's "temperature swings from very hot to very low make the heating and air conditioning industry all the more important."
The college was named one of the top Air Conditioning (AC) Technician Schools nationwide by the HVACclasses.org blog. The recognition acknowledges the diligent work of college instructors to ensure that MATC's courses meet industry needs.
Cisneros enjoyed his MATC experience. He noted that his instructors had different styles of teaching, which kept the classes interesting and engaging. Instructor Andy Lewis, for example, "would chat with us and give scenarios that happened to him in the field. They used real-life stories during their lectures," Cisneros said.
To learn more about these programs, visit matc.edu/course-catalog and search "heating" or call the Recruitment department at 414-297-6228.