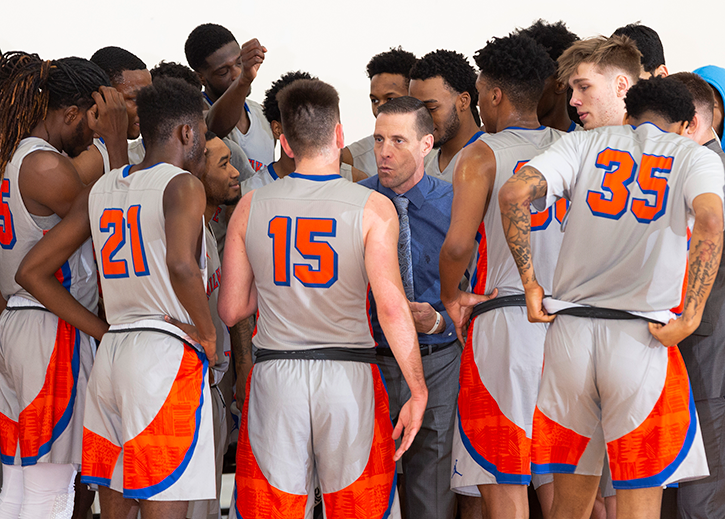 Consistently ranked No. 1 in the nation in their division, the MATC Stormers men's basketball team achieved excellence on and off the court in the 2019-20 season. The team was undefeated in its conference and lost only one game all season. Their fast-paced style led the nation in scoring (103 points per game), rebounding and steals.
Thanks to a substantial emphasis on academics and student support, the team had eight players with a grade-point average of 3.0 or above and boasted an overall 2.9 grade-point average in the first semester. Three players qualified for the North Central Community College Conference (N4C) Academic All-Conference Team list and two made the prestigious Academic All-American Team.
Athletic Director and Men's Head Basketball Coach Randy Casey emphasized both the education student-athletes receive in the classroom and the lessons learned on the court. He regularly held a Friday night study hall to keep players focused. The players learned traits that will serve them well in their future educational and career pursuits.
"The team was great on and off the court — every coach's and school's dream. We also had overwhelming support from our fans," said Casey.
Even with the shortened season due to COVID-19, the team racked up accolades including:
14-0 record in conference matchups, earning the conference championship
12-0 record for home games
Yuri Swinford named Conference Player of the Year, All-Region, NJCAA Division II Second Team All-American
Justin Briley named Region Tourney most valuable player plus All-Conference and All-Region
Steven Ross Jr. named All-Conference, Second Team and All-Region, All-Tournament Team
Athletic Director and Men's Head Basketball Coach Randy Casey won his 400th career game and was awarded the 2019-20 NJCAA Division II Men's Basketball Coach of the Year presented by TicketSmarter, the HoopDirt.com junior college Coach of the Year presented by Just Play Solutions, and Junior College Men's Basketball Coach of the Year by the Wisconsin Basketball Coaches Association
The team was great on and off the court - every coach's and school's dream.
Scholarships available for men and women
MATC advanced from the National Junior College Athletic Association Division III to Division II in 2018, which allows the college to award athletic scholarships for the men's and women's basketball programs. Partners were critical in making the move happen. They include Kristin and Brian Kellerman, the parents of MATC basketball player Will Kellerman, who was killed in a car accident in November 2017. The Kellermans donated $40,000 through the Opportunity 34 Foundation, which was formed to support student-athletes as a tribute to their son.
MATC's athletic program
In addition to men's and women's basketball, MATC offers varsity baseball, men's and women's soccer, softball, and women's volleyball, as well as recently established men's and women's tennis teams that play in Division I.
Last academic year, 32 MATC athletes in eight sports qualified for the N4C Academic All-Conference team. Conference honors are awarded to student-athletes who achieve a 3.0 or better grade-point average with a minimum of 12 credits passed.
MATC athletic schedules are available at matcstormers.com.
To give to student athletic or academic scholarships, contact Development Director Monika Walloch at wallocms@matc.edu or visit matc.edu/donate.