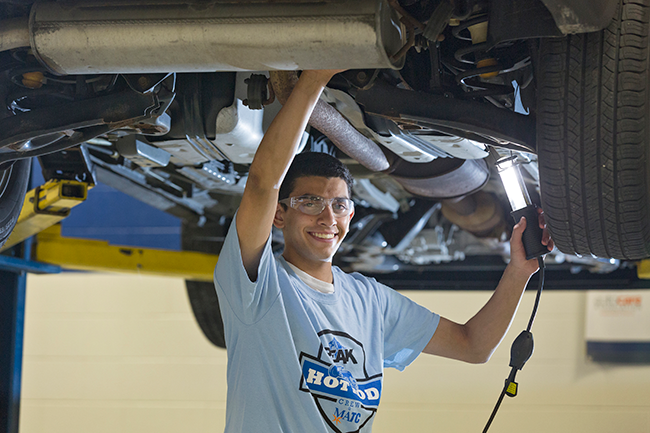 Student Graduates From High School, MATC Simultaneously
Dual enrollment, RevUp programs meet employers' needs for skilled workers
For Isaiah Ortiz, high school graduation was the second time in a month that he donned a cap and gown. The first time was MATC's Spring 2019 commencement ceremony.

Ortiz attended MATC as a Tenor High School senior to earn an Automotive Maintenance Technician technical diploma. Then he quickly landed an automotive technician job, beginning his full-time position a week before high school ended.

"I'm glad I had this opportunity," he said. "Finishing high school and going to MATC all in my senior year helped me plan my career."

Through a dual enrollment partnership, Tenor's seniors attend MATC to earn college credits. Their college tuition is paid by the high school, which is a charter school authorized by the University of Wisconsin-Milwaukee. It is run by the community-based organization Seeds of Health Inc.
Finishing high school and going to MATC all in my senior year helped me plan my career.
The seniors can choose to complete their MATC credits in general studies, or attain certificates and technical diplomas in career areas such as automotive maintenance, business, construction, healthcare services and information technology.

Ortiz selected the automotive program because "I have a passion for cars that started when I was little," he said, explaining that his grandfather collected model cars and Ortiz was fascinated by them.
MATC RevUp connections pay off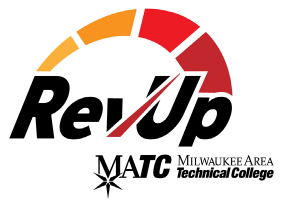 MATC's RevUp program is intensifying the college's response to workforce shortages in the auto industry, and the program helped Ortiz and his classmates learn about local job opportunities. Employers attended RevUp events on campus to mentor students or talk about their businesses. The networking helps students and employers make important career connections.

"Now I have a great job, thanks to MATC," Ortiz said. "My instructors were fantastic and I enjoyed the experience of being in classes with all ages."

RevUp was launched in 2018 with support from Tom Hurvis and other donors including individuals, foundations and industry partners.
For information on MATC Dual Enrollment programs, contact Erin Cherney, 414-297-6068; visit the High School Relations page.
To donate to the RevUp program, please contact the MATC Foundation at 414-297-7687.