Nursing Graduate's New Businesses Combat Maternal, Infant Mortality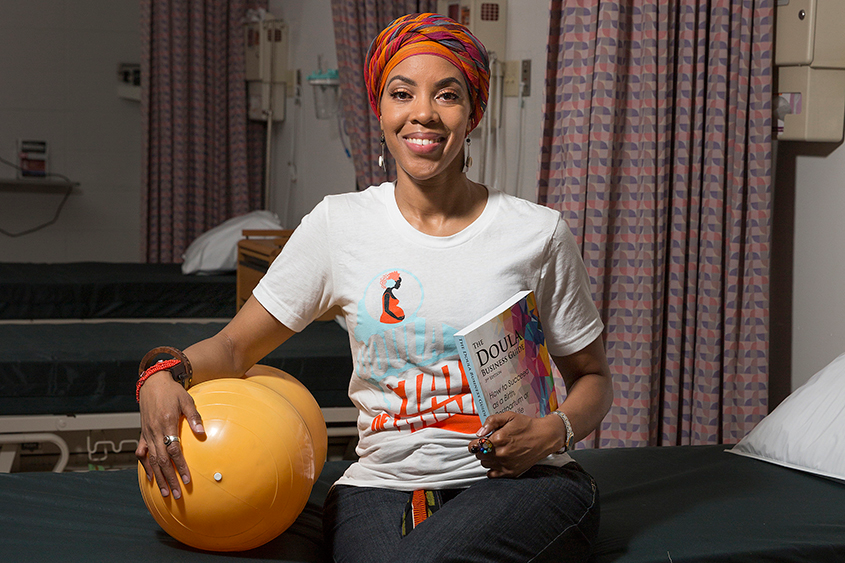 Vanessa Johnson supports families during a pregnancy and after baby's birth
Vanessa Johnson always knew she wanted to be an educator and always felt a deep connection to the health field, but it was the compassion, knowledge and support of her instructors at MATC that helped her through the school's Registered Nursing program. Johnson graduated in 2005 and now works as a doula, providing advocacy, education and support to families during pregnancy and after birth.

As a young, African American, single mother, Johnson said there were a lot of instances during her pregnancy when she felt none of her caregivers looked like her or represented her.

"I knew at that time I really wanted to change that narrative and offer support to families that aren't represented in those spaces," she said.
MATC provided valuable connections
Johnson enrolled in MATC's Registered Nursing associate degree program and said the most valuable takeaway from her education was the connections she made with faculty, classmates and the community.

Whether it was making sure she got her financial aid work-study hours in at the campus multicultural center or writing letters of recommendation for the more than 15 scholarships she applied to every semester, Johnson's mentors and advisors were instrumental in supporting her through the academic and financial challenges of going to college as a single parent.

Johnson was inspired by the number of women, especially African American women, in influential positions in MATC's Nursing program. She became president of the Future Black Nurses Association on campus and was a scholarship recipient for the Black Nurses Association.

She also forged relationships with fellow nursing students and medical professionals, who continue to partner and support each other as they evolve in the field. After graduating, she became a registered nurse and a certified breastfeeding educator. Eventually, she was introduced to the world of doulas through a workshop. 
 "And now I'm building relationships for families here who are at risk," Johnson said. "Doulas are also used as a community resource. I've had families call me for numerous things even outside of the birth, whether it's housing or a mechanic. Once you start to build those relationships you become infused in their lives."

She has worked as a doula for the Community Doula Initiative, a pilot program implemented by the City of Milwaukee Health Department with funding from Milwaukee County. In the last year, she has launched two businesses – A Miracle Happened Wellness and Birth Services, which provides doula support, and Birth Workers United Inc., which will bring together all the birth work disciplines for a more collaborative approach to supporting families.

Though she said she has to take off her nursing hat while working as a doula, having a medical background allows her to build cohesive relationships and act as a liaison between the medical teams, the pregnant families and the community.  
Johnson said her mission is to support all women, especially those in need, as she serves communities and populations with some of the highest maternal and infant mortality rates in the country.

"I support all women, and I have a dire need to support African American women because of the statistics and because I'm African American," she said. "I want to see us live and thrive and be there for our babies, and I want our babies to live and thrive as well."

Through what she calls "sacred work" or "heart work," Johnson often offers discounted or donated services to those who aren't able to afford it.

In addition, Johnson is a member of Black Nurses Rock, which was initiated by an MATC graduate, and is now developing a training curriculum to make her line of work more accessible to aspiring doulas.

"I am part of different nursing organizations today. Being able to stay connected over so many years based on the relationships and the camaraderie we formed while we were pushing our way through that rigorous program — it was just life-changing," Johnson said.
MATC and United Health working to attract more nurses to the field
MATC and United Health Foundation continue to work in partnership on a multiyear effort with dedicated funding to increase the number of MATC nursing graduates. This partnership has allowed MATC to increase nursing faculty to open more spots for interested students, provide intensive support to help students succeed, and establish transfer partnerships for students to earn their bachelor's degree in nursing.
To learn more about MATC health services programs, visit matc.edu/health_sciences.
To make a donation in support of nursing careers, contact Donor & Alumni Relations Coordinator Bob Holland at 414-297-6825, hollanrj@matc.edu, or Donate Now.