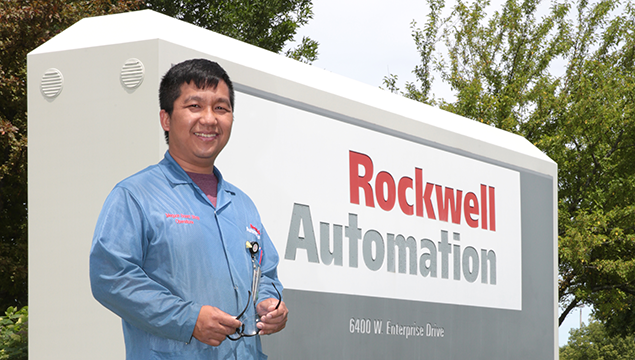 MATC Supports Advanced Manufacturing Pipeline
College prepares students with in-demand skills
Manufacturing is transitioning through a widespread change on par with the Industrial Revolution, as MATC Electronics Department Chairperson and faculty member Tom Heraly tells his students. Smart manufacturing — also called "Industry 4.0" — is a key process for local companies such as Charter Wire, Harley-Davidson, GE Healthcare, Johnson Controls, Rexnord and Rockwell Automation.

Interconnectivity — the Internet of Things and the Industrial Internet of Things — has allowed the full tracking of products from raw material to end of usefulness. The trend has changed all aspects of production, warehousing and distribution.

The trend also is changing manufacturing careers. Smart manufacturing requires new processes and equipment together with new workforce skills. Typical workdays are far from many people's stereotype of standing on a production line doing mundane work. Additionally, these manufacturing jobs provide family-sustaining wages.
I work second shift, so I am able to take classes during the day. I'm taking one or two classes per semester.
One of the many ways MATC is preparing today's workers for the jobs of tomorrow is through its Advanced Manufacturing Technology associate degree program. Rockwell Automation manufacturing associate Chai Chang is enrolled in the program.

"I work second shift, so I am able to take classes during the day. I'm taking one or two classes per semester," explained Chang. The courses allow him to upskill while maintaining his current job and could ultimately lead to a promotion.

Advanced Manufacturing Technology addresses local employers' needs for manufacturing technicians capable of working with complex equipment and processes. It requires a skill set related to computer-driven equipment, sensors and processes.

MATC students take classes covering automated systems and advanced programmable logic controllers — among other topics — to prepare for this in-demand career.
Employers eager to hire
Employers sometimes struggle to fill positions like these that rely on advanced skills. "Employers are looking for individuals who understand and work with interconnected machines, processes and products to provide tracking and troubleshooting," said Heraly.

"Our programs have changed at MATC to incorporate concepts of interconnectivity. We have created new programs to address the interconnectivity skills needed by all employees within an organization. Multiple competencies from various disciplines have been combined into specific programs such as our Advanced Manufacturing Technology associate degree," he continued.

This new degree program was created to meet employers' current and projected needs. For more information about it, visit the Advanced Manufacturing Technology program page.
Role of Advisory Committees
MATC regularly re-evaluates curriculum to fit workforce demands and receives input each semester from local employers through the college's Advisory Committees. MATC's occupational programs are advised by these external committees comprised of incumbent workers, program graduates and supervisors of employees in the occupation. With MATC faculty and staff serving as resources, the committees provide insights on curriculum development, job readiness skills and industry trends. The Advisory Committees assist in maintaining programs to be technologically current and responsive to workforce needs.
Interested in serving on an Advisory Committee to represent your industry? For more information, contact curriculum@matc.edu or 414-297-6240.