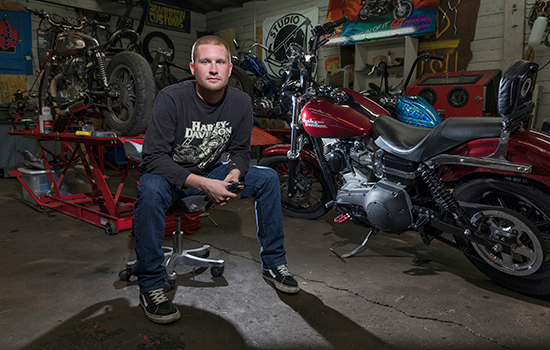 MATC Dual Enrollment Classes Fuel Bike-Building Excellence
An MATC program in partnership with St. Francis High School started Steve Dietzman on a path to international victory. As a high school junior in 2010, Dietzman could access auto and metal shop courses at MATC's Downtown Milwaukee Campus through a Dual Enrollment program, which allowed him to achieve both high school and college credit. In particular, he enjoyed the fabrication aspect of welding and put it to use on motorcycle frames and parts.
His first bike, which he purchased while still in high school, was a 1969 Honda 350. Dietzman continued working with motorcycles and even opened a small shop named Studio Cycles in Milwaukee's Tippecanoe neighborhood. There he modified a 1977 Harley-Davidson Ironhead Sportster, changing almost everything, including the frame. He completed this project when he was only 18 years old. He further strengthened his skills through the BUILD program, a nonprofit educational organization allowing small groups of high school students to get hands-on experience with motorcycles. It began at St. Francis his senior year.
Over the years, Dietzman returned to MATC for classes to fuel his passion, such as Fundamentals of Oxyfuel Welding, and even repeated Fundamentals of Arc Welding with the same instructor to gain additional knowledge. "I just kept learning and it's just crazy the amount of learning you pick up, from other students and the instructors," he said. "It's fun so it grinds my gears."
Patrick Hanson, Dietzman's former MATC instructor and currently an automotive instructor in MATC's School of Pre-College Education, said, "He's a real talented kid, once you see him with a tool in his hand, you realize that. He's got some of the best natural ability I've run across, and his parents encouraged him to work with his hands and that helps a lot."
All that education and experience culminated in a win at the 2017 International Motorcycle Show with his custom 1968 Triumph Bonneville Chopper, which was victorious in the Retro Modified Class category. Dietzman had attended the show for three years as a spectator and found motivation to finish and enter a bike. His former instructor was one of the first people to hear about the win as Dietzman's classmates enthusiastically "lit up" Hanson's phone with messages. A few days after the show, Dietzman stopped by Hanson's class where Dietzman built the motorcycle's engine.
Other accolades include displaying a bike in a curated exhibit at the 2017 Sturgis Motorcycle Rally in South Dakota. The 26-year-old believes his best work is yet to come.
I just kept learning and it's just crazy the amount of learning you pick up, from other students and the instructors.
Though he has clients for custom bike redesigns and inquiries surged after his win at the international motorcycle show, Dietzman takes that on in his spare time. He works as an outside sales representative for Fastenal, having advanced from positions in the warehouse and as an account representative. He currently calls on businesses in the Franklin Business Park, an MATC partner.
Volunteer Work With High School Students
Now Dietzman invests significant time with students at his former high school through the BUILD program each year from January to June. Despite working full time and running the motorcycle shop, Dietzman volunteers from one to five days per week at St. Francis High School and serves as a mentor to a small group of students who share similar interests.
Through this program, students take a dilapidated motorcycle chassis and progress through design, welding, fabricating and painting. Over the summer, Hanson acquires the old bikes. Participants also raise money to refund the purchase of the original bike and parts. The program culminates in a race, held in past years at Road America in Elkhart Lake, Wisconsin, and now moving to a flat track racing course.
The Iron Horse Hotel in Milwaukee founded the BUILD program. In 2018 BUILD was active in several high schools in the area served by MATC: Divine Savior Holy Angels, Lynde and Harry Bradley Technology and Trade High School (Bradley Tech), Oak Creek High School, Shorewood High School, St. Francis High School and South Milwaukee High School. MATC is one of the program sponsors. More information is at buildmoto.com.
Dietzman's high school Dual Enrollment experience at MATC – then called Youth Options – lives on through the Start College Now program. The program allows students to begin their college education by taking college-level career and technical courses while still in high school.
For more information about enrolling high school students in Start College Now classes at MATC, contact your local school district or call MATC at 414-297-6068.
Are you an MATC alum? Join the MATC Alumni Network. Free sign up at Alumni Sign Up form.