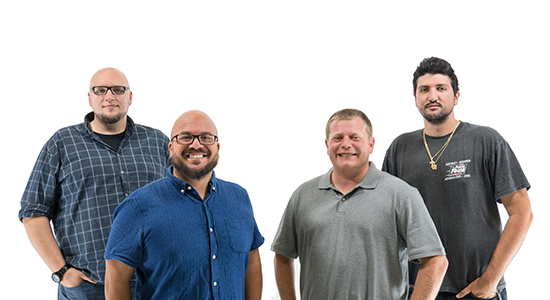 Alumni Volunteers Help Ensure Student Success
At Almon Inc., four MATC alumni lead internal teams and help drive the creative work the company produces for its clients. Almon is a technical publications company headquartered in Waukesha, and its training and animation facility employs several alumni of MATC's School of Media and Creative Arts programs.
Employee Adam Guernsey regularly returns to the Downtown Milwaukee Campus to give back to the program that launched his career. He offers guidance and real-world perspectives to students in the portfolio class for visual communications, helping foster their success.
"I'm always trying to tell the students to pick a few of your favorite pieces of work and clean them up and polish them until you love them, and that's what you want to show the world," he said. "The students do so many things that they want to put them all in their portfolio. If you love it, leave it. If you don't, get rid of it."
Guernsey visits MATC at the invitation of instructor Brian Mennenoh. He and fellow instructors maintain close ties to area employers and invite these workforce partners to share current industry perspectives with their students.
Industry Leaders Influence Curriculum
MATC's instructors are experts in their fields with firsthand, on-the-job knowledge. Many faculty members also draw on industry connections to help students learn about their chosen field.
In addition, MATC's volunteer program Advisory Committee members are respected industry professionals.
Almon employee Keith Kamikawa graduated from the Animation associate degree program in 2011 and returns to MATC for Animation Advisory Committee meetings. Like all Advisory Committee members, his expertise helps assure coursework relevancy, state-of-the-art equipment for the college, and a high degree of professionalism for graduates.
Kamikawa said that being able to talk candidly with instructors and industry peers is very rewarding. He enjoys helping guide the program to meet employer needs. Kamikawa benefited from practical, hands-on learning in realistic situations when he was an MATC student.
"For a couple years the program brought in companies that gave us real-life experience working on real projects. I worked with Active Across America doing videos and animation promoting children's health. The animations we created aired on Channels 10 and 36. I was working 40 hours a week – it was a trial by fire, it was super hard stuff, but it was a real animation gig so it completely prepared me for my work in the real world," he said.
In addition to volunteering on the Advisory Committee, Kamikawa returns to speak directly with students. He reinforces advice they may hear from a parent or instructor and gives an "industry insider" angle.
"One of the number one things I talk with the students about is having their social media set up appropriately. LinkedIn is totally huge. They need to make sure their Facebook and Twitter are appropriate. Before we hire new people, one of the things I do is to check them out on social media and make sure they are going to represent the company well," he said.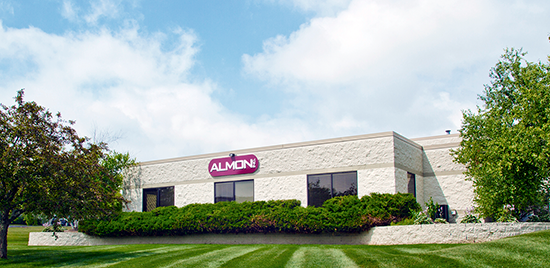 Almon Inc. is a technical publications company headquartered in Waukesha.
Advisory Committees
At MATC, every academic program area is served by Advisory Committees with volunteer members who help identify industry trends. This helps ensure that MATC graduates are well-educated and career-ready. More than 900 industry representatives, including alumni, volunteer their time on one of approximately 100 Advisory Committees.
Program curriculums are regularly reviewed to provide graduates with the skills local employers need to stay competitive. MATC is committed to ensuring that its programs are aligned to keep the talent pipeline "flowing." This is especially true in middle skill jobs, which require more than a high school diploma but less than a bachelor's degree.
For information about MATC's Advisory Committees, please contact Pam Holt, director of Curriculum and Instructional Support, Teaching and Learning Technology, at holtp@matc.edu or 414-297-7613.
.. the program [at MATC] brought in companies that gave us real-life experience working on real projects.
Workforce Solutions
The college's Workforce Solutions team partners with local businesses in a variety of sectors to provide incumbent worker training. MATC's Workforce Solutions provides comprehensive services to meet workforce needs that include:

· Upskilling Current Employees
· Contract Training
· Customized Instruction
· Professional Development Workshops/Seminars
· Dual-Credit High School Courses
· Small Business/Entrepreneurship Services
· Fabrication Laboratories (Fab Labs)
· Internships

For more information about MATC's Workforce Solutions, please contact Lisa Reid, Business Development director, at reidlk@matc.edu or 414-297-6083.
Are you an MATC alum? Join the MATC Alumni Network. Free sign up at Alumni Sign Up form.