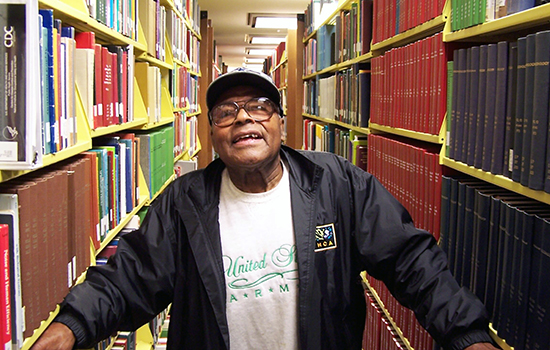 Alumni Friends Reunite
Educational Goals Inspired an Award-Winning Documentary
Kristin Catalano has a passion for storytelling through film. The MATC graduate used that passion and talent to share the inspirational story of her longtime friend Clarence Garrett. The two met while he was a mechanic working on the fleet at her family's grocery business when Catalano was just 8 years old.
A Shorewood High School graduate, she completed the MATC Police Science (now Criminal Justice Studies) associate degree program in 1995. Catalano then transferred to the University of Wisconsin-Milwaukee (UWM), which accepted all her credits via MATC's transfer agreement with the university's Criminal Justice bachelor's degree program. She eventually switched gears and obtained her Master of Fine Arts (MFA) in Screenwriting from the University of California, Los Angeles (UCLA) and decided to make a documentary about her longtime friend.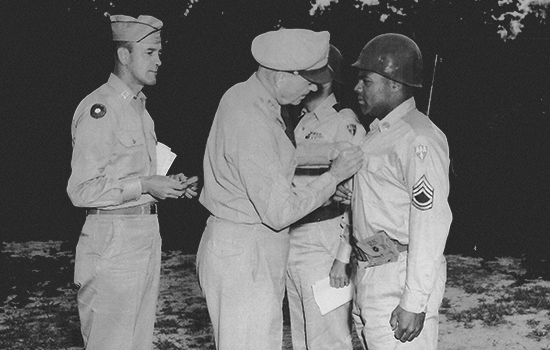 Clarence Garrett, shown in 1952, served in the military and the reserves.
Proponent of Education
Garrett was born in Baltimore, Maryland, during the Great Depression. He was drafted during World War II and Garrett, who is African American, served in the segregated U.S. Army in Europe. He returned to the U.S. and relocated to Milwaukee, joining the reserves. He attended MATC, then known as the Milwaukee Vocational and Adult School, in the 1950s in conjunction with his employment in the reserves. Garrett raised a family and encouraged his children to pursue education while putting his own educational aspirations on hold.
Balancing the cost of education and the cost of raising a family affected Garrett just as it does for many students today. Although he paused his own dream, Garrett never stopped promoting the value of education. He encouraged friends, acquaintances and even strangers to keep learning.
I wanted to tell this story and motivate people or help people – and sending that message that you can do anything you put your mind to, not just education.
"Education was all he preached about and talked about," Catalano said. "When I was a child, he was always talking about education and had subscriptions to book clubs. He was 100 percent for education for everybody. He would even ask strangers what they were learning and reading."
Garrett's dedication to education continued throughout his life when, after 50 years away from academia, 85-year-old Garrett requested his MATC transcript and decided to resume the education he interrupted to support his family. He attended UWM in 2006 to fulfill his dream of earning his bachelor's degree. Separated by decades, both Garrett and Catalano attended MATC and then UWM, and both were first-generation college students.
Support from education professionals and his own dedication allowed Garrett to absorb the new skills needed for today's environment. He learned to use email and found he needed to read books three times to commit them to memory.
Catalano spent a lot of time with her friend from 2006 through 2008 for the documentary, titled "Clarence." She reduced 200 hours of film to a final cut of 75 minutes. "He's very engaging and funny and enjoyable, so it was hard to filter through everything because I had to get rid of a lot of gems. My background in screenwriting really helped," she shared. "I wanted to tell this story and motivate people or help people – and sending that message that you can do anything you put your mind to, not just education."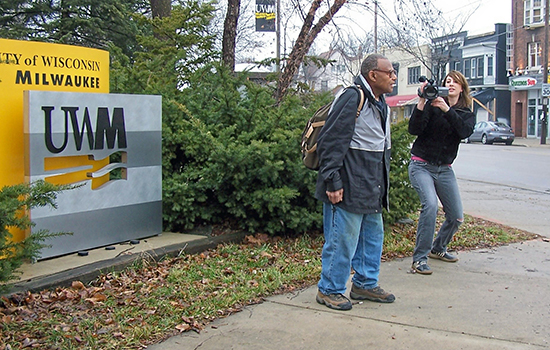 Kristin Catalano shot many scenes of Clarence Garrett on UWM's campus.
The Inspiration Continues
His pursuit inspired those he mentored and those who continue to learn his story through the film, which was shown at 15 festivals including in Austin, Hollywood and Milwaukee. The film earned several accolades. At every screening, people approach the director to share how it has impacted their own desire to return to school.
"Clarence" was broadcast on Wisconsin Public Television and is available on sources like Amazon, DirecTV, Google Play and iTunes, or via DVD. More information is available at info@clarencedocumentary.com.
Unfortunately Garrett died in 2012, three years before the release of the documentary. Before his passing, he saw an unfinished version called a "rough cut." He is survived by his wife, son and daughter in the Milwaukee area, a son and grandchildren in Oshkosh, and a son and grandchildren in Virginia.
MATC is committed to ensuring that veteran and current military service students achieve their educational goals. For more information, call the college's Military Education Support Office (MESO) at 414-297-8363 or email meso@matc.edu.
Are you an MATC alum? Join the MATC Alumni Network. Free sign up at Alumni Sign Up form.