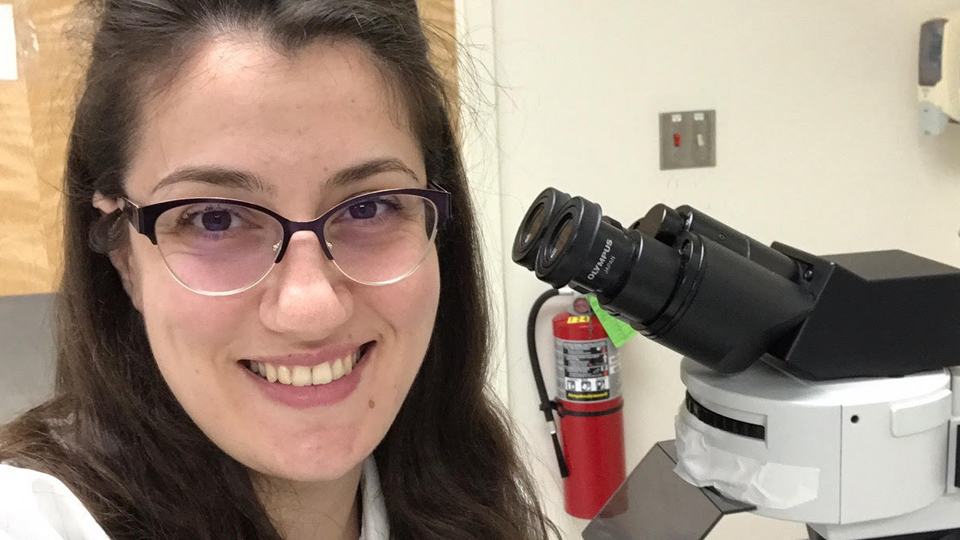 MATC alumna Zogana Sterjo shared her story for an article in the Oak Creek Current in July 2020; excerpts from the article are reprinted here.
When Zogana Sterjo moved to Milwaukee 12 years ago, she had already started medical school in her home country, Albania. Though she only knew a few words of English upon her arrival, she was determined to go to college here. So when her relatives told her about the English as a Second Language (ESL) program at MATC, she began taking classes.
The program helps students learn English to prepare them for higher education and sustainable careers, as well as greater functionality at work, at home and in the community. MATC's ESL program also connects students to further education at the college.
Though learning new languages comes naturally to her, Sterjo said it would be difficult to learn English without the courses she took that taught grammar, reading and weaving sentences together.
MATC's ESL program emphasizes learning that is relatable to real-world situations. Whether it's shopping, greeting neighbors or interacting with co-workers, these lessons can be applied when students walk out the door.
But the program also takes it one step further to ensure a student's ongoing success.
"They wanted to teach us the values of listening to and respecting other people's opinions, respecting different backgrounds and cultures, being open-minded and a critical thinker," Sterjo said. "Truly MATC was my foundation, not only for learning English but how to be a good, respectful citizen as well."
"Truly MATC was my foundation, not only for learning English but how to be a good, respectful citizen as well."
From classroom to career
After three semesters of ESL at MATC, Sterjo went on to earn an associate degree completed at MATC and then a bachelor's degree from the University of Wisconsin-Milwaukee. She works for Ascension Wisconsin as a medical laboratory scientist at a microbiology lab. Skills like hers are in demand in the healthcare field.
"Now, more than ever, our region needs dedicated, compassionate and skilled healthcare professionals. From lab technicians to nurses and medical assistants, we are so grateful for their unwavering dedication to patient care during this extraordinary time of need. The hands-on training that Milwaukee Area Technical College graduates receive helps them jump right into service at a time when we need it the most," explained Dr. Guillermo Martinez-Torres, chief medical officer, Laboratory and Pathology, Ascension Columbia St. Mary's.
MATC monitors local hiring forecasts for the region's wide range of industries. By developing its program offerings based on careers that are in demand, the college helps more people gain the credentials they need to earn family-supporting wages.
Instructors provide support and instill confidence
MATC's instructors prepare their ESL students for employment opportunities by going beyond teaching the rules of the English language. Warmly encouraging students as they practice their skills supports and strengthens the confidence required to speak a new language with strangers.
The department provides English language instruction to a linguistically and culturally diverse population from more than 25 language groups and 50 countries. The student population comes from all educational and ethnic backgrounds. The program serves students living in the Milwaukee area and includes immigrants, refugees and U.S. citizens.
MATC instructors reinforced the confidence Sterjo needed. "It's as if they sensed when I was losing my confidence ... when I had a million doubts about my English skills," Sterjo said. "I would recommend the program to everyone who moves here to Milwaukee. I have relatives and friends in other states and they don't have this opportunity, so we are really lucky to have this program, this school and these dedicated teachers."

To learn more about MATC's ESL program, visit matc.edu/esl