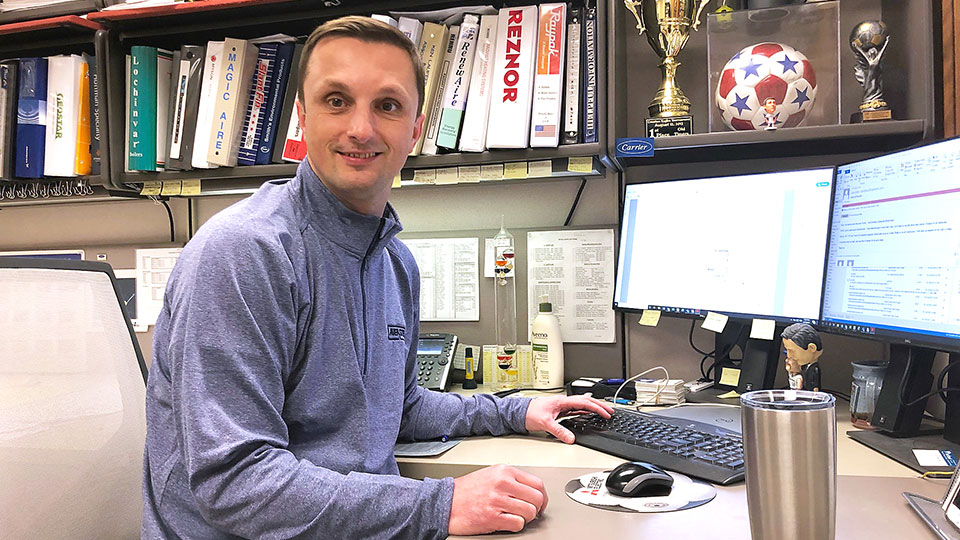 First-generation college graduate and engineering manager Ervin Kovacic knows firsthand the benefits of a career in heating, ventilation and air conditioning.
He came to MATC for a six-month HVAC program but continued on to earn an Air Conditioning and Refrigeration Technology associate degree, graduating in 2003 with honors. With a recommendation from now-retired instructor Gene F. Lechmaier, Kovacic started working as a design engineer at regional HVAC distributor Auer Steel in Milwaukee.
"The journey at MATC was amazing. It basically put me where I am today," said Kovacic, who is now Auer's engineering manager. "It was a platform that helped me jump off in my career and my professional life."
Kovacic was introduced to the HVAC field through a friend, but many potential workers are unaware of the opportunities that exist. In addition, with a societal focus on four-year degrees, trade industries like HVAC are struggling to fill positions.
"Heating and air conditioning is not a high-profile or well-known profession, but the opportunities are significant," said Auer Steel Director of Business Development Jon Hirsch. This field offers a family-supporting wage with recent MATC technical diploma graduates reporting an average pay of $42,897.
I'm also helping MATC because that's where I came from. It's a win-win situation all around.
Hirsch and Kovacic both serve on MATC's HVAC Advisory Committee and said it is important for companies like Auer to get involved with technical colleges and raise awareness for their industry. MATC receives input each semester from local employers through the college's Advisory Committees, which are aligned with its occupational programs. Committee members share their insights regarding job readiness skills and industry trends.
In a recent effort to promote the HVAC field and support aspiring industry workers, Auer partnered with Roth Heating Company and the Milwaukee Independent Heating Contractors Association to create a new endowed scholarship. The $500 award will be given annually to an MATC student in the HVAC program, with the first recipient anticipated in Fall 2020.
"We basically try to promote the industry as much as possible to steer students into the classrooms and connect them to jobs that are open," Kovacic said. "I'm also helping MATC because that's where I came from. It's a win-win situation all around."
To form an industry partnership, contact MATC's Corporate and Foundation Relations Coordinator at 414-297-7380 or vosscp@matc.edu.