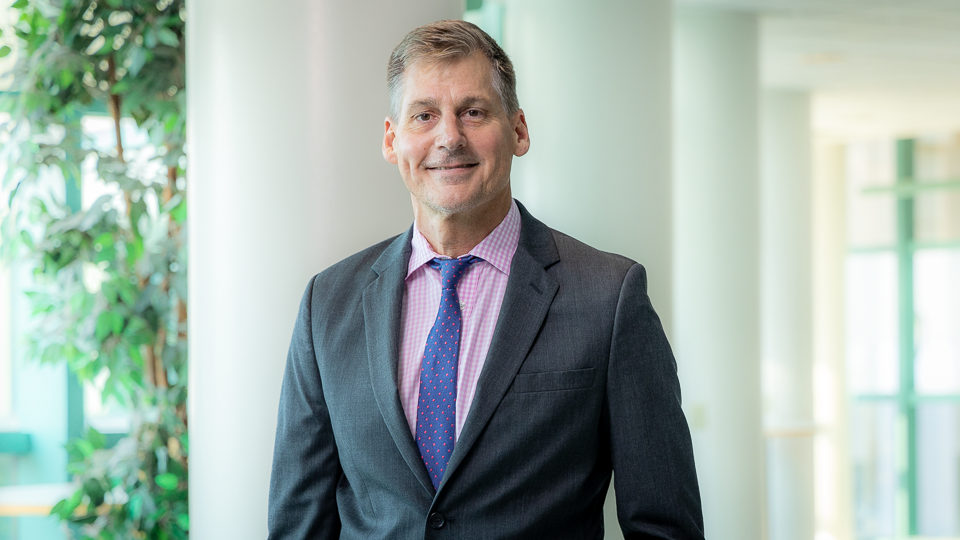 Helping people transform their lives is energizing to me.
The life-changing power of community and technical colleges still pumps up Phillip King, Ed.D.
"Community and technical colleges are great places. They are places to lift people up," said Dr. King, who has taught and served as an administrator at community colleges in Washington, Oregon and California. "We're about transforming lives, and I don't say that lightly. We can transform the lives of our students and the people we work with.
"Everyone, even leaders, need support sometimes. It's all about navigating the complexities of the person. People change when you pay attention. Helping people transform their lives is energizing to me."
Now he's helping Milwaukee Area Technical College deliver its transformational mission as the college's new executive vice president, Student Success. He started his role at the college on July 17. 
Reporting directly to MATC President Vicki J. Martin, Ph.D., Dr. King oversees the vice presidents for the Enter, Stay and Learn pillars, and the executive directors of the regional campuses. 
Dr. King came to MATC from Shoreline Community College, a 9,000-student institution in Washington state. He served as vice president for student learning, equity and success, and was responsible for all instructional units, instructional support, international education, institutional effectiveness, student services and workforce education. He also served as acting president in 2021. 
"Dr. King has more than 30 years of experience in higher education," Dr. Martin said. "His roles have included teaching and service positions and administration. He has led major initiatives related to strategic enrollment management, Guided Pathways redesign, accreditation, developmental education redesign, governance and college organization, and strategic leadership and communication.
"We are excited that he is here and we look forward to Dr. King making MATC even better," Dr. Martin added.
Dr. King said he plans to help improve MATC by strengthening the three pillars of student success: enrollment (Enter), retention (Stay) and instruction (Learn).
"All three have a level of importance," Dr. King said. "For Enter, we need to eliminate any barriers in the process of getting students registered and make it as easy as possible. Like anything else in life, if the process gets too complicated, we tend to give up."
For Stay, retention coaches, Pathway advisors and student life administrators must help students by getting to know their issues and challenges, he said. For Learn, while students might want more online course options, the college needs to assess how best to deliver that type of instruction, he added.
Successfully accomplishing these tasks hopefully will increase enrollment, grow the number of the students finishing their programs and entering the workforce, and enhance faculty and staff satisfaction, Dr. King said.
"We will always be better together by eliminating silos and having better communication across the college," he said. "All of us have to know that we are here working for the students."
Originally raised in San Jose, California, Dr. King finished high school outside of Portland, Oregon. He attended Portland State University and earned a bachelor's degree in psychology and a master's degree in communication studies. He received a doctorate in community college leadership from Ferris State University in Michigan, an experience that ignited his passion for educational leadership and administration. 
"I'm a driven person. Once I decided that is what I wanted to do, I set about building a career," he said. "I was very purposeful about the jobs I took. I set out to learn everything I could."
He held administrative roles at Florida International University in Miami and George Washington University in Washington, D.C. After that, he served as as dean of instruction and student services at Clackamas Community College in Oregon City, Oregon; as vice president of student services at Laney College in Oakland, California;; as interim vice president of student services at Canada College in Redwood City, California;; and as executive vice president, academic and student affairs, at Woodland Community College in Woodland, California, before going to Shoreline.
King was attracted to the MATC position because of the college's shift to the Guided Pathways model and subsequent reorganization. "We're talking about significant changes, and I have always been interested in organizations that take that kind of planned, strategic risk. That was very intriguing to me," he said. 
He also was impressed with the college's Moon Shot for Equity  and the MATC Promise for Adults. Additionally, he said he liked the architecture, the history and the amenities of Milwaukee.
King has worked in colleges and cities with diverse populations, and as an openly gay man for the past 20 years, he understands the importance of reaching and working with all groups. In his previous positions, he has volunteered with local LGBTQ+ groups. 
"I believe diversity, equity and inclusion efforts are always important," he said. "We are striving to achieve Hispanic-Serving Institute status and trying to integrate with the local communities. I look forward to us doing more of that."
About MATC: Wisconsin's largest technical college and one of the most diverse two-year institutions in the Midwest, Milwaukee Area Technical College is a key driver of southeastern Wisconsin's economy and has provided innovative education in the region since 1912. More than 28,000 students per year attend the college's four campuses and community-based sites or learn online. MATC offers affordable and accessible education and training opportunities that empower and transform lives in the community. The college offers more than 180 academic programs — many that prepare students for jobs immediately upon completion and others that provide transfer options leading to bachelor's degrees with more than 40 four-year colleges and universities. Overwhelmingly, MATC graduates build careers and businesses in southeastern Wisconsin. The college is accredited by the Higher Learning Commission.