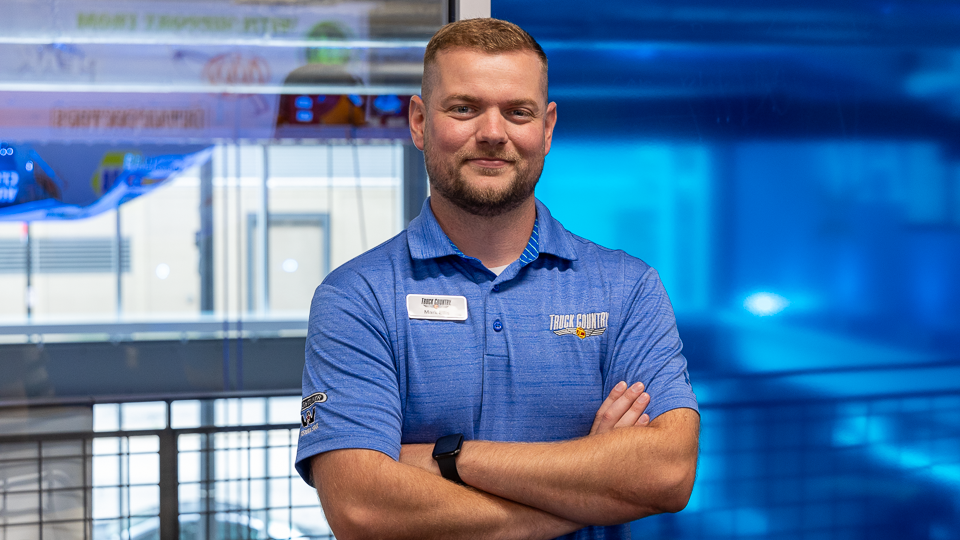 Coming out of MATC, I felt as prepared as I was going to be. I had some really great senior instructors who were very knowledgeable about the technical side of things and had experience in the field.
If it's got gears, Mark Ellis gets geeked.
The Oak Creek native fell in love with all things automotive at an early age, learning about engines and parts at the knees of his grandfather and his father.
While studying in the Automotive Maintenance Technician program at Milwaukee Area Technical College, he worked at a Kwik Trip gas station and tended to the fleet of vehicles and equipment on a local farm.
"Anything automotive or gear-related has been a thing with me forever," Ellis said. 
Thanks to MATC, Ellis made his passion his profession. After graduating in May 2014, he worked at Crown Lift Trucks in Milwaukee for four years and is currently the service manager at Truck Country in Oak Creek. He supervises about 70 workers who service and maintain between 1,200 and 1,600 heavy-duty tractor trailer semitrucks each month.
"Coming out of MATC, I felt as prepared as I was going to be," Ellis said. "I had some really great senior instructors who were very knowledgeable about the technical side of things and had experience in the field. Those guys were extremely helpful."
In July, Ellis returned the favor. He shared his expertise with the next generation of maintenance technicians at an MATC summer camp sponsored by MATC Drive, an initiative launched in 2017 to build awareness of the well-paying career opportunities in the transportation servicing sector throughout the Milwaukee area. 
Ellis spoke to 12 Milwaukee-area high school students about electric vehicle technology, highlighting the ECascadia Freightliner semitruck, which can haul up to 65,000 pounds, has a range of up to 230 miles and can recharge 80% of its battery in 90 minutes.
"In this industry, things are always changing, especially with safety and with efficiency," Ellis said. "Companies are always finding ways to improve."
Freightliner currently has almost 2,000 electric trucks on the road across the nation, Ellis said.
"For many, change can be hard," he said. "Technicians are concerned about possible high voltage or high amperage. Operators are worried about how reliable the truck will be and its longevity. They worry if they will run out of juice before recharging and if they can make their deliveries on time. It takes time for change to be accepted."
According to the International Energy Agency, more than 10 million electric vehicles were sold across the globe in 2022 – 14% of all new vehicles sold, up from around 9% in 2021 and less than 5% in 2020. Sales are expected to grow to 14 million by the end of 2023 as newer electric vehicles offer improved range, wider model availability and increased performance, according to the agency.
"Electric vehicles aren't really the future anymore, they have become a reality," said Reggie Parks, Ph.D., a retention coach for the MATC Drive program. "The transportation industry needs skilled workers who can understand, maintain and repair these types of vehicles."
While the number of electric vehicles is increasing every day, Ellis predicted that hydrogen powered vehicles will make an even bigger impact on the transportation industry. "These vehicles will be a huge factor," he said.
Whatever vehicles will be powered by, the transportation industry needs skilled workers to service, maintain and repair them.
The nation is in dire need of transportation mechanics and technicians. Seasoned mechanics are retiring at an increased rate, posing a challenge for shops attempting to fill vacant positions.
According to the National Automobile Dealers Association, around 76,000 auto mechanic positions open up every year compared to 39,000 workers coming out of technical colleges or training programs.
"Each year in which positions go unfilled merely rolls them over to the following year, digging a deeper hole to recover from," said a study released in May by the TechForce Foundation, a nonprofit group that supports career exploration and workforce development in various transportation fields. "Students need to be seriously considering this option early on, and that will only happen when they are able to interact with an engaged industry that shows them career opportunities they can be excited about."
Learn about MATC's Automotive Maintenance Technician program
About MATC: Wisconsin's largest technical college and one of the most diverse two-year institutions in the Midwest, Milwaukee Area Technical College is a key driver of southeastern Wisconsin's economy and has provided innovative education in the region since 1912. More than 28,000 students per year attend the college's four campuses and community-based sites or learn online. MATC offers affordable and accessible education and training opportunities that empower and transform lives in the community. The college offers more than 180 academic programs — many that prepare students for jobs immediately upon completion and others that provide transfer options leading to bachelor's degrees with more than 40 four-year colleges and universities. Overwhelmingly, MATC graduates build careers and businesses in southeastern Wisconsin. The college is accredited by the Higher Learning Commission.