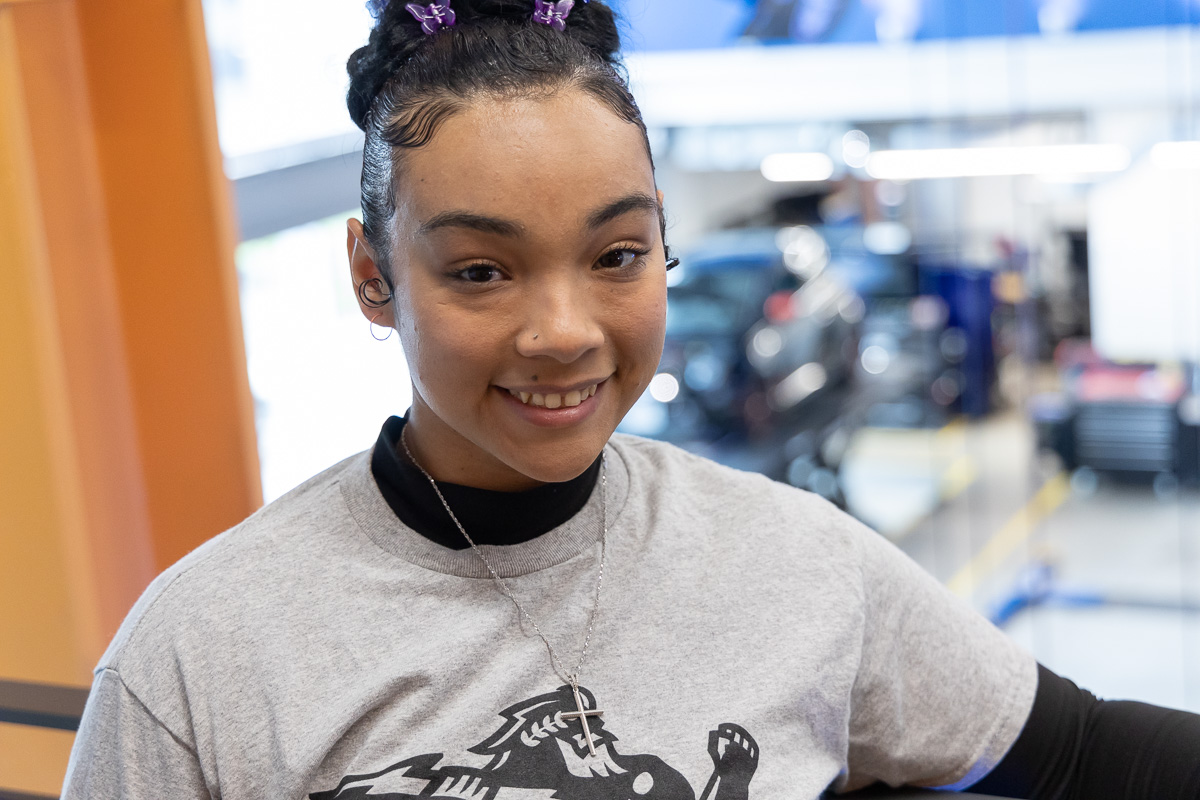 Because of the Checota, I had my child care paid for, which allowed me to stay later for classes, to study, and to complete my classwork. I am so, so grateful for that because that really, really helped."
MILWAUKEE – Samantha Albert hasn't had an easy ride. She has run into roadblocks, taken detours, screeched to sudden stops.
But she didn't quit moving forward.
Growing up in Milwaukee, her father instilled in her a love of cars and all things automotive. But he struggled with addiction and died of a drug overdose when she was a teenager. A year after she graduated from Greenfield High School, she got pregnant and had a son with special needs.
"I stopped my life and had to go in a different direction," she said. "Once my son got older, I decided that it was my turn to go to school."
In August 2022, Albert enrolled in the Automotive Maintenance Technician program at Milwaukee Area Technical College. A few weeks later, she was diagnosed with lupus, a disease that attacks the immune system and painfully inflames the skin, joints, heart, lung, kidneys, blood cells and the brain. 
But Albert wasn't about to stop now. Thanks to MATC's quality instructors, encouraging advisors and a full-ride scholarship from the Ellen & Joe Checota MATC Scholarship Program launched in October 2022, Albert kept moving and graduated with a technical diploma in May.
"Sam is definitely one of the reasons why I do the work that I do," said Erik Riley, an advisor in MATC's Manufacturing, Construction & Transportation Pathway. "Quitting is not her modus operandi. I was inspired by her dedication and her integrity as she never hesitated to face her challenges head on."
Albert had always planned to go back to school. Her sister took some classes at MATC, and the Oak Creek Campus was only a few minutes away from where Albert was living. 
"I knew I didn't really want to go to a big, four-year college - that's not for everyone," she said. "MATC seemed like a great choice."
She attended classes at MATC's Oak Creek Campus every weekday from 8 a.m. to 3 p.m. She also worked part time at a local Target store and was raising her son.
Albert learned about the Checota MATC Scholarship Program from Riley after she started classes. The full-ride award provided much-needed assistance for Albert as she received  tuition, books, course fees, equipment, supplies and transportation. The scholarship program helps eligible students pursuing technical diplomas and certificates earn their credentials and enter the workforce quickly. 
Receiving a Checota scholarship was a life-changer, Albert said. Not only for the tuition, but also for the child care and food benefits. "Because of the Checota, I had my child care paid for, which allowed me to stay later for classes, to study, and to complete my classwork," she said. "I am so, so grateful for that because that really, really helped."
What didn't help was being diagnosed with lupus so soon after starting classes. Albert battled fatigue, joint pain, rashes and fevers. "There would be days my body would hurt so bad, but I still went to class," she said. "I wasn't going to let lupus get in my way."
"Living with lupus as a full-time student and mother could be a barrier for some," Riley said. "For Sam, it is the foundation to her accomplishments. It makes her success that much sweeter."
Albert loved the hands-on part of the automotive classes. The courses reminded her of being with her father. "He was very into cars and automotive things, so I think I kind of did this for him," she said. "He had a great heart, but he got caught in some bad situations. Being in this program connected me to him. I think he would have been proud to see me doing this."
Albert was the only female student in her class, and one of the few women in the program. "At first that was a little intimidating, but my instructors (Daniel Young and Tyler F. Kaiser) and my advisor were just great," she said. "I went in and held my head high. I never had any problems."
"Samantha had to overcome some significant difficulties in her life outside of school, just to make it in every day," Young said. "But she was able to stay focused and make it happen."
"What impressed me most about Sam was the way she interacted with the other students in class. Automotive students spend their lab time working on cars in groups. Some jobs can be difficult and it's easy to get frustrated. Throughout the year I never witnessed Sam's lab group getting frustrated," Young added. "I believe that is in large part due to Sam and her demeanor. She was able to keep her lab group calm and focused enough to see the job through."
"Sam was a joy to have in the classroom," recalled Kaiser. "She was always on top of her schoolwork and the material we were covering. In the lab she was always right in the action getting the task done. Most of the time she would be leading her group making sure they did not miss a step or detail. 
"Sam went above and beyond when forming relationships with her other classmates," Kaiser added. "She would always be willing to help anyone that needed it, spending time with her classmates explaining the material or task at hand."
In the fall 2023 term, Albert plans to enroll in MATC's Auto Collision Repair and Finish Technician program and earn another technical diploma. "I'm trying to get a background in everything automotive so I can decide what I really want to do with it," she said. "Being in the maintenance technician classes has made me want to work in automotive even more."
Albert also has shared her story of perseverance with local high school students trying to figure out what to do with their lives and with community members trying to get back on track.
"Growing up, so many people told me that college was just a no. My family didn't have the resources," she said. "I didn't know there was so much help available to attend college, but there is. There's a lot of help, and a lot of help that is free. The people here want to help you succeed."
Learn about MATC's Automotive Maintenance Technician program
About MATC: Wisconsin's largest technical college and one of the most diverse two-year institutions in the Midwest, Milwaukee Area Technical College is a key driver of southeastern Wisconsin's economy and has provided innovative education in the region since 1912. More than 25,000 students per year attend the college's four campuses and community-based sites or learn online. MATC offers affordable and accessible education and training opportunities that empower and transform lives in the community. The college offers more than 170 academic programs — many that prepare students for jobs immediately upon completion and others that provide transfer options leading to bachelor's degrees with more than 40 four-year colleges and universities. Overwhelmingly, MATC graduates build careers and businesses in southeastern Wisconsin. The college is accredited by the Higher Learning Commission.