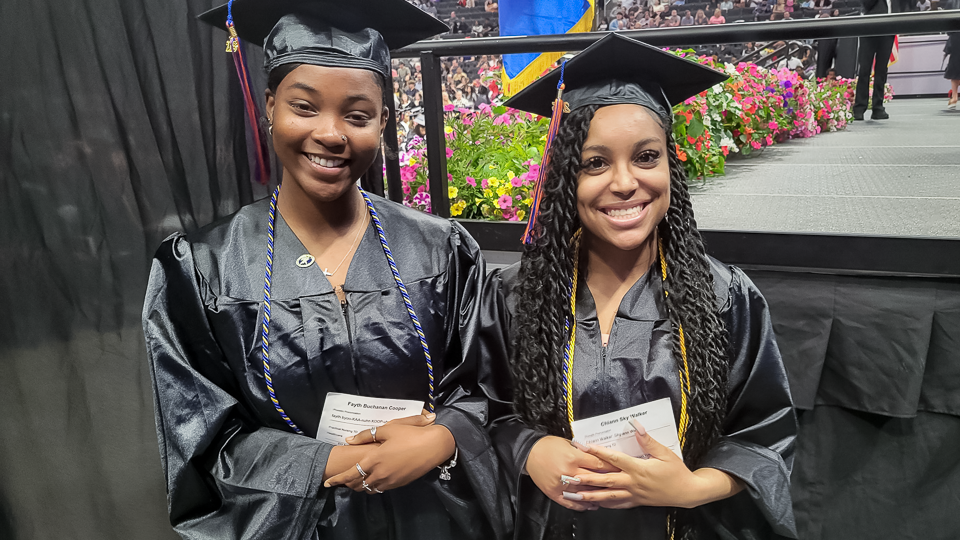 The M³ program has allowed me to get a head start in my career. I was disciplined and committed to not only finishing the program, but also making sure I did with excellent grades.
MILWAUKEE – Chiann Walker and Fayth Buchanan Cooper had a different kind of fun during their final year of high school.
Instead of cheering at football games, going on dates and attending dances, they scrutinized nursing textbooks, completed homework and studied for exams.
While their social calendars were sparse, their academic achievements were abundant: They both earned 25 college credits and received a technical diploma in Practical Nursing from Milwaukee Area Technical College before graduating from high school.
See photos from MATC nurse pinning ceremony
Walker, a senior at Milwaukee Public Schools' Rufus King High School, and Buchanan Cooper, a senior at Milwaukee's Golda Meir High School, participated in M³ (pronounced M-cubed) College Connections, an innovative dual-enrollment program that is an initiative of the M³ partnership connecting MATC, Milwaukee Public Schools (MPS) and the University of Wisconsin–Milwaukee (UWM). 
In M³ College Connections, eligible students complete high school while earning college credits from both MATC and UWM on campus and at no expense to the student. The program helps students save money and prepares them for college-level work.
See coverage of MATC Practical Nursing graduates
The College Connections concept was developed in 2015 and officially launched in January 2017. MPS provides lunches and pays for the classes. MATC provides bus passes for all the students and offers math and science courses. UWM provides classes in social studies, psychology and other subjects.
"The M³ program has allowed me to get a head start in my career," said Walker, who graduates from Rufus King on May 28. "I was disciplined and committed to not only finishing the program, but also making sure I did with excellent grades."
She accomplished that mission. In the fall, Walker will attend Marquette University on a full-tuition scholarship through the Urban Scholars program. She plans to earn a bachelor's degree in nursing and then work as a certified nurse anesthetist.
"I believe I am ready," Walker said. "The M³ program was very challenging and pushed me to work hard."
Buchanan Cooper, who graduates from Golda Meir on May 24, agreed. "The hardest part was trying to be a college student at the same time as being a high school student," she said. "But the time I put in was definitely worth it. This gives me a huge head start for where I want to go."
In the fall, Buchanan Cooper will attend Alcorn State University in Mississippi to earn a bachelor's degree in nursing. She got some financial assistance for college in February, when she was one of 12 Milwaukee-area students to win a Louvenia Johnson Scholarship, sponsored by the Black Excellence/Louvenia Johnson Scholarship Foundation. She received $2,000 and a laptop computer, provided by the Greater Milwaukee Urban League. 
After attaining her bachelor's degree, she plans to work as a travel nurse.
"I love helping people," she said. "I heard about and read about being a nurse early in high school. I spoke to a career advisor and applied for the College Connections program."
Buchanan Cooper and Walker started in the M³ College Connections nursing pathway as sophomores, taking a college-level English class. In their junior year, they took some classes at their high school and some at MATC. During their senior year, they had nursing classes exclusively at MATC.
Buchanan Cooper, Walker and other practical nursing graduates received their nursing pins and took the nursing oath at a ceremony on Tuesday, May 16, at MATC's Cooley Auditorium. The students will get their degrees at MATC's Spring Commencement on Sunday, May 21, at Fiserv Forum.
"It was actually pretty cool being around a lot of students who were older," Buchanan Cooper said. "Some of them were surprised at how young we were."
Learn about the M³ College Connections program
About MATC: Wisconsin's largest technical college and one of the most diverse two-year institutions in the Midwest, Milwaukee Area Technical College is a key driver of southeastern Wisconsin's economy and has provided innovative education in the region since 1912. More than 25,000 students per year attend the college's four campuses and community-based sites or learn online. MATC offers affordable and accessible education and training opportunities that empower and transform lives in the community. The college offers more than 170 academic programs — many that prepare students for jobs immediately upon completion and others that provide transfer options leading to bachelor's degrees with more than 40 four-year colleges and universities. Overwhelmingly, MATC graduates build careers and businesses in southeastern Wisconsin. The college is accredited by the Higher Learning Commission.