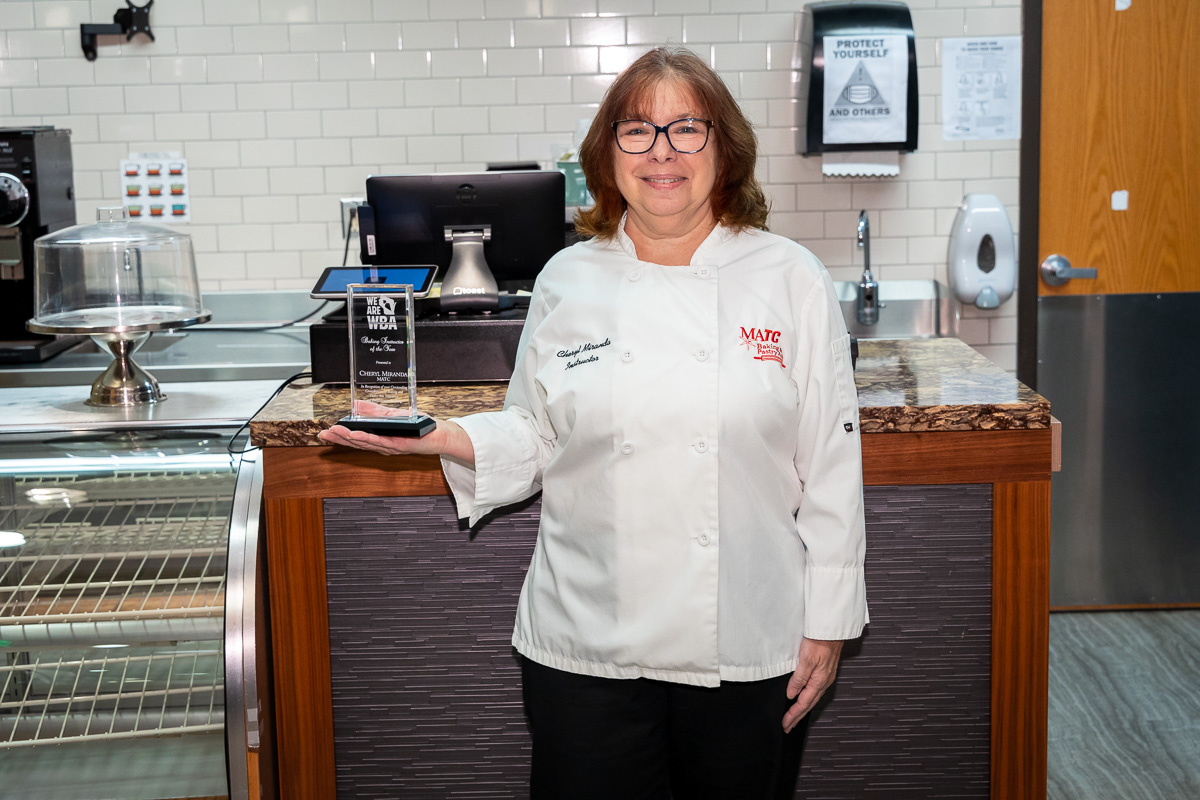 She is the most dedicated instructor I have known. Her talents, specifically in cake decorating, are unrivaled.
MILWAUKEE – Painting has Manet, Monet and Michaelangelo. Music has Mozart and Mahler. Basketball has Michael Jordan.
And cake decorating has Cheryl Miranda.
Miranda, an instructor in the Baking and Pastry Arts program at Milwaukee Area Technical College for nearly 40 years, is an artisan and artist when it comes to cakes. She's renowned for her creative designs and inspired icings festooned with vivid colors, delicate florals, elaborate flourishes and breathtaking trimmings.
"I have always considered cake decorating my gift," Miranda said. "I love sharing my gift. I have always believed that if you're going to teach, you really need to love what you do."
Miranda's teaching skills were recently recognized in a historic way. She is the first MATC instructor to be named instructor of the year by the Wisconsin Baking Association (WBA).
Miranda received her award at the WBA Member Award and Appreciation Night on April 23 at the Embassy Suites by Hilton Milwaukee in Brookfield. 
"Cheryl has dedicated her life to teaching and the pure joy it has brought her," said Jessica Hoover, executive director of the WBA, which each year honors one baking instructor from a Wisconsin technical college. "She was blessed with the gift of cake decorating and shared that gift with so many students over the years."
To Miranda's MATC colleagues, the recognition was well deserved and wasn't surprising.
"She is the most dedicated instructor I have known," said Michelle Evans, MATC's chef instructor/lead faculty in the Baking and Pastry Arts program. "Her talents, specifically in cake decorating, are unrivaled."
"The award just formalizes something we already knew working with her," said Andrew Schneider, a fellow instructor in the Baking and Pastry Arts program.
"We are so proud of Cheryl," said Michael J. Sitte, Ph.D., dean of MATC's Creative Arts, Design & Media pathway. "For decades Cheryl has been an extremely talented decorator, an excellent baker, most important, a superb instructor."
Growing up in Milwaukee, Miranda learned to bake with her mother. "We decorated Christmas cookies every year," she said.
At 15, she took a baking class at a neighborhood community center. She later took a cake decorating course at MATC. She enrolled in the college's baking production program and graduated in 1985. One of her instructors recommended her as an instructor and, at the tender age of 24, Miranda started teaching.
"Almost every student was older than me, some in their 50s and 60s," Miranda remembered. "But I quickly learned to be encouraging, be kind, and always give your students a chance to see how great they can be." 
In 1995, Miranda started MATC's annual gingerbread house competition. The competition was held online in 2020 and 2021 because of the COVID-19 pandemic, but returned to the Milwaukee Public Market in November 2022, much to Miranda's joy.
"It's wonderful being back at the Public Market," she said last December. "This provides such a great experience for our students and helps get MATC's name out into the community."
The 2022 competition might be Miranda's last. She plans to leave MATC in 2024 at some point, but she hasn't settled on an exact retirement date.
"I've been blessed with great teachers, great colleagues and great students. Two of my former students attended the WBA awards ceremony and it really was a full circle moment," Miranda said. "I became aware of how long I have been doing this and the impact we have made on our students. For me, my greatest reward has always been what my students say."
Find out more about MATC's Baking and Pastry Arts program
About MATC: Wisconsin's largest technical college and one of the most diverse two-year institutions in the Midwest, Milwaukee Area Technical College is a key driver of southeastern Wisconsin's economy and has provided innovative education in the region since 1912. More than 25,000 students per year attend the college's four campuses and community-based sites or learn online. MATC offers affordable and accessible education and training opportunities that empower and transform lives in the community. The college offers more than 170 academic programs — many that prepare students for jobs immediately upon completion and others that provide transfer options leading to bachelor's degrees with more than 40 four-year colleges and universities. Overwhelmingly, MATC graduates build careers and businesses in southeastern Wisconsin. The college is accredited by the Higher Learning Commission.