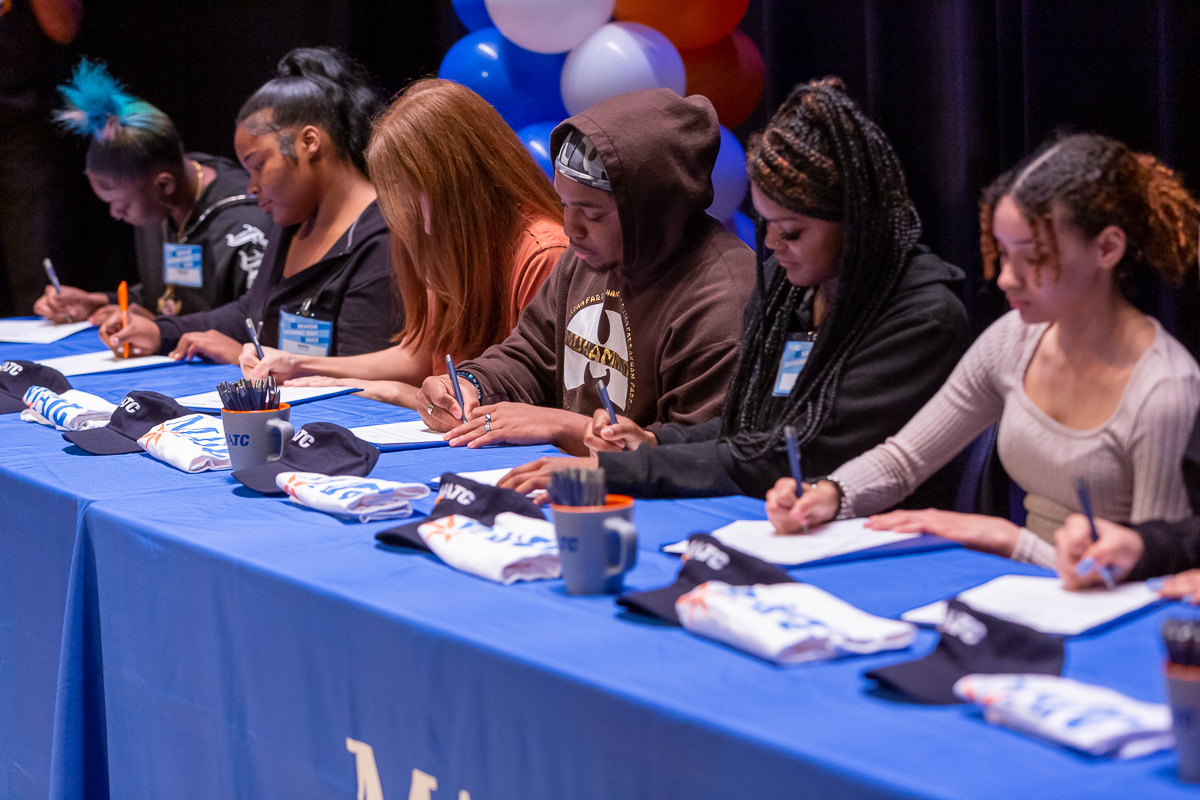 We know you have many choices, but we think you made the right decision coming here.
MILWAUKEE – Kurie Szukalski started swinging a hammer in middle school after watching her older brother work in the trades. She fell in love with carpentry and plans to build her own house someday. 
As a high school senior, Khalil Brown already works gigs as a disc jockey and photographer. He wants to work in radio, following in the soundwaves of his father, Reggie Brown, a popular Milwaukee radio personality.
James Horton hooped it up playing basketball for Milwaukee Public Schools' Bay View High School. He hopes to find similar success by opening his own barbershop. 
Gabby Arzaga loves to paint and draw. Her goal is to be a graphic artist or work in animation.
On Thursday, April 20, those students were among about 100 high school seniors who committed to attend Milwaukee Area Technical College to make their hopes and dreams a reality.
"I believe that MATC is a place where everyone is loved and accepted," said Szukalski, who will graduate from South Milwaukee High School in June. "I know a lot of my friends will eventually end up going here. I have never heard a bad word about MATC."
The college gave future students and their parents the star treatment on April 20, spotlighting and celebrating them at MATC's inaugural Senior Signing Day event. The students signed letters of intent to attend MATC while they enjoyed music from HYFIN Radio DJ A-Biz and heard from representatives from all seven of  the college's Pathways. 
The Milwaukee Hittaz Drum Corp. started off the event, thundering into MATC's Cooley Auditorium and pounding out several songs. Greg Ware, a.k.a. Sir G, the college's manager of Quality Improvement Projects and Planning, emceed the event.
"You students are on your way to helping society," Ware said. He hyped the students to shout out "P+O+S" – Preparation, plus Opportunity equals Success.
"All of you have chosen to go to college and that's the best decision you'll ever make," MATC President Dr. Vicki J. Martin told the students. "We know you have many choices, but we think you made the right decision coming here."
After signing their letters on the auditorium stage, the students feasted on cake, snapped selfies and received Stormers swag.
"We wanted to make this a fun activity that relieves the stress they have been under throughout the decision-making process," said Marwill Santiago, MATC's director of student recruitment. "It provides recognition of the accomplishments, which builds self-confidence. We hope it inspires younger kids who will witness the occasion to set high expectations for their own futures."
Szulalski said she decided to attend MATC because her older sister is studying nursing at the college. "I look up to her, and she really likes what MATC offers," she said. "I think I will learn what I want to learn here."
At South Milwaukee High School, Arzaga participates in an Advanced Placement art class. She liked the variety of classes available through the college's Creative Arts, Design & Media Pathway. "I'm trying to build my portfolio," she said. "I really love doing anything and everything artistic."
Arzaga will attend the college through the MATC Promise program, which offers free tuition for up to 75 credits. "That's another big reason why coming to MATC was a great choice," she said. "I mean, free is free."
About MATC:
Wisconsin's largest technical college and one of the most diverse two-year institutions in the Midwest, Milwaukee Area Technical College is a key driver of southeastern Wisconsin's economy and has provided innovative education in the region since 1912. More than 25,000 students per year attend the college's four campuses and community-based sites or learn online. MATC offers affordable and accessible education and training opportunities that empower and transform lives in the community. The college offers more than 170 academic programs — many that prepare students for jobs immediately upon completion and others that provide transfer options leading to bachelor's degrees with more than 40 four-year colleges and universities. Overwhelmingly, MATC graduates build careers and businesses in southeastern Wisconsin. The college is accredited by the Higher Learning Commission.