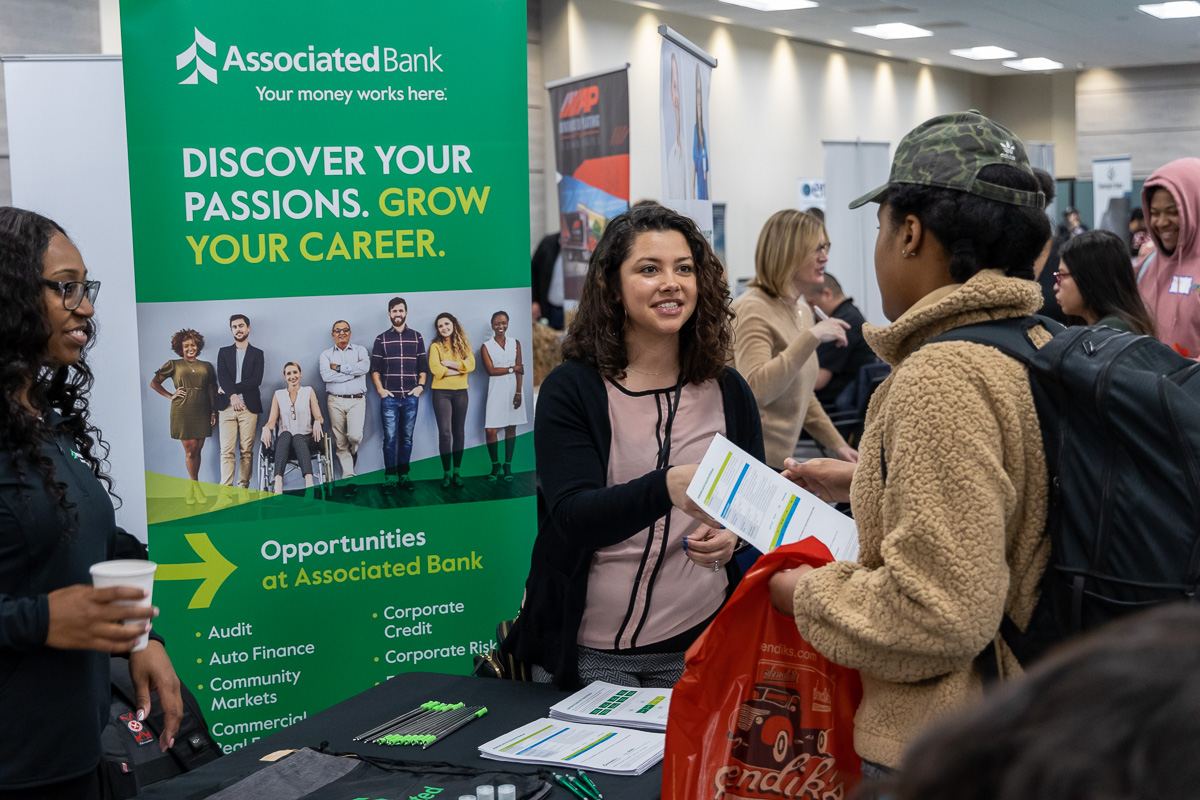 These companies have diversity, equity and inclusion initiatives and are being very intentional about expanding who they hire for their jobs and internships.
MILWAUKEE – For once, Diamond Hendree didn't have to work too hard to look for a job.
This time, the employers came to her.
Representatives from more than 70 Milwaukee area companies and businesses gathered at Milwaukee Area Technical College's Downtown Milwaukee Campus on Wednesday, March 8, for the college's second Diversity Career Fair.
The event matches employers committed to recruiting, hiring and retaining a diverse workforce with students from one of the most diverse technical colleges in the Midwest.
"It's exciting to see these businesses here," said Naomi Pollek, manager of student & employer relations at MATC's CareerHub, which sponsored the fair. "These companies have diversity, equity and inclusion initiatives and are being very intentional about expanding who they hire for their jobs and internships."

For Hendree, the career fair gave her a chance to actually talk to someone about available positions. "It can be hard to reach someone at some of these places because they are super big," she said. "Here, you can speak face to face with someone who wants to help you get a job."
"The businesses are all right here and it's all very organized," Hendree added. "This was very, very helpful to me."
Hendree, a student in the Surgical Technician program, visited representatives from nearly all the medical facilities at the fair, including Froedtert Health, Advocate Aurora and Ascension. Hendree plans to graduate in January 2025, then get a registered nursing degree from MATC. 
"It was good to see all the opportunities that are out there," Hendree said.
Hendree was among hundreds of students who attended the fair to pass out resumes and ask questions. "The turnout has been wonderful," Pollek said. "These students want to get out there and show what they can do."
CareerHub plans to sponsor the career fair each spring, Pollek said.\
Find out more about MATC's CareerHub
Employers at the fair said MATC is a great place to find motivated students who know the value of being in a diverse, equitable and inclusive environment.
"We aim to recruit MATC students precisely because they have been in that environment," said Morgan Smith, vice president of diversity, equity and inclusion and lead talent acquisition at Associated Bank. "Plus, I think the younger generation is interested in working with a company that gives back to the community."
Smith, a Black female, took business management courses at MATC in 2018 and experienced firsthand the college's diverse student population.
"Our goal is to demonstrate that we have an inclusive workplace where all people can develop their talents and have the opportunity to grow and advance at all levels, from entry level to leadership," Smith said.
MATC students and graduates also have the expertise and knowledge that employers need right now. "We love the technical colleges because the graduates have such a strong background in clinical skills," said Stacy Smulka, university recruiter at Froedtert Health. 
Tyler Kreuser, a superintendent at JP Cullen Construction, said his company is making an intentional effort to recruit women and people of color, and has had a diversity program in place since 1998. 
"We're seeing a lot of older workers retiring and we need more people to come in and fill those positions," he said. "Our company has been making a big push to reach out at career fairs like this, at high schools and other events to spread that word. The trades aren't easy, but they can be a lucrative, satisfying career for anyone."
About MATC: Wisconsin's largest technical college and one of the most diverse two-year institutions in the Midwest, Milwaukee Area Technical College is a key driver of southeastern Wisconsin's economy and has provided innovative education in the region since 1912. More than 25,000 students per year attend the college's four campuses and community-based sites or learn online. MATC offers affordable and accessible education and training opportunities that empower and transform lives in the community. The college offers more than 170 academic programs — many that prepare students for jobs immediately upon completion and others that provide transfer options leading to bachelor's degrees with more than 40 four-year colleges and universities. Overwhelmingly, MATC graduates build careers and businesses in southeastern Wisconsin. The college is accredited by the Higher Learning Commission.