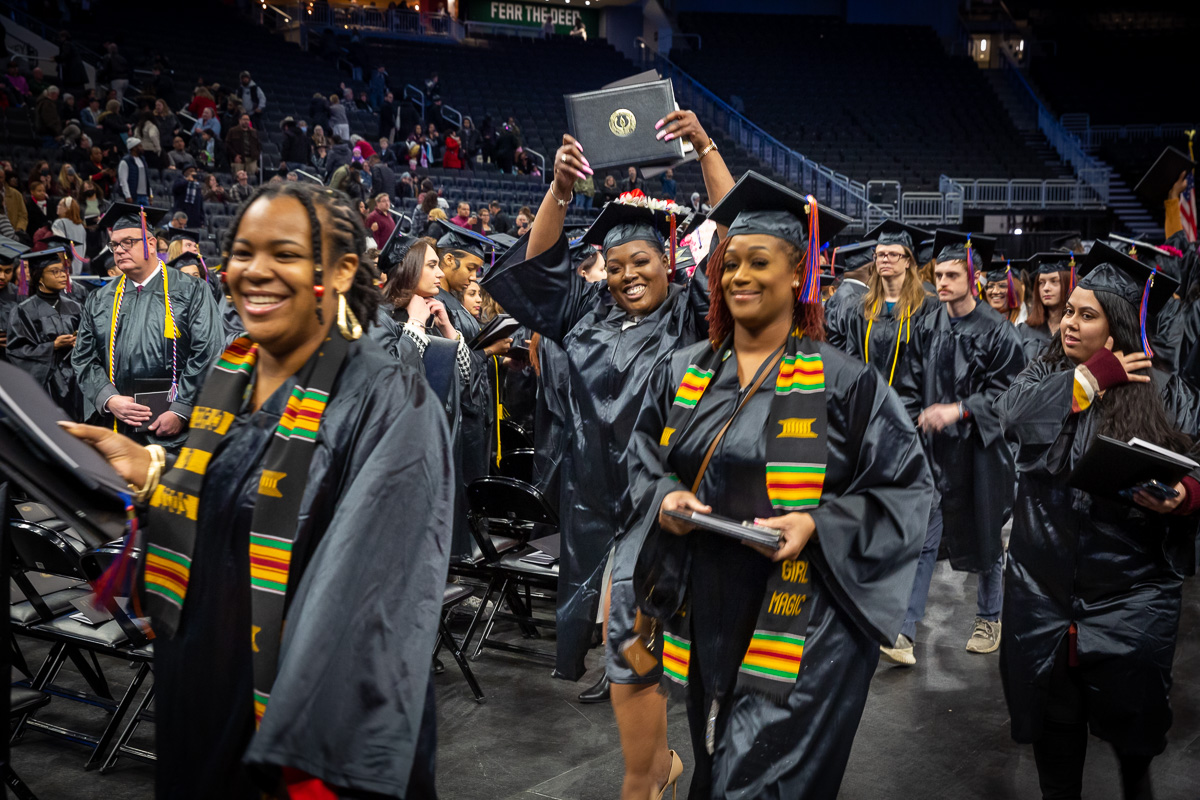 You each have your own set of strengths which can assist you in achieving the success that you deserve and desire.
MILWAUKEE – The freshly-minted graduates of Milwaukee Area Technical College shouldn't simply admire their newly-acquired degrees and diplomas — they need to put them into action.
"My challenge to you is to make the world a better place," said Milwaukee Fire Department Assistant Chief Sharon Purifoy-Smoots. "There will be obstacles, feelings of hopelessness, and times you feel like giving up. Don't!"
Purifoy, the first Black woman to rise to the rank of assistant chief in the department's history, delivered the keynote address at MATC's Winter Commencement on Sunday, December 18, at the Fiserv Forum in Milwaukee. 
More than 850 students were eligible to receive associate degrees, technical diplomas, apprenticeships and adult high school diplomas at the event. And in her address, Purifory urged them all to make good use of their new skills and training.
See more photos from Winter Commencement
"Set some goals, make some decisions, take some risks, stay the course and then relish in your success, because you deserve it," Purifoy said. "You each have your own set of strengths which can assist you in achieving the success that you deserve and desire.
"Learn what your strengths are and use them every chance you get," she added. "Use the new skills you learned at MATC to burst through ceilings, kick down doors and open windows."
As assistant chief, Purifoy heads the department's Support Bureau, which manages the Technical Services Division and the Construction and Maintenance Division.
In her 19-year career with the department, Purifoy has worked as a firefighter, paramedic, lieutenant, captain, battalion chief, deputy chief of EMS and assistant chief of support. 
She holds a Bachelor of Science Degree in Psychology from Tennessee State University and a Master of Science in Organizational Leadership and Administration from Concordia University of Wisconsin. 
Purifoy praised the MATC graduates for their dedication to taking and finishing courses while working, raising families, and weathering a global pandemic, tumultuous social movements, and polarizing changes to the national legal system.
"We are faced with a new normal," she said. "It took a lot of adapting, discipline and perseverance to get where you are. But you're here now and here is exactly where you're supposed to be. You have equipped yourself with higher education and that, coupled with compassion, will take you a very long way."
Nearly 400 graduates attended the commencement ceremony in person to receive their degrees and diplomas, while family and friends cheered them on from the Fiserv Forum stands.
MATC President Vicki J. Martin, Ph.D., presided over the ceremony and conferred degrees and diplomas. Deans of the academic pathways presented their candidates. Members of the MATC District Board handed the diploma sleeves to graduates and congratulated them. 
Iris Sanchez, named the college's Outstanding Associate Degree student for the Fall 2022 semester, also delivered remarks. She said her classmates showed limitless courage and perseverance to complete their studies.
"Now it's time to pursue your purpose," said Sanchez, who plans to transfer to the University of Wisconsin-Milwaukee and study pre-dietetics. "Have the courage to stay true to yourself and recognize the potential you have to be a leader." 
The commencement ceremony will be broadcast at 10 a.m. Saturday, January 7 on Milwaukee PBS, channel 10.1
ABOUT MATC: Wisconsin's largest technical college and one of the most diverse two-year institutions in the Midwest, Milwaukee Area Technical College is a key driver of southeastern Wisconsin's economy and has provided innovative education in the region since 1912. More than 25,000 students per year attend the college's four campuses and community-based sites or learn online. MATC offers affordable and accessible education and training opportunities that empower and transform lives in the community. The college offers more than 170 academic programs — many that prepare students for jobs immediately upon completion and others that provide transfer options leading to bachelor's degrees with more than 40 four-year colleges and universities. Overwhelmingly, MATC graduates build careers and businesses in southeastern Wisconsin. The college is accredited by the Higher Learning Commission.