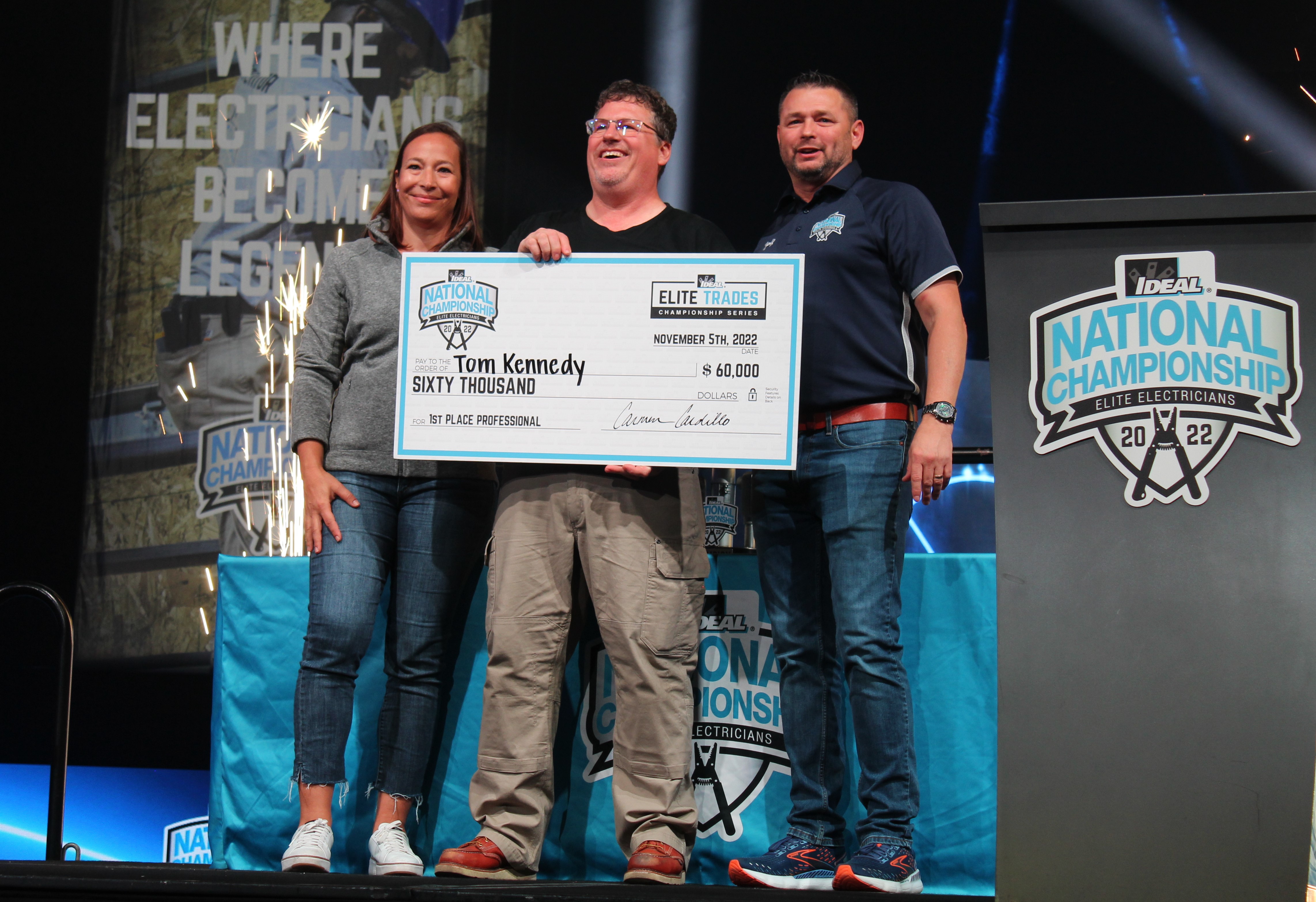 We want the college, our alumni and our community to know that we have the most skilled electricity instructor in the country.
Thomas V. Kennedy stays current on the latest electrical technology. He has a powerful grasp on wiring fundamentals. He's full of energy and doesn't blow a fuse when under pressure.
So it should come as no shock that the long-time Milwaukee Area Technical College electricity instructor and electricity department chair recently was crowned the best professional electrician in North America and won $60,000!
In November, Kennedy won the seventh annual IDEAL Elite Trades Championship Series in Tampa, Florida. He beat out 144 other electric trade professionals and apprentices during two days of competition that tested contestant's electrical knowledge, skill, accuracy and quickness.
Learn all about MATC's Thomas Kennedy
"We want the college, our alumni and our community to know that we have the most skilled electricity instructor in the country," said Becky Alsup, academic dean of MATC's Manufacturing, Construction & Transportation pathway.
Kennedy, who started teaching at MATC in 1997 after finishing his apprenticeship a year before, became a full-time instructor in 2009. He competed in the Ideal National Championship last year and made the semifinals. 
"This is a competition that proves that we know what we're doing and love doing it," Kennedy said. "Electricity is a unique field. You need both strength and the brains to understand the science of what you're doing, and do it correctly."
Also at the event, MATC student and third-year apprentice Brady Wraalstad competed in the apprentice division. He made the semifinals and also competed in a surprise team final event with professional competitor Roman Ryszewski, the 2017 professional champion.
The finals, held at the Tampa Convention Center, consisted of four rounds of challenges, such as wiring a hot tub, installing a solar panel and preparing a commercial pull box. Competitors are judged on quality of work, how long they take to complete the work, correctly using tools and equipment and adhering to safety standards.
"Every electrician has a responsibility to be conscientious and comply with standards and codes. If you don't, you can create a fire hazard or an electrical concern," Kennedy said.
In the summer months, Kennedy works for a contractor to stay current on the newest technology. "That way I stay connected to what's happening in the field. Every week I'm chasing something new," he said. "Things change so fast. If you don't keep up, it'll pass you by."
The finals competition will be televised on CBS Sports at 7 p.m. Friday, December 9.
Read more coverage of the championships
Competitors earned a place in the finals at qualifying events held across the country. Scores were based on the quality of work and the time it took to complete the challenge. More than 35,000 electricians from the U.S. and Canada attempted to qualify. From that pool, 144 professional and apprentice electricians were selected to compete in the national championship.
The IDEAL National Championship, established in 2016, highlights the professional trades as a rewarding, mentally-stimulating and in-demand career path.
"The event is becoming our annual holiday to showcase the skilled trades community and honor the importance of this work," said Carmen Cardillo, General Manager of IDEAL Electrical U.S. and Mexico. 
The manufacturing industry faced a major setback after losing roughly 1.4 million jobs at the onset of the global COVID-19 pandemic. Since then, the trades industry has struggled to hire entry level and skilled workers alike, and the need for new hires is at an all-time high. Coming out of the pandemic the demand for skilled trades has increased from 100 percent to over 300 percent.
"While no job is completely recession-proof, the skilled trades provide better job security than others during an economic downturn," Cardillo said. "You can make an excellent living in the trades without incurring student debt along with the satisfaction of knowing that you're contributing something vital to society."
At MATC, the Manufacturing, Construction & Transportation Pathway encompasses several skilled trades. Students can obtain a technical diploma or an associate degree, or experience on-the-job training with an apprenticeship. Programs in this Pathway lead to careers related to manufacturing; maintenance and repair of appliances, building systems, automobiles, aircraft and diesel trucks; and the building, plumbing and electrical work in residential, commercial and industrial structures.
Learn more about MATC's Electricity Program
About MATC: Wisconsin's largest technical college and one of the most diverse two-year institutions in the Midwest, Milwaukee Area Technical College is a key driver of southeastern Wisconsin's economy and has provided innovative education in the region since 1912. More than 25,000 students per year attend the college's four campuses and community-based sites or learn online. MATC offers affordable and accessible education and training opportunities that empower and transform lives in the community. The college offers more than 170 academic programs — many that prepare students for jobs immediately upon completion and others that provide transfer options leading to bachelor's degrees with more than 40 four-year colleges and universities. Overwhelmingly, MATC graduates build careers and businesses in southeastern Wisconsin. The college is accredited by the Higher Learning Commission.