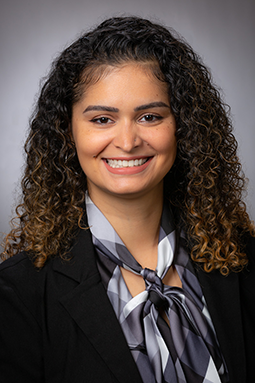 MILWAUKEE – For years, Omayra Sheppard worked as an administrative assistant at several large companies. But she knew she had the intelligence, ambition and determination to do so much more.
She just didn't have the education.
"I saw positions posted all the time that I knew I could do," said Sheppard, who grew up on Milwaukee's south side and dropped out of Milwaukee Public Schools' Bradley Tech High School at 17. "But I was missing the college credentials and the documentation that those jobs required. At some point that gave me the push I needed."
When the COVID-19 pandemic began, Sheppard decided to stay home with her four sons and go back to school. She passed her General Educational Development (GED) exams on August 25, 2021, then enrolled at Milwaukee Area Technical College the next day.
"I was ready to rock," said the ebullient, effusive Sheppard. "I've always regretted leaving high school, but now this was my time. When you want something bad enough, you find the strength and the desire to get it done."
Today, Sheppard is close to completing her Business Management associate degree at MATC, and plans to transfer to the University of Wisconsin-Milwaukee to study marketing. 
Her path to success became smoother this month when she was one of 40 MATC students to receive a PepsiCo Uplift Scholarship for Black and Hispanic/Latino/a students. The $2,000 award will cover about two-thirds of her tuition for this Fall semester, allowing her to concentrate on coursework and not be concerned about finances.
"This semester almost didn't happen for me," Sheppard said. "With four boys, I wanted to make sure that we could cover all their fees and school supplies for the year. I was ready to give up this semester for them if I needed to. But when I got this scholarship I didn't have to. That was an immense relief and I am so grateful that I can continue."
The PepsiCo Uplift Scholarships are from the $500,000 gift made by the PepsiCo Foundation to the MATC Foundation to help Black and Hispanic/Latino/a students complete degrees, technical diplomas and certificates in high-growth career areas such as business, information technology, logistics, manufacturing and transportation.
The scholarships include financial support for tuition, fees and books; support from a dedicated MATC advisor; and access to emergency funds to help with housing, child care, transportation and food expenses.
MATC is the only Wisconsin technical college to receive this funding from the PepsiCo Foundation, and one of only 20 colleges nationally. MATC's first 40 PepsiCo Uplift scholars were announced for the Spring 2022 semester and another 40 were named for the Fall 2022 semester. Forty more scholars will be selected each semester in 2023, for a total of 160 scholars over two years.
The scholarships are part of PepsiCo's Racial Equality Journey, a comprehensive, national initiative to support Black and Hispanic/Latino/a communities, people and businesses.
At Bradley Tech, Sheppard confessed she was not an ideal student. "School always was a very distracting atmosphere for me," she said. "I was very rebellious. My parents split up and it was a very confusing time for me."
She dropped out and worked at several jobs before becoming an administrative assistant at Milwaukee's Discovery World Science and Technology Center. "I learned a lot about work ethic there," she said. She was there for eight years and then went to a real estate company in Brookfield before deciding to head back to school.
"I have such a focus now," she said. "I want to make myself proud, I want to make my family proud, I want my parents to see me walk across a stage for the first time. I have a drive that I didn't have when I was younger."
And MATC and PepsiCo helped unlock that desire for success, Sheppard said. "MATC has been amazing. Instructors and staff are responsive and supportive," she said. "It just feels so good when you have people on your side, and you know people are rooting for you."
ABOUT MATC: Wisconsin's largest technical college and one of the most diverse two-year institutions in the Midwest, Milwaukee Area Technical College is a key driver of southeastern Wisconsin's economy and has provided innovative education in the region since 1912. More than 25,000 students per year attend the college's four campuses and community-based sites or learn online. MATC offers affordable and accessible education and training opportunities that empower and transform lives in the community. The college offers more than 170 academic programs — many that prepare students for jobs immediately upon completion and others that provide transfer options leading to bachelor's degrees with more than 40 four-year colleges and universities. Overwhelmingly, MATC graduates build careers and businesses in southeastern Wisconsin. The college is accredited by the Higher Learning Commission.