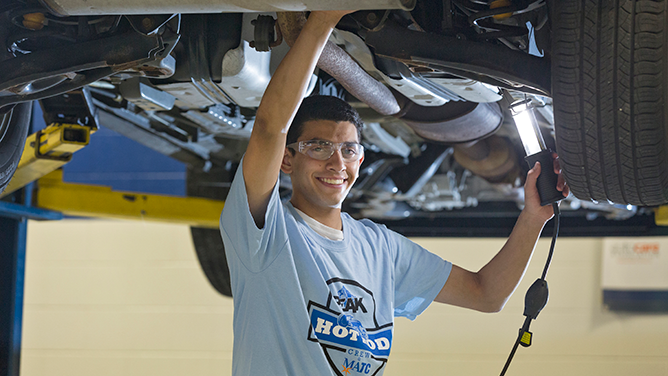 Automotive programs at MATC meet the growing technical employment needs of the transportation servicing industry.
The programs have been growing since mid-2017 with a $1 million leadership gift from Milwaukee native and transportation executive Tom Hurvis, chairman of Old World Industries LLC, the parent company of the PEAK automotive brand. As an automotive industry leader, Mr. Hurvis sees these programs as a model of how industry and technical education work together to solve significant workforce shortages, while supporting career advancement for underserved populations. Following the successful launch, Mr. Hurvis upped his stake to grow this program by committing to match dollar for dollar every gift or multiyear pledge up to $2 million.    
Goals
Raise awareness of the many employment opportunities and high demand for skilled technicians in the field of transportation servicing.
Change outdated public perceptions to accurately reflect the role of technology in current and future transportation careers.
Increase access to high quality, affordable, short duration training that provides the technological skills to gain family-supporting wages in the transportation servicing industry.
Provide intensive support to students in all transportation servicing programs leading to higher rates of graduation and job placement.
Connect students to future employers by providing fun, interactive club activities with opportunities for mentoring by industry experts.
Programs Supported 
Mequon Campus
Oak Creek Campus
Al Hurvis/PEAK Transportation Center – Downtown Milwaukee Campus
High school and college-level transportation servicing classes
To learn more about careers or to enroll, contact transportation@matc.edu or call 414-571-4712.