MATc's Diversity, Equity & Inclusion Plan
The plan identifies four improvement areas or Pillars for Change to guide the college's diversity, equity and inclusion (DEI) efforts for the next five years. The Pillars include Climate, Employee Experience, Student Experience and Institutional Commitment, with corresponding goals and objectives.
MATC's Equity & Inclusion Statement
MATC is breaking down barriers that stand between students and their academic and career success by providing a safe place where differences are valued and celebrated. We promote awareness, training, and crucial conversations to move beyond our individual biases, whether unconscious or implicit, to create an inclusive environment that welcomes, accepts, and respects all students and employees while serving the unique needs of each individual. This resonates through the attitudes and behaviors of all those who work and learn at the College.
Contact the Office of Diversity, Equity & Inclusion: diversity@matc.edu 
MATC EQUITY-BASED INITIATIVES: BREAKING DOWN BARRIERS!
President's Task Force on Diversity, Equity & Inclusion
Under the direction of the Chief Diversity, Equity & Inclusion Officer, the Task Force will work to gain a shared understanding of MATC's Diversity, Equity & Inclusion needs, explore short-term and long term solutions and make recommendations to the President. The Task Force will examine all current DEI activities, initiatives, and efforts in order to create a DEI plan that will advance racial equity, address barriers to equity, and ensure equitable and inclusive practices, policies, procedures and programs. Task force DEI recommendations and DEI Plan will be supported by a newly created DEI Steering Committee.
Office of Diversity, Equity and Inclusion Employee Affinity Groups
The Office of Diversity, Equity and Inclusion supports several Employee Affinity Groups that are dedicated to promoting a culture of inclusion at MATC and in the community. As part of MATC's Equity Strategic Priority, the primary function of affinity groups are to support the college's equity and inclusion values by building community, promoting a sense of belonging, supporting student success, and assisting in the recruitment and retention of diverse talent. Each affinity group is connected to an executive sponsor that serves on MATC's Cabinet or Council. Affinity groups are interest-based and identity-based employee groups inclusive of all who share and support their mission. They are officially chartered MATC organizations supported and sponsored by the Office of Diversity, Equity and Inclusion. Employees are welcome to join affinity groups.
Current Affinity Groups
African American Women Group
The Black Women Affinity Group (yet to be officially named) aims to advance a diverse and inclusive work environment with a particular focus on African American professional women.  We will partake in internal and external activities that will allow us to unify in ways that will attract, retain, empower, and inspire employees of color. Through shared experiences, the goal is to form a bond of sisterhood, personal and professional support, and allyship with each other that translates to an improved employee culture as a whole.
Asian Affinity Group (AAG)
Provide a safe place for employees and students representing all of the Pan Asian cultures to connect and support one another.
Black, Indigenous, People of Color (BIPOC) Allyship Group
Purpose is to create a safe and productive space for reflection. Members will be invited to consider the ways that their biases affect their own relationships with colleagues, students, and other members of the MATC community. The group will use reflection and conversation as vehicles to expand our collective knowledge about issues facing people of color. Increased collective knowledge will lead to building partnerships with community groups interested in amplifying voices of Black and indigenous people of color. 
Community of Administrative Assistants (C.A.P)
Be a collective voice of exemplary support to the college by embracing differences, promoting career development, and empowering employees.
Interfaith
We encourage and sustain a college environment that welcomes and values different religious beliefs. We counter hate, fear and misunderstanding while fostering interfaith dialogue, learning, tolerance and friendship. Where appropriate we stand up for local issues through interfaith advocacy.
LGBTQ+ and Allies
Serves as the cornerstone and resource for MATC's LGBTQ+ students, faculty, and administration, as well as their allies. We provide a safe space for support, community, advocacy and belonging.
Parents Employee Affinity Group
MATC Parents is committed to supporting the unique needs of MATC employees who are parents as they strive to balance work, parenting, and personal growth. We strive to connect, build a sense of community, and share resources with one another throughout the various stages of parenthood.
Women's Opportunity in the Workplace (WOW)
Purpose is to provide MATC women and those identifying as female the chance to meet other women across the college, be a safe space to share successes and challenges personally and professionally while also sharing tools, cultural awareness, training, support as desired to achieve the most rewarding work and learning experience possible. Empowered women empower other women to grow, understand and succeed. 
Interested in joining an affinity group?
Sign up online (link)!
*Affinity group membership will be kept confidential and known only to those with a business need.
MAJOR PARTNERSHIPS
STRATEGIC INITIATIVES
MAJOR STUDENT SUCCESS INITIATIVES
UNDER-RESOURCED STUDENTS INITIATIVES
RACIAL AND SOCIAL JUSTICE SPEAKER SERIES
Wes Moore, Author - March 2013
Michelle Alexander, Author & Civil Rights Attorney - September 2014
Jimmy Santiago Baca, Chicano & Apache Poet - March 2015
Bryan Stevenson, Human Rights Attorney & Author - March 2016
Tavis Smiley, Television Host - April 2016
Daniel Karpowitz, Author and Higher Education in Prison Advocate - March 2018
Rob Johnstone, Equity and Guided Pathways expert - March 2019
Dr. Gina Garcia, HSI Expert - October 2019
Dr. Luke Wood, Dean's Distinguished Professor of Education at San Diego State University - July 2020
Dr. Ibram Kendi, Author and Antiracism Expert - March 2021
CRUCIAL CONVERSATIONS
EMPLOYEE PROFESSIONAL DEVELOPMENT
Avoiding Bias in the Interviewing Process Training, Spring 2020
New Faculty Training Modules on Supporting Culturally Responsive Teaching in Required Courses for FQAS
Unlearning Racism/ Implicit Bias (YWCA), March 2019
Noel Levitz Quality Student Service Training for Counselors and Advisors, September 2020
Conference Travel Grants eCornell University Diversity & Inclusion Certification, 2020
Cultural Competence Training (M.A.I.N. Event), October 2020
M-Cubed Annual ELA, Math and Science Faculty Workshop, Spring 2018
ORGANIZATIONS
MEET OUR TEAM
DR. EVA MARTINEZ POWLESS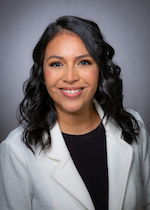 Dr. Eva Martinez Powless is MATC's vice president and chief diversity, equity & inclusion officer. She is a seasoned diversity, equity and inclusion practitioner with over 18 years of combined experience in higher education and nonprofit administration. Dr. Martinez Powless has held positions at Marquette University as assistant dean of admissions, director of the Office of Intercultural Engagement and director of diversity and inclusion. 
She earned an interdisciplinary Ph.D. in Higher Education and Leadership from Marquette University, where she also earned a master's degree in Public Service (Leadership Specialization). Dr. Martinez Powless also earned a Bachelor of Arts from Alverno College. She was a first-generation and low-income college student, which propelled her commitment to college access and success.
Office of Diversity, Education & Inclusion | Room M281
Eva Martinez Powless, VP & Chief Diversity, Equity & Inclusion Officer/Title IX Coordinator
marte176@matc.edu
414-297-6491
Will Smith III, Deputy Title IX Coordinator & Equity Officer
smithwo@matc.edu
414-297-7275
Zacharia Nchinda, DEI Coordinator
nchindaz@matc.edu
414-297-6513
Jolene Arnold, Executive Administrative Assistant
arnolj11@matc.edu
414-297-6491
Leonor Torres, Student worker
torrel41@gmatc.matc.edu
414-297-7268
Multicultural Services | ROOM M238
Annabel C. Chavez, Student Services Specialist
Hispanic Student Services Office
chavezac@matc.edu
414-297-6875
Der M Vang, Student Services Specialist
Asian American Student Services Office
vangde@matc.edu
414-297-8321
Mary A. Lang, Administrative Assitant I
langma@matc.edu
414-297-8398
Tanya L. Torres, Student Services Specialist
American Indian Student Service Office
torretl1@matc.edu
414-297-7692
Floyd Griffin III, Student Services Specialist
African-American Student Services Office


Office of Biligual Education | Room T248
Norma Florez, Bilingual Educational Assistant
florezn@matc.edu
414-297-7329
Dao Vang, Bilingual Educational Assistant
vangd2@matc.edu
414-297-6648
Adelina Benavides, Bilingual Academic Advisor
benaviaa@matc.edu
414-297-7801
Administrative Assistant - Vacant
Cesar Cotrino, student worker
cotrinoc@gmatc.matc.edu
414-297-8882
Sebastian Marrero, student worker
marrers1@gmatc.matc.edu
414-297-8882


Office of the Ombudsperson | Room M358
Yolanda Hodges, Student Ombudsperson
ombuds@matc.edu
414-297-6294
Hispanic Serving Institution (HSI) Initiatives
Dr. Patricia Torres Najera, Executive Director for Community Education, HSI, & Strategic Engagement
najerap1@matc.edu
414-297-6803
Arlensiu Garcia Novelli, Internal Communications Coordinator, HSI Liason
garca136@matc.edu
414-297-6239
DIVERSITY, EQUITY & INCLUSION : NEWS
UAA at MATC to Launch CNC Training for Individuals with High-Functioning Autism
350 Students to Receive GEDs and HSEDs in Virtual Graduation Ceremony Hosted by MATC May 18
Statement from President Martin on the Verdict Against Derek Chauvin
Eva Martinez Powless Named MATC's Chief Diversity, Equity and Inclusion (DEI) Officer
MATC to Host Free, Public, Virtual Conversation with Ibram X. Kendi, Author of "How to be an Antiracist," March 31
Standing with our Asian American Pacific Islander students and employees
MATC to Host 'Casa Abierta," a Virtual (English-Spanish) Bilingual Open House, Thursday, March 25
For more information about upcoming events and presentations, visit the Diversity, Equity, & Inclusion Project site.