MATC's Equity & Inclusion Statement
MATC is breaking down barriers that stand between students and their academic and career success by providing a safe place where differences are valued and celebrated. We promote awareness, training, and crucial conversations to move beyond our individual biases, whether unconscious or implicit, to create an inclusive environment that welcomes, accepts, and respects all students and employees while serving the unique needs of each individual. This resonates through the attitudes and behaviors of all those who work and learn at the College.
Contact the Office of Diversity, Equity & Inclusion: diversity@matc.edu 
MATC EQUITY-BASED INITIATIVES: BREAKING DOWN BARRIERS!
President's Task Force on Diversity, Equity & Inclusion
Under the direction of the Chief Diversity, Equity & Inclusion Officer, the Task Force will work to gain a shared understanding of MATC's Diversity, Equity & Inclusion needs, explore short-term and long term solutions and make recommendations to the President. The Task Force will examine all current DEI activities, initiatives, and efforts in order to create a DEI plan that will advance racial equity, address barriers to equity, and ensure equitable and inclusive practices, policies, procedures and programs. Task force DEI recommendations and DEI Plan will be supported by a newly created DEI Steering Committee.
Employee Affinity Groups
All employees are invited to join the newly-created Employee Affinity Groups. They promote equitable outcomes for all students and employees by creating an inclusive and supportive college environment. The groups will play a critical role in driving organization initiatives, supporting employees through development and engagement opportunities and representing the organization in our community.
Employee Affinity Group Info Sheet (pdf)
MAJOR PARTNERSHIPS
STRATEGIC INITIATIVES
MAJOR STUDENT SUCCESS INITIATIVES
UNDER-RESOURCED STUDENTS INITIATIVES
RACIAL AND SOCIAL JUSTICE SPEAKER SERIES
Wes Moore, Author - March 2013
Michelle Alexander, Author & Civil Rights Attorney - September 2014
Jimmy Santiago Baca, Chicano & Apache Poet - March 2015
Bryan Stevenson, Human Rights Attorney & Author - March 2016
Tavis Smiley, Television Host - April 2016
Daniel Karpowitz, Author and Higher Education in Prison Advocate - March 2018
Rob Johnstone, Equity and Guided Pathways expert - March 2019
Dr. Gina Garcia, HSI Expert - October 2019
Dr. Luke Wood, Dean's Distinguished Professor of Education at San Diego State University - July 2020
Dr. Ibram Kendi, Author and Antiracism Expert - March 2021
CRUCIAL CONVERSATIONS
EMPLOYEE PROFESSIONAL DEVELOPMENT
Avoiding Bias in the Interviewing Process Training, Spring 2020
New Faculty Training Modules on Supporting Culturally Responsive Teaching in Required Courses for FQAS
Unlearning Racism/ Implicit Bias (YWCA), March 2019
Noel Levitz Quality Student Service Training for Counselors and Advisors, September 2020
Conference Travel Grants eCornell University Diversity & Inclusion Certification, 2020
Cultural Competence Training (M.A.I.N. Event), October 2020
M-Cubed Annual ELA, Math and Science Faculty Workshop, Spring 2018
ORGANIZATIONS
MEET OUR TEAM
EVA MARTINEZ POWLESS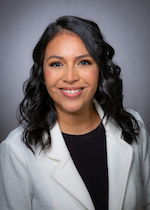 Eva Martinez Powless is MATC's chief diversity, equity & inclusion officer. Ms. Martinez Powless is a seasoned diversity, equity and inclusion practitioner with over 18 years of combined experience in higher education and nonprofit administration. She has held positions at Marquette University as Assistant Dean of Admissions, Director of the Office of Intercultural Engagement and Director of Diversity and Inclusion. 
Ms. Martinez Powless earned a Bachelor of Arts from Alverno College and master's degree in Public Service (Leadership Specialization) from Marquette University, where she is currently a doctoral candidate in the interdisciplinary Ph.D. program, Higher Education and Leadership. She was a first-generation and low-income college student, which propelled her commitment to college access and success.
Contact: 414-297-6491 | marte176@matc.edu
Cynthia Galvan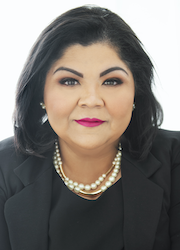 Cynthia Galvan has been appointed as HSI-Academic Diversity Officer. As a visionary leader, she unites her experiences in both student services and academics to her appointments in higher education. She has been employed at Milwaukee Area Technical College since 1998. Currently, Galvan is a Doctoral Candidate in the Doctorate of Community College Leadership Program at Ferris State University. During her career, she has worked in various capacities within the college including student services in Recruitment, Migrant and Bilingual Education, and Academic Support before becoming a full-time instructor of English in 2009. She later went on to serve in various leadership roles as Department Chair. In 2021, Galvan founded and led the Higher Ed Latinx United Network Alliance (LUNA), an employee affinity group that promotes mentorship, professional development and career advancement.
Contact: 414-570-4437 | galvanc@matc.edu
MARIA SOLANO-SOLANO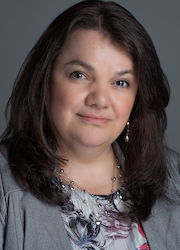 After getting a bachelor's degree in Business Administration at the Universidad Internacional de las Américas in Costa Rica, Dr. Maria Solano-Solano had the opportunity to come to the United States for one year to teach Spanish at a small college in upstate New York in August 2000.  However, more opportunities came into her life that allowed her to get a Master's Degree in Literature, Language, and Culture at Syracuse University and then pursue a Doctorate in Contemporary Latin American Literature, and Theater at the University of Wisconsin at Madison.
Dr. Solano-Solano started working at MATC as a part-time foreign language instructor in January 2017.  Since 2019 she has been involved in the Hispanic-Serving Institution Initiative (HSI).  As a result of her involvement, she started working more directly with the HSI Steering Committee as a part-time educational assistant in the fall of 2020.  In October 2021, she accepted the position of full-time HSI educational assistant to continue propelling this initiative by embracing all the college stakeholders that are willing to add their efforts into improving the Hispanic student experience.  As an HSI Educational Assistant and an Advisor of the Latinx Unidos Organization, she has been able to advocate for Hispanic students' success by fostering and setting up bilingual services and events that bring not only hope but also a sense of belonging to our Hispanic students.  Some events Dr. Solano has collaborated on include CASA ABIERTA, SOMOS MATC, bilingual workshops, and a bilingual conference for career opportunities.
Contact: 414-302-2667 | solanosm@matc.edu
MYRA GEORGE
Myra George is the Project Coordinator and DEI Committee Co-Chair. In addition, Myra is a full-time faculty member in MATC's English Department. She has spent her entire career working towards equitable access to higher education for historically marginalized students, first as an English teacher at Shaw University, a historically black college in North Carolina, and later as an associate director in the Marquette University Educational Opportunity Program. In her more than a dozen years at Marquette, she directed two TRIO programs: the Student Support Services program and Ronald E. McNair Scholars Program, helping underrepresented students gain entry to doctoral programs.  After leaving Marquette, she moved to Massachusetts and had her first experience teaching in the community college arena. She has spent more than 15 years at MATC and co-chairs the Accreditation Steering Committee, the General Education CLA Committee, and supports the General Education Pathway. Together with former Committee member Equan Burrows, she co-chairs the Equity and Diversity committee for the African American Network, an employee affinity group at MATC.
As Project Coordinator and DEI Grant Committee Co-Chair, Ms. George created the DEI website (and now maintains it), leads annual strategic planning of the programming, organizes the activity calendar, secures subject matter experts to lead workshops, writes the triannual reports, writes the surveys, and carries out the day-to-day work of the Committee.  She led the work to bring Prof. Ibram Kendi and Dr. Eddie Glaude, Jr. to the campus and community.
Myra holds an M.A. degree in English from The Ohio State University and a B.A.S. degree from Bennett College, an all Black women's college. She has also completed the Equity and Inclusion certificate from Cornell University and the Social Justice Facilitation certificate program with Paul Gorski. She is a member of the National Assn of Diversity Officers in Higher Education and a life member of the NAACP.  
Contact: 414-238-2268 | georgem@matc.edu
Committee Members
Cynthia Galvan, 

HSI - Academic Diversity Officer

Myra George, Project Coordinator & Co-Chair
Dr. Christine Manion
Carlos Aranda (joined 2020-2021)
Aisha Barkow (joined 2020 - 2021)
Nick Brayton
Amanda Brooks
Jeannie Bynum
Carriel Danz (joined 2020-2021)
Kate Erickson
Eric Gass
Kamela Goodwyn
Jerry Key
Michelle Krueger
Amarilis Martinez
Will Smith
Karli Tatum
Michelle Vangay
Sara Willkomm Cappaert
Carol Voss (joined 2020 - 2021)
Dwayne Windham
Bohdan Zachary
Former Members:

Equan Burrows (2019 - 2020), Cass Lanier (2019 - 2020), Dr. Wilma Bonaparte, (2019-2021), Art Martinez (2019-2021)
 Resources
For more information about upcoming events and presentations, visit the Diversity, Equity, & Inclusion Project site.  
DIVERSITY, EQUITY & INCLUSION : NEWS
UAA at MATC to Launch CNC Training for Individuals with High-Functioning Autism
350 Students to Receive GEDs and HSEDs in Virtual Graduation Ceremony Hosted by MATC May 18
Statement from President Martin on the Verdict Against Derek Chauvin
Eva Martinez Powless Named MATC's Chief Diversity, Equity and Inclusion (DEI) Officer
MATC to Host Free, Public, Virtual Conversation with Ibram X. Kendi, Author of "How to be an Antiracist," March 31
Standing with our Asian American Pacific Islander students and employees
MATC to Host 'Casa Abierta," a Virtual (English-Spanish) Bilingual Open House, Thursday, March 25