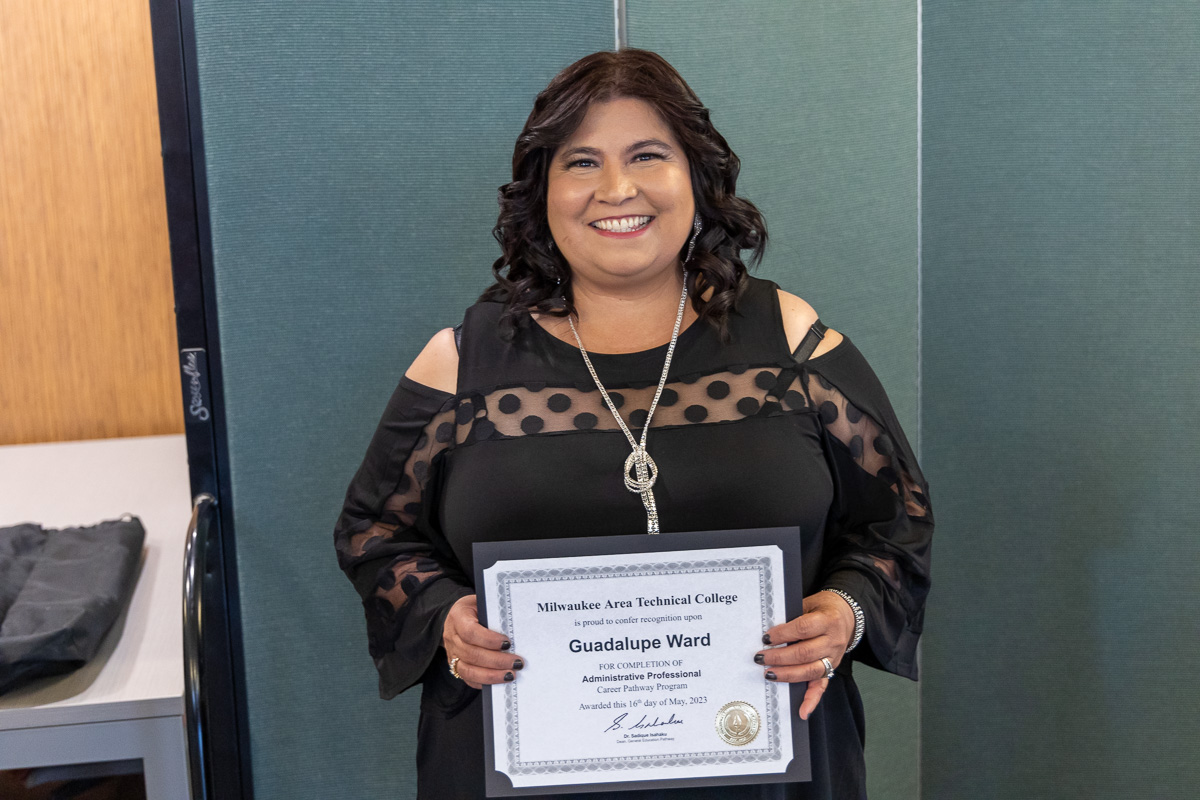 The MATC instructors have been very, very helpful to me. I am so happy with everything I have learned so far.
MILWAUKEE – When Guadalupe Ward came to the United States almost 30 years ago, she didn't know a single word of English.
"I could say my name and that's about it," said Ward, who was born and raised in northern Mexico. "If I really had to, I could ask for water, but not much else."
Thanks to Milwaukee Area Technical College, Ward has vastly improved her English and is working to attain her General Equivalency Development (GED) diploma. On Tuesday, May 16, she earned an administrative professional certificate through MATC's Integrated Education and Training (IET) Career Pathway program.
"The MATC instructors have been very, very helpful to me," Ward said. "I am so happy with everything I have learned so far."
In the IET Career Pathway program, students can earn college credit in certain career areas while simultaneously completing their alternative high school credential, like a GED or High School Equivalency Diploma (HSED).
Ward was one of 15 students to receive either administrative professional or healthcare customer service certificates on May 16 at the MATC Education Center at Walker's Square.
See photos from the IET Certificate Completion ceremony
"By earning college credit while getting your GEDs, you are ahead of the game," said Eric Gass, Ph.D., dean of MATC's Healthcare pathway. "Take time to celebrate, then think about what you want to do with your lives and come to us and let us help you do that." 
"You persevered, you persisted, and even with everything you had going on in your lives with jobs and family, you showed up," said Mohammad Dakwar, Ed.D., the college's vice president of Learning. 
Ward came to the United States in 1994, and lived and worked in Illinois. In 2017, she got married and moved to Milwaukee with her husband. She decided to improve her English and further her education. 
She found MATC while searching for English as a Second Language courses in the city. She started taking ESL classes and restarted studying for her GED exams, which she had taken several times before but had not passed.
She enrolled in IET courses after Lorissa Najera-Lester, the program's coordinator, visited her ESL class and talked about it.
In the administrative professional pathway, Ward has learned keyboarding, customer service skills, and how to operate and maintain office technology such as computers, copy machines and fax devices.
"Guadalupe juggles many balls, including running her household, studying for her GED, taking IET and ESL classes, and she does it all with grace," Najera-Lester said. "Her motivation, positive attitude and bright smile always brighten my day when I see her."
Ward said wakes up before 4 a.m. to complete her class assignments. "I like having time alone to do my work," she said. "I make lists and try to stay on schedule. I also take care of things around the house, cook dinner and do more schoolwork. Then I just take an hour to clear my mind."
Ward said she hopes to get her GED in the fall and perhaps take more courses at MATC. "I can't believe the progress I've made so far," she said. "I know for sure that my English is much, much stronger than it was. I'm excited to see what comes next."
Learn about MATC's ESL program
About MATC: Wisconsin's largest technical college and one of the most diverse two-year institutions in the Midwest, Milwaukee Area Technical College is a key driver of southeastern Wisconsin's economy and has provided innovative education in the region since 1912. More than 25,000 students per year attend the college's four campuses and community-based sites or learn online. MATC offers affordable and accessible education and training opportunities that empower and transform lives in the community. The college offers more than 170 academic programs — many that prepare students for jobs immediately upon completion and others that provide transfer options leading to bachelor's degrees with more than 40 four-year colleges and universities. Overwhelmingly, MATC graduates build careers and businesses in southeastern Wisconsin. The college is accredited by the Higher Learning Commission.