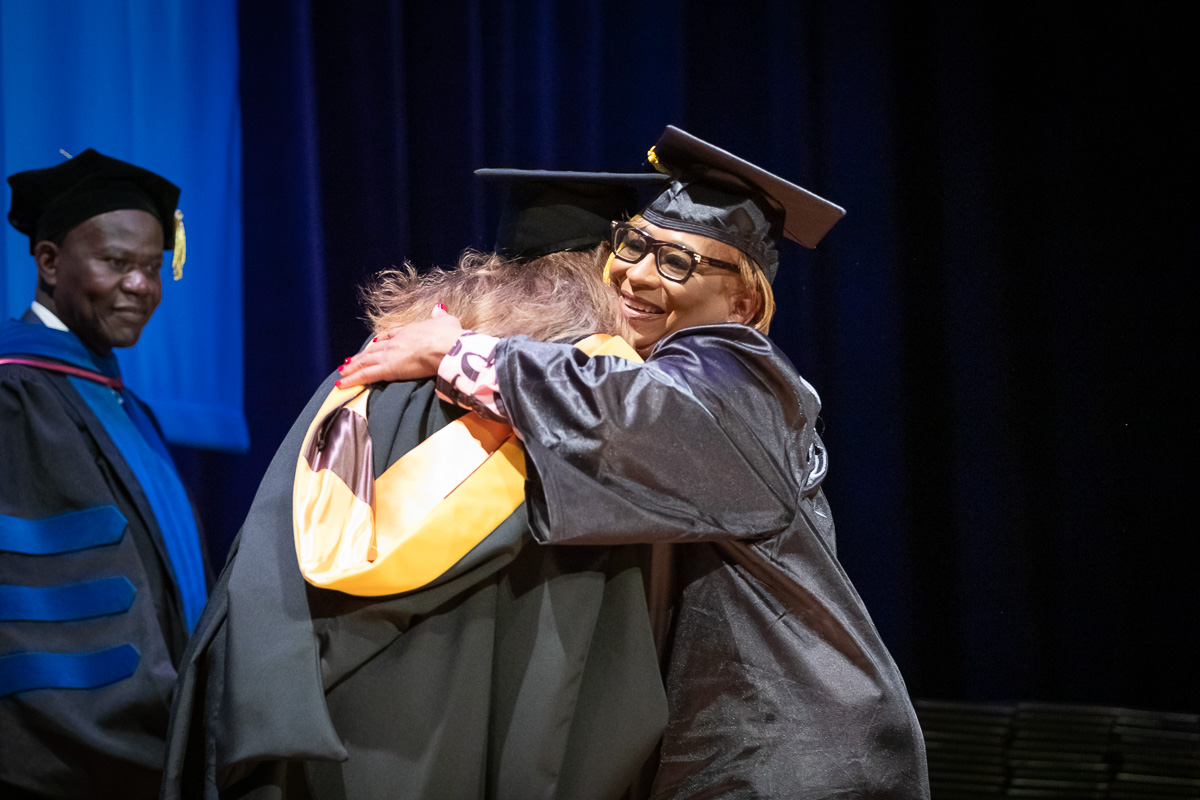 I was determined to get this. I'm getting older and I need this. There were times I felt so defeated. I need to have this for my children, my grandchild and for me. I truly believe that gaining my diploma will break generational curses.
MILWAUKEE – Tracie Bumper has seen too much darkness.
Her mother struggled with addiction, selling the aluminum pipes in their house to buy drugs. Her family went homeless for months at a time. She dropped out of school. She became pregnant at 13. 
"Looking back, sometimes I can't believe I survived my childhood," said Bumper, now 47 years old, the mother of six and grandmother to six.
Today, Bumper is looking at a brighter, happier future thanks to Milwaukee Area Technical College's High School Equivalency Diploma (HSED) program.
Bumper participated in the college's HSED 5.09 program, where students must demonstrate mastery of competencies identified by the Wisconsin Technical College System in communication, social studies, science, math, health, civics and employability, as well as six additional competencies added by MATC to prepare students for college or the workforce. 
"I was determined to get this," Bumper said. "I'm getting older and I need this. There were times I felt so defeated. I need to have this for my children, my grandchild and for me. I truly believe that gaining my diploma will break generational curses. 
"Giving up was not an option," she said.
Bumper was one of 228 students who also didn't give up and received their General Education Development (GED) and HSED diplomas on May 22 at an energetic, exuberant graduation ceremony in MATC's Cooley Auditorium. 
"The joy for this event is special," Mohammad Dakwar, MATC's vice president of Learning, told the crowd. "It's for how much you have overcome to get here and for the excitement of walking across the stage."
Holly McCoy, executive director of Literacy Services of Wisconsin, delivered the keynote address. She related her own story of overcoming personal struggles – family challenges, pregnant at 16 – to earn a GED, a bachelor's degree and a master's degree. 
"We all deserve to have these huge moments," McCoy said. "Despite all our mistakes and all our obstacles."
Student speakers Vannatyie Binion and Keyara Hall Jefferson spoke about their mistakes and obstacles in life. Binion struggled with a learning disability, lived in numerous foster homes and had a baby at 15. Hall Jefferson dropped out of high school to live wild and free.
"But with time came wisdom, followed by curiosity," Hall Jefferson said. "I began to wonder what I could do. The only way you'll fail is if you don't try." 
Bumper started her journey with MATC in the spring of 2020. She wanted to get her GED certificate, which entails taking a series of exams. But studying for the tests while working and caring for her children proved to be a struggle. Richard Karnowski, a Community Education instructor at MATC, suggested that she try the 5.09 program, where lessons can be reviewed on a computer. 
The 5.09 program and MATC's instructors helped Bumper improve her computer skills and boost her self-confidence. "Everyone at MATC has been so encouraging," Bumper said. "With patience and dedication, I can apply both myself and I can get it done." 
"Tracie's story is truly one of persistence and determination," Karnowski said. "Many students who are faced with similar challenges would have given up. But Tracie's not a quitter."
Bumper wants to be an X-ray technician and plans to start taking classes as soon as she can. Getting her HSED diploma was a proud moment for her entire family and a fresh start for her.
"I want all of my children and grandchildren, especially my boys, to see what I can do. Then they will know that they can do anything," Bumper said. "At the age of 47, I can finally go further with not only my education, but also with my life."
Learn more about MATC's GED and HSED opportunities
About MATC: Wisconsin's largest technical college and one of the most diverse two-year institutions in the Midwest, Milwaukee Area Technical College is a key driver of southeastern Wisconsin's economy and has provided innovative education in the region since 1912. More than 25,000 students per year attend the college's four campuses and community-based sites or learn online. MATC offers affordable and accessible education and training opportunities that empower and transform lives in the community. The college offers more than 170 academic programs — many that prepare students for jobs immediately upon completion and others that provide transfer options leading to bachelor's degrees with more than 40 four-year colleges and universities. Overwhelmingly, MATC graduates build careers and businesses in southeastern Wisconsin. The college is accredited by the Higher Learning Commission.