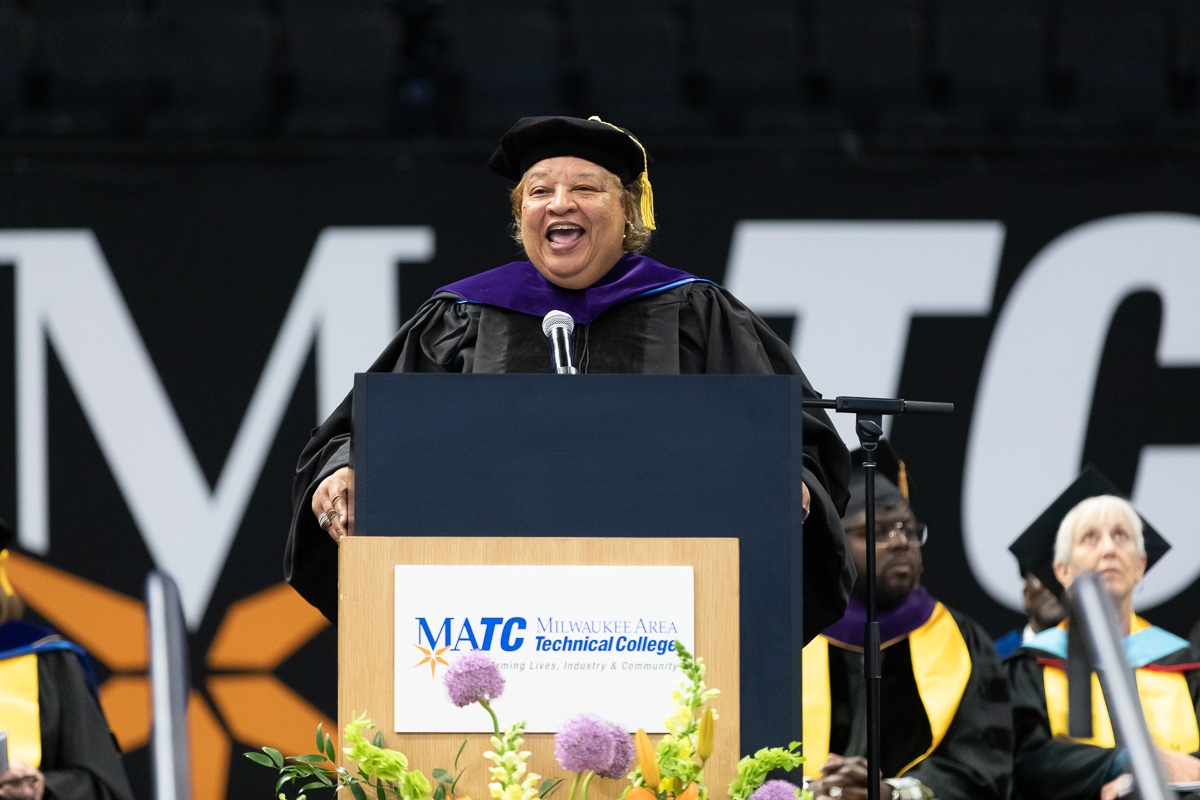 Listen to the voices within you and follow your dreams and passions, no matter how big or small they may be. When you follow your dreams, you unleash your potential.
MILWAUKEE – After graduating from college in 1978, Dr. Valerie Daniels-Carter had a shot at playing professional basketball.
But the Milwaukee native passed. She had other dreams.
Instead, she took a job at a bank, earned a master's degree in business management, began buying real estate, and in 1982, purchased her first restaurant. Today, she runs the largest woman-owned franchise organization in the United States — and she's a minority owner of the Milwaukee Bucks. 
"I don't have to bounce the ball," she said. "Because now I own the ball."
On Sunday, May 21, Dr. Daniels-Carter energetically told Milwaukee Area Technical College graduates that they can find similar success if they follow their hearts.
"Listen to the voices within you and follow your dreams and passions, no matter how big or small they may be," said Dr. Daniels-Carter, president and CEO of V&J Holding Companies Inc. "When you follow your dreams, you unleash your potential."
Dr. Daniels-Carter delivered the keynote speech at MATC's Spring Commencement ceremony held at Fiserv Forum in Milwaukee. More than 1,300 students graduated receiving associate degrees, technical diplomas, apprentice diplomas and Adult High School diplomas. The commencement was attended by nearly 1,000 graduates' family and friends, and MATC's administrators, district board members, faculty and staff.
See photos from 2023 Spring Commencement
With an almost evangelistic fervor, Dr. Daniels-Carter exhorted the graduates to acknowledge relatives and MATC instructors who helped them reach their educational goals, to seek guidance from other successful people, and to move ahead boldly, unafraid of future obstacles.
"You have already made enormous sacrifices, have had many sleepless nights, but you are here today," she said. "Challenges are not roadblocks. They're stepping stones on the journey to success."
Dr. Daniels-Carter singled out MATC graduate Shonda Glover, who received an associate degree in the college's medical administrative specialist program. Glover works in V&J's accounting department and went to college while working and raising a family as a single mother. She survived and thrived, Dr. Daniels-Carter said.
"She defied the odds," Dr. Daniels-Carter added.  
Born and raised in Milwaukee, Dr. Daniels-Carter has experienced enormous educational, professional and philanthropic success. She graduated from Lincoln University in Missouri with a bachelor's degree in business administration in 1978 and earned a master's degree in business management from Cardinal Stritch University. She received honorary doctors of humane letters from Cardinal Stritch University in 2008 and Lincoln University in 2016.
Her quick-service restaurant empire operations include Auntie Anne's Soft Pretzels, Burger King, Coffee Beanery, Nino's Southern Sides, MyYoMy Frozen Yogurt, Pizza Hut and Captain D's Seafood.
She and her family opened a 160,000-square-foot center that houses a Boys & Girls Club, family service center, two schools (K-12), loan center, medical facility, and a community meeting facility developed in memory of her mother and husband. She was the catalyst to the opening of three orphanages in Kenya and Ghana for children whose parents died of AIDS.
Carter spoke after Brennen Juarez, who received an associate degree in Criminal Justice Studies and was the Outstanding Associate Degree graduate, delivered the student speech. A member of the Criminal Justice Student Organization and the Sigma Phi Epsilon fraternity, Juarez quoted famed Italian artist Michelangelo and urged his fellow graduates to live a life of continual learning.
Julie Laurence Brown, the college's Outstanding Technical Degree graduate, welcomed the students and faculty to the ceremony. Brown received a diploma in the college's Aesthetician program thanks to the new, full-ride Ellen and Joe Checota MATC Scholarship Program.
At the start of the ceremony, MATC President Vicki J. Martin, Ph.D., asked the graduates to remember their first class at the college. "Now I invite you to look forward towards the future," she said. "Picture yourself in the career or role that you've always dreamed about."
And that was the same message Dr. Daniels-Carter had for the graduates: Follow your dreams.
"The world needs dreamers and visionaries who dare to imagine a better world," Dr. Daniels-Carter said. "And that's you."
About MATC: Wisconsin's largest technical college and one of the most diverse two-year institutions in the Midwest, Milwaukee Area Technical College is a key driver of southeastern Wisconsin's economy and has provided innovative education in the region since 1912. More than 25,000 students per year attend the college's four campuses and community-based sites or learn online. MATC offers affordable and accessible education and training opportunities that empower and transform lives in the community. The college offers more than 170 academic programs — many that prepare students for jobs immediately upon completion and others that provide transfer options leading to bachelor's degrees with more than 40 four-year colleges and universities. Overwhelmingly, MATC graduates build careers and businesses in southeastern Wisconsin. The college is accredited by the Higher Learning Commission.