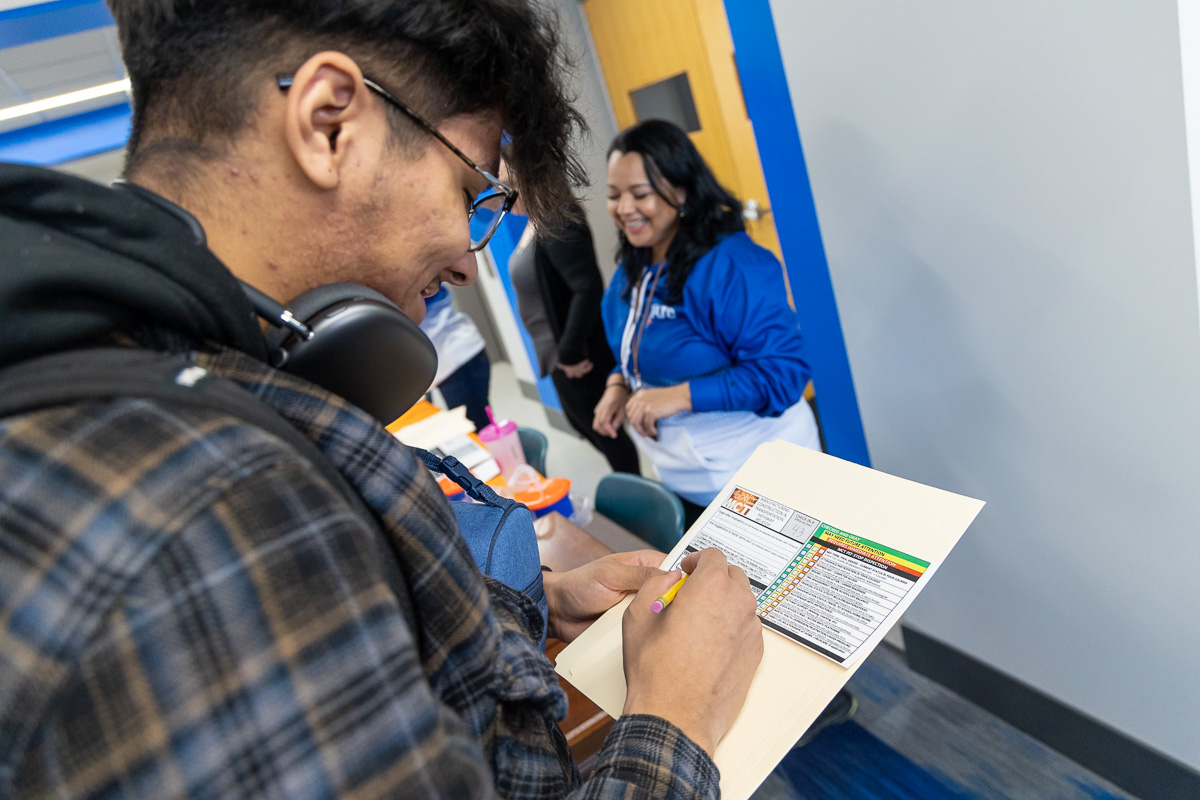 This is a retention effort for us, a way to engage with students. They can tell us how we are doing, and we make sure they know we're here to help them in any way we can.
MILWAUKEE – Fixing cars might not be in Terry Jefferson's long-term future, but it's a big part of his present.
"My dad has his own auto repair shop, and I know he wants me to take that over some day," said Jefferson, who is in Milwaukee Area Technical College's Automotive Maintenance Technician program. "I'd actually like to have my own security company, but knowing his business and how it works can't hurt."
And MATC is making sure Jefferson has the skills and support to be successful in auto maintenance for as long as he wants to be or needs to be.
On Tuesday, March 7, advisors and support personnel from MATC's Manufacturing, Construction & Transportation (MCT) Pathway displayed that support at the pathway's first-ever Pit Stop event.
At the Pit Stop, students shared their thoughts about classes and instructors, expressed any concerns, enjoyed pizza and soda, and got connected to available academic, financial and career resources.
"It's been some weeks since school started and we wanted to check in and see how things were going for everyone," said Erik Riley, MCT Pathway advisor. "We all need a quick break to reset, refuel and restart."
For several years, Riley has held a First Day Ready program before each semester to ensure pathway students were fully prepared to start classes. The Pit Stop program is the next step, he said, and aims to keep students engaged and in school.
"This is a retention effort for us, a way to engage with students," Riley said. "They can tell us how we are doing, and we make sure they know we're here to help them in any way we can." 
At the event, students can get information about scholarships – like the full-ride Ellen and Joe Checota Scholarship Program that aims to get graduates into the workplace faster.  –. They also can find out about emergency assistance funds, computers, academic support, Student Life resources and CareerHub programs.
Students talked to pathway advisors, retention coaches and liaisons to complete evaluation forms on topics ranging from grades, attendance to technology and mental health. 
About 100 students gathered in MATC's T Building for the event, the first of five Pit Stops being held during the next two weeks at MATC campuses. On Wednesday, March 8, a session was held at the MATC Education Center at Walker's Square. The final three sessions will be:                      
Thursday, March 9, West Allis Campus, Main Building, Room 107, 11 a.m. to 1 p.m.

Monday, March 13, Mequon Campus, Room A129 (Cafeteria), 11 a.m. to 1 p.m.

Tuesday, March 14, Oak Creek Campus, B Building Atrium, 11 a.m. to 1 p.m., and 4 p.m. to 6 p.m.  
Jefferson started at MATC last August, but ran into some personal difficulties and dropped out around Thanksgiving. He came back in January. 
"It's all about achieving the goal," he said. "To get where I want to go and do what I want to do, I need to be here."
Jefferson, who was born in Little Rock, Arkansas, and came to Milwaukee when he was 7 years old, knew all about MATC. He dropped out of high school and received his High School Equivalency Diploma (HSED) through MATC last spring.
"I grew up right near the campus, so this is close and it has the programs I want," said Jefferson, who plans to get his technical diploma next December. "Everything is going cool right now. I can't complain. It keeps me busy, it's challenging, it's fun and I enjoy it."
"I'm working well with my instructor so far," he added. "Having something like this event was a good way for us to see what is going on. Plus, the cheese pizza was on point."
Find out about the Manufacturing, Construction & Transportation Pathway
About MATC: Wisconsin's largest technical college and one of the most diverse two-year institutions in the Midwest, Milwaukee Area Technical College is a key driver of southeastern Wisconsin's economy and has provided innovative education in the region since 1912. More than 25,000 students per year attend the college's four campuses and community-based sites or learn online. MATC offers affordable and accessible education and training opportunities that empower and transform lives in the community. The college offers more than 170 academic programs — many that prepare students for jobs immediately upon completion and others that provide transfer options leading to bachelor's degrees with more than 40 four-year colleges and universities. Overwhelmingly, MATC graduates build careers and businesses in southeastern Wisconsin. The college is accredited by the Higher Learning Commission.