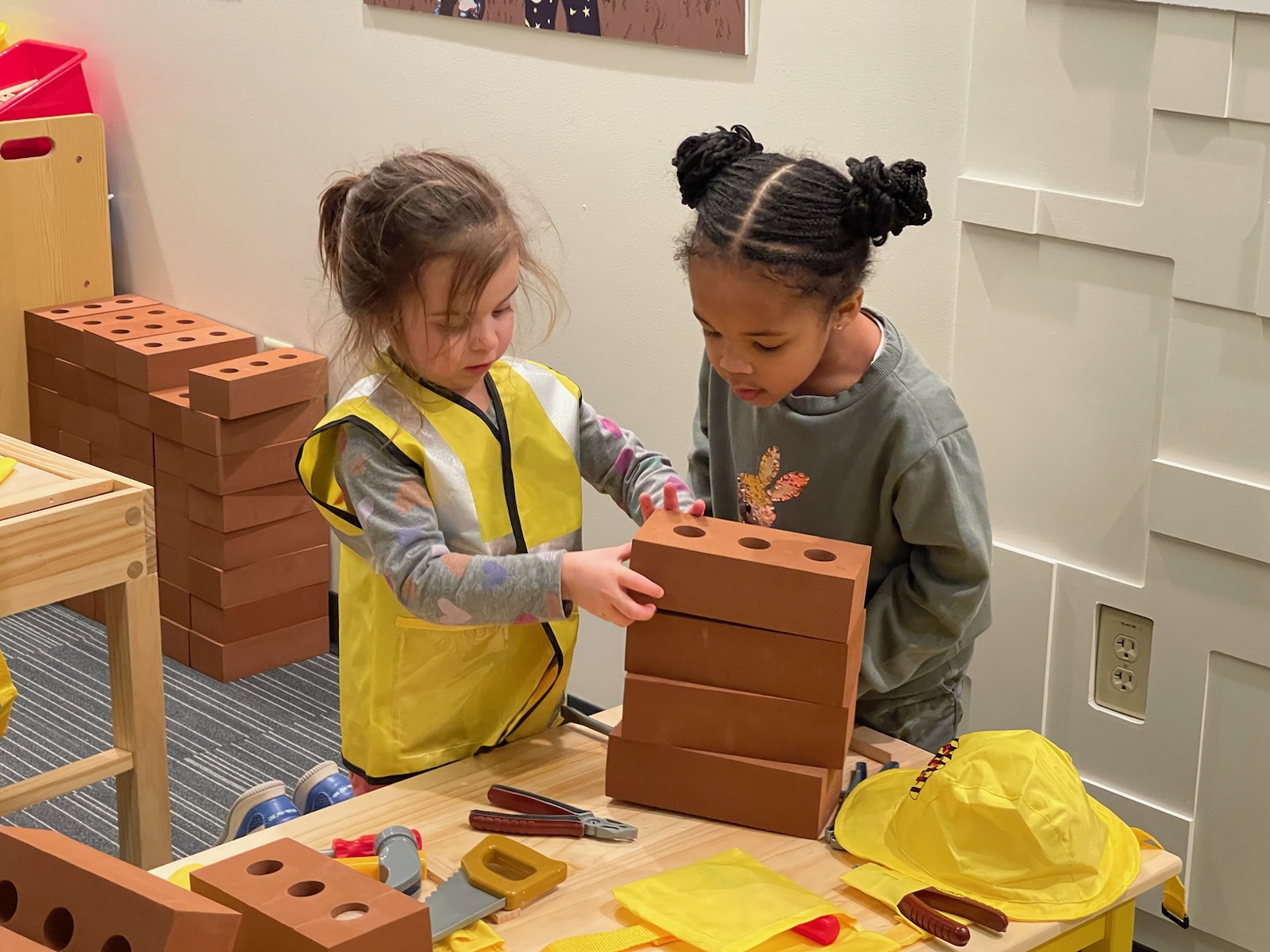 Spaces like this can bring us all together. We want to continue to use this space to advocate for social justice and change.
MILWAUKEE – Watching children of different races calmly and contentedly play together, talk together and work together at Milwaukee Area Technical College's Create Gallery warmed the heart of Latisha Reed, Ph.D.
The children were among the first to participate in The Magical Black Tears Experience, a unique, interactive exhibition pilot where youngsters between 4 and 12 years old can safely explore the perils of racism, learn ways to end it and create a more just and fair society for Black people.
The free exhibit officially opened on Wednesday, February 1 – the first day of Black History Month – in the gallery on the first floor of the Main Building at the college's Downtown Milwaukee Campus. About 100 visitors, Milwaukee officials, community leaders, college personnel and children attended the opening.
"It has been amazing to see the kids come in," said Dr. Reed, a national expert in professional development, leadership training and diversity, equity and inclusion initiatives who is coordinating field trips with local schools to visit the exhibition. "They gravitated right to it, and they haven't left."
The exhibition pilot was inspired by the book "Magical Black Tears: A Protest Story," written by Decoteau J. Irby, Ph.D., illustrated by Dominique Duval-Diop and published by Derute Consulting Cooperative.
See media coverage of the exhibition pilot:
Dr. Irby initially developed the concept of writing about protests in 2016 after he awoke from a dream. He sketched the storyline and set it aside until the Black Lives Matter movement grew in 2020 after the murder of George Floyd. His children increasingly asked questions about Floyd, Trayvon Martin, Michael Brown and Sylville Smith, who was killed in Milwaukee's Sherman Park neighborhood. 
Jacqueline Robinson, Ph.D., instructional chair of MATC's social sciences department, curated the exhibition pilot and hopes the presentation will become a traveling exhibit that can be shared by children around the country.
The exhibition pilot has several segments. At a creative station, participants can write protest signs, use bullhorns to voice opinions, make speeches, sing songs or recite poems. In a rumpus room, they can engage in cooperative play and watch an integrated puppet show. At a building section, children can use play tools, blocks and magnets to construct things. In the magical garden, participants can plant flowers.
"This is an exciting way to kick off Black History Month," Eva Martinez Powless, Ph.D., MATC's vice president and chief diversity, equity and inclusion officer said at the opening. "Messages like this must be ever present to help us build greater diversity, equity and inclusion. It's important to listen when people express themselves in whatever way. Not everyone can carry a microphone, some prefer to draw. Some prefer to write, and some prefer to sing a song."
Dr. Irby attended the opening and said he has been overwhelmed by the positive response he has received about the book and the exhibition pilot. "It has been a special experience," he said.
Dr. Irby and Dr. Robinson pitched the idea of using MATC's Create Gallery as a location for the exhibit to Jeff Janz, MATC's vice president of retention & completion, Michael Sitte, Ph.D., dean of MATC's Creative Arts, Design & Media Pathway, and Equan Burrows, MATC's dean of student experience. Their collective response was 'bring it!'
"Spaces like this can bring us all together," said Dr. Sitte. "We want to continue to use this space to advocate for social justice and change."
About MATC: Wisconsin's largest technical college and one of the most diverse two-year institutions in the Midwest, Milwaukee Area Technical College is a key driver of southeastern Wisconsin's economy and has provided innovative education in the region since 1912. More than 25,000 students per year attend the college's four campuses and community-based sites or learn online. MATC offers affordable and accessible education and training opportunities that empower and transform lives in the community. The college offers more than 170 academic programs — many that prepare students for jobs immediately upon completion and others that provide transfer options leading to bachelor's degrees with more than 40 four-year colleges and universities. Overwhelmingly, MATC graduates build careers and businesses in southeastern Wisconsin. The college is accredited by the Higher Learning Commission.