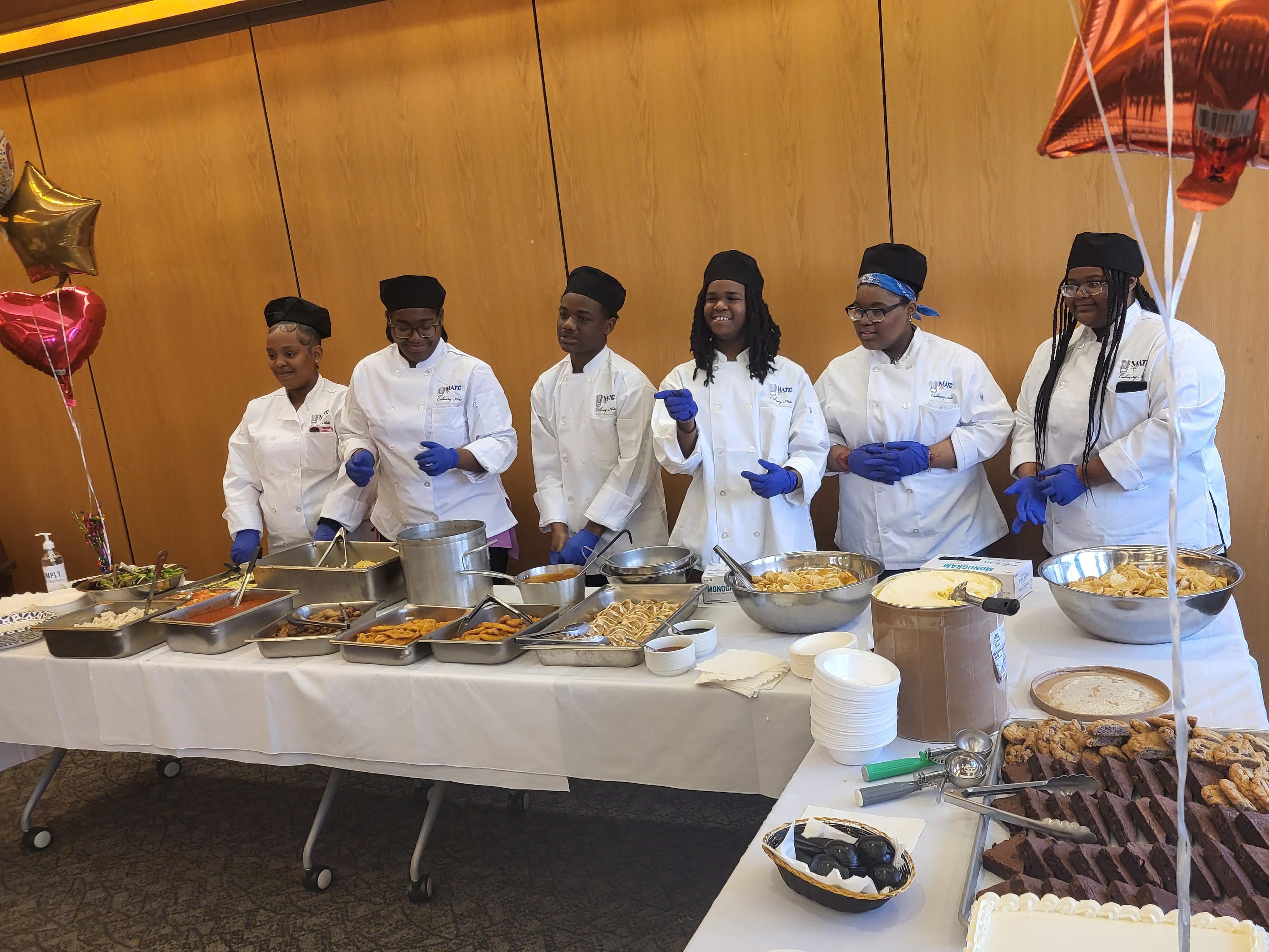 This was a unique opportunity for students that could lead to careers as front- or back-of-the-house in culinary arts.
MILWAUKEE – Janiya Melton just wanted to hang out with some friends when she signed up for an after school culinary training program at Milwaukee Area Technical College.
Instead she found out she's a darn good cook.
"At first I decided to go to have some funsies," said Melton, who just completed her freshman year at Milwaukee Public Schools' North Division High School. "Then we started to make connections with the other students in the program and we started learning some very cool things."
Melton and five other North Division students participated in the inaugural Culinary Arts and Job Readiness Program, a collaboration between MATC and HeartLove Place, a nonprofit Christian ministry located in Milwaukee's Harambee neighborhood.
The students celebrated completing the first 10-week program at a ceremony May 24 at MATC's Downtown Milwaukee Campus. For finishing, the students earned three college credits, a ServSafe Food Handler Completion Certificate and a MATC/HeartLove Place Culinary Arts Job Readiness Essentials Digital Badge.
Each of the six students received crisp, white chef jackets and black chef hats.
"I'm really not sure what I want to do, but I wouldn't mind working in the food industry," said Melton, who spoke at the celebration. "This has been a great opportunity."
The program came together in August 2022 when HeartLove Place Executive Director Viola Rembert called chef Paul Carrier, lead faculty and chair of MATC's Culinary Arts program. 
"We started talking. One thing led to another and here we are today," Carrier said. "This was a unique opportunity for students that could lead to careers as front- or back-of-the-house in culinary arts."
During the program the students traveled from North Division to MATC four days a week to eat dinner and take classes. They learned basic kitchen principles of food safety, kitchen organization and various cooking methods. Melton said her best dish was duck with duck fat sauce served over noodles.
The students displayed their new skills at the completion ceremony by cooking a full meal for HeartLove Place staff, MATC instructors, family members and friends. They feasted on pasta salad, pasta and sauce, chicken wings, chicken strips, pot stickers, cookies, and brownies.
Also enjoying the spread was Athena Ford, a professional chef who spoke at the ceremony. Ford earned a degree from MATC in 2010 and operates her own catering and personal chef business.
Cooking and working in the kitchen impart all kinds of life lessons, Ford told the crowd. You learn to use everything and waste nothing, you learn to follow directions, you learn to pay attention to time, the importance of presentation, figure out good combinations and that you must let everything cook until it's done, she said.
"Use the things that you have learned," she said. "Don't take this chance for granted. This program is special."
Established in 1989, HeartLove Place grew out of street ministry in the Harambee neighborhood. Today, HeartLove Place serves between 3,000 and 5,000 people annually and provides programs for families, youth and teens.
"It's a war on those streets, and we need to keep our kids doing things that are safe and engaging," Rembert said.
HeartLove Place and MATC will offer the 10-week course twice this fall: August 21-October12 and October 16-December 16.
Apply for Teen Culinary Arts Program
All applicants must complete an application, write a 100-word essay and provide two letters of recommendation to be considered. Applicants will be interviewed and selected for entrance into the program. 
"We are committed to helping people tap into their gifts and talents through the food service industry," Rembert said. "It is our hope that these students will continue their education upon graduation at MATC."
ABOUT MATC: Wisconsin's largest technical college and one of the most diverse two-year institutions in the Midwest, Milwaukee Area Technical College is a key driver of southeastern Wisconsin's economy and has provided innovative education in the region since 1912. More than 25,000 students per year attend the college's four campuses and community-based sites or learn online. MATC offers affordable and accessible education and training opportunities that empower and transform lives in the community. The college offers more than 170 academic programs — many that prepare students for jobs immediately upon completion and others that provide transfer options leading to bachelor's degrees with more than 40 four-year colleges and universities. Overwhelmingly, MATC graduates build careers and businesses in southeastern Wisconsin. The college is accredited by the Higher Learning Commission.