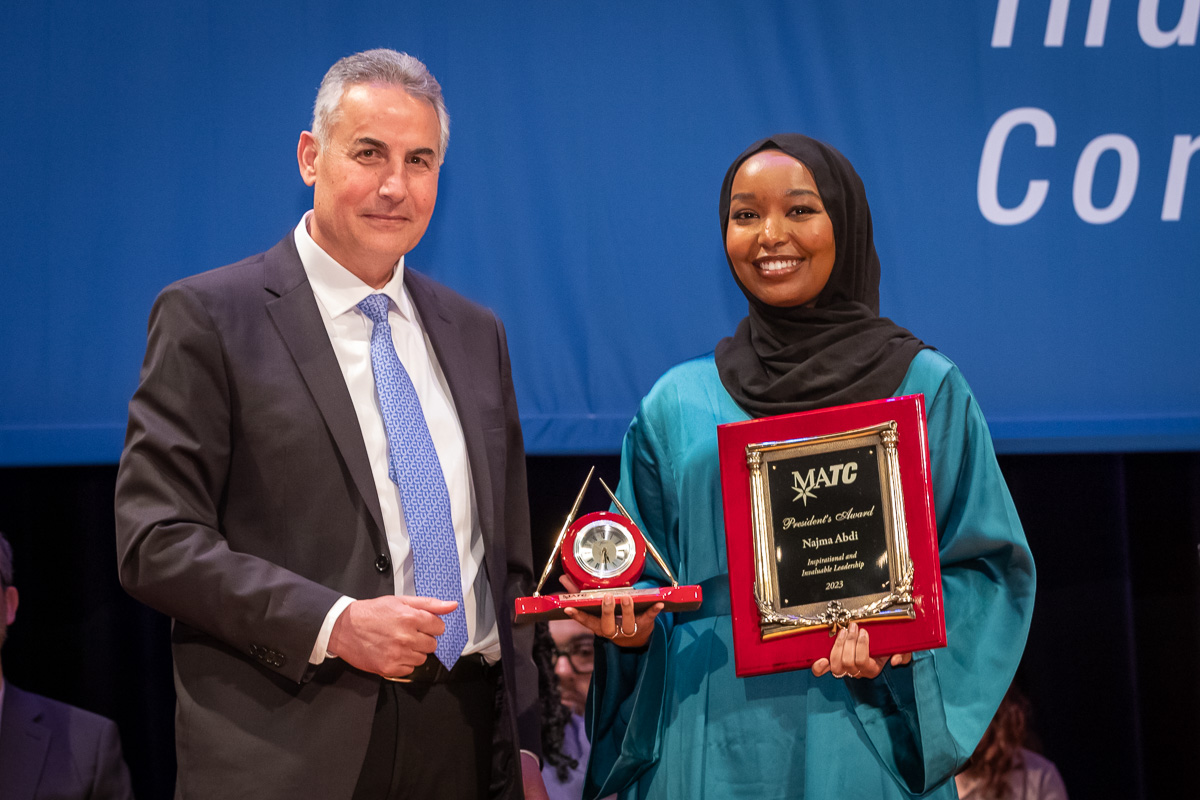 MATC is a very welcoming place with instructors who care and are very helpful. I decided to try it. One semester became two, then three and now I'm graduating.
In Arabic, the name Najma means star, as in a sparkling, celestial entity.
But growing up as the third child among six brothers and sisters, Najma Abdi seldom felt stellar.
"I was that middle child, the one who everyone thought wouldn't get anywhere in life," said Abdi, who was born in Minneapolis and came to Milwaukee when she was 8. "I wasn't smart, athletic, or outgoing like my other siblings. I tried to be the great big shiny star my family wanted me to be, but I just wasn't cut out for the job."
Then she came to Milwaukee Area Technical College, and her creativity, congeniality and confidence exploded like a supernova. Abdi flourished in the college's Web & Digital Media Design program. She served as a smiling and energetic student ambassador in the Office of Student Life. She became part of Milwaukee's growing Muslim art scene and frequently volunteered at the Islamic Society of Milwaukee.
For all her many accomplishments in the classroom and in the community, Abdi won MATC's President Award, a districtwide recognition for graduating students. The award honors the winner's academic achievement, college contributions and community involvement while at MATC.
See photos from Spring 2023 Academic Honors ceremony
"I was shocked and honored to win," Abdi said. "As a first-generation student here, I feel very proud."
Abdi's parents were born and raised in the African nation of Somalia, then fled the war-torn country for the United States in the 1990s. They settled in Minneapolis, where Abdi was born, then moved to Milwaukee.
Abdi, along with all her brothers and sisters, attended the Salam School on West Layton Avenue near Milwaukee's Mitchell International Airport.
During her freshman year in high school, Abdi's family moved to Somalia for a year. Her father wanted to show the family Somalian culture, she said. But she saw so much more on her visit.
"The country was still recovering from the aftermath of the war, and it was a bit of a reality shock for me," she said.
Yet the native people were smiling, happy and hopeful, she said. "They always told me they were blessed to see another day," Abdi said. "Then it hit me like a bucket of ice cold water: I was an inconsiderate human being. 
When I returned, I had a completely different sense of direction in life." 
She graduated high school in 2020 with honors and planned to go to a four-year college and study medicine. But after trying dental hygiene, Abdi knew her heart was in art and web development.
"I have always loved art, interior design and other artsy things." she said. She spoke to a career counselor, shifted her career path and enrolled at MATC.
"MATC is a very welcoming place with instructors who care and are very helpful," Abdi said. "I decided to try it. One semester became two, then three and now I'm graduating."
While attending classes, Abdi worked as a student ambassador in the Student Resource Center. 
"Najma is the welcoming face that students see on some of their worst days," said Cheryl Smith, an administrative assistant at the Student Resource Center. "Najma believes in teamwork, she's honest, caring and respectful." 
Last summer Abdi served as intern at Fanana Banana, a Milwaukee artist collective that exhibits sculpture, fine art, photography and collages. The group is operated by artists Nayfa Naji and Amal Azzam, who put together the city's first all-Muslim and Middle Eastern or North African (MENA) exhibition in 2019. 
At Fanana Banana, Abdi made schedules, wrote letters, filed papers and prepared program materials. The summer ended, but the artists asked Abdi to stay on.
After commencement, Abdi will work on her first big project: designing a new website for Fanana Banana. In the fall, she plans to start classes at the University of Wisconsin-Milwaukee to earn a bachelor's degree in Information Science and Technology. 
Ultimately, she wants to open her own web design company.
"I want to be my own boss," she said. "I like having the opportunity to have free rein to do what I want to do. This will help me become the person I have dreamed about and hoped to be."
For some, Abdi already has reached that goal. "In Arabic, Najma has a double meaning. It means both star and brilliant," Mohammad Dakwar, Ed.D., MATC's vice president of Learning, said at the Academic Honors ceremony. "And I think she's both."   
Learn more about MATC's Web and Digital Media Design program
About MATC: Wisconsin's largest technical college and one of the most diverse two-year institutions in the Midwest, Milwaukee Area Technical College is a key driver of southeastern Wisconsin's economy and has provided innovative education in the region since 1912. More than 25,000 students per year attend the college's four campuses and community-based sites or learn online. MATC offers affordable and accessible education and training opportunities that empower and transform lives in the community. The college offers more than 170 academic programs — many that prepare students for jobs immediately upon completion and others that provide transfer options leading to bachelor's degrees with more than 40 four-year colleges and universities. Overwhelmingly, MATC graduates build careers and businesses in southeastern Wisconsin. The college is accredited by the Higher Learning Commission.