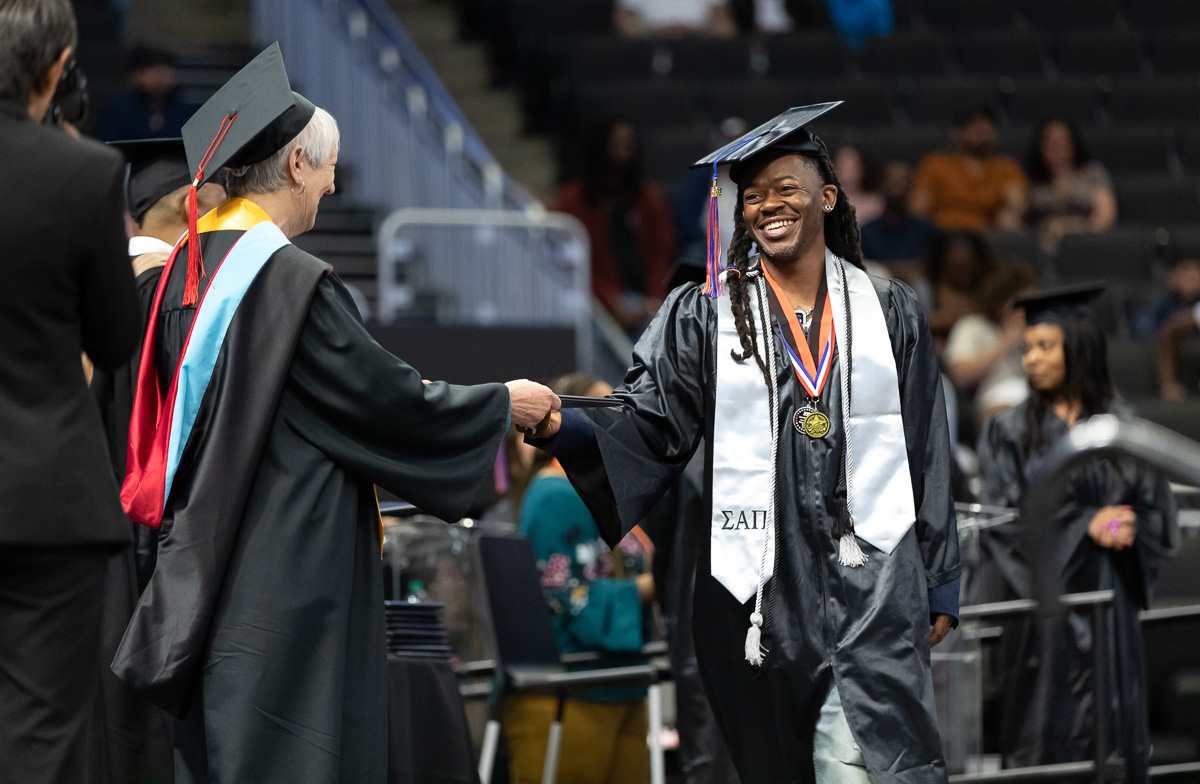 This has been a journey, a long journey, The staff, the instructors, everyone at MATC has gone above and beyond. They showed me real, tangible opportunities, and that was inspiring. This campus cares.
MILWAUKEE – For better and for worse, Jermaine House has never backed down from a fight.
Born and raised on the northwest side of Milwaukee, House eventually graduated from what was at the time called the Kilmer South Alternative High School for at-risk youth.
At 16, he found his way into the boxing ring, representing the Al Moreland Boxing Club as a featherweight at local bouts.
"Honestly, I only got into trouble when I was not boxing and training," House told the Milwaukee Journal Sentinel in 2009. "When I'm in here doing what I love to do, all that other stuff doesn't matter."
Along the way the other stuff included arrests for drug possession and disorderly conduct, stints in jail, stays in the hospital while battling a bipolar disorder, and numerous attempts to get a degree from Milwaukee Area Technical College. 
"I was making bad choices," said House, who turns 39 in August. "At the time, I thought I was doing the best I could. I've gotten so, so many chances from people who believed in not giving up on others. Now I'm seeing the fruits of these chances."
With persistence, perspective, a scholarship from PepsiCo, and perhaps a bit of innate pugilism, House earned an associate degree in business management from MATC. The college's May 21 commencement ceremony will mark the completion of an educational odyssey that started 17 years ago.
"This has been a journey, a long journey," House said with a sigh. "The staff, the instructors, everyone at MATC has gone above and beyond. They showed me real, tangible opportunities, and that was inspiring. This campus cares."
At MATC, House attained a 4.0 grade point average, led the Changemakers Fellowship, served in the Black Student Union, participated in the Men of Color Initiative program, and was accepted into the National Society of Leadership and Success. 
He also received a PepsiCo Uplift Scholarship, designed to help Black and Hispanic/Latino/a students complete degrees, technical diplomas and certificates in high-growth career areas such as business, information technology, logistics, manufacturing and transportation.
The scholarships come from a $500,000 gift made by the PepsiCo Foundation to the MATC Foundation and include financial support for tuition, fees and books; support from a dedicated MATC advisor; and access to emergency funds to help with housing, child care, transportation and food expenses.
MATC is the only Wisconsin technical college to receive the funding from the PepsiCo Foundation and one of only 20 colleges nationally. MATC's first 40 PepsiCo Uplift scholars were announced for the Spring 2022 semester and another 40 were named for the Fall 2022 semester. In 2023, 40 scholars were selected each semester for a total of 120 scholars over two years. 
"The money helped immensely," House said. "I'll finish with no loans. These days, the money makes it hard to even consider going to school. With all this support I feel like I'm getting a lot more than just a scholarship. Getting the scholarship has pushed me to do even more. I feel a responsibility to succeed because of how this school and the people here have helped me."
Among those people is MATC Student Services Specialist Kyle Hayden, who served as House's academic advisor. Hayden has been impressed with House's personal and academic character, diligence and work ethic.
"Jermaine has endured extraordinary socioeconomic, personal health, and familial loss related hardships, and he epitomizes perseverance and endurance," Hayden said. "He has displayed an exceptional level of student leadership, determination, high attention to detail, creativity and analytical thought; all of which yielded tremendous personal, academic and professional development and growth this semester."
House plans to study business at either the University of Wisconsin-Milwaukee or Marquette University. He's trying to secure an internship this summer.
He also plans to continue coaching boxing to city youngsters. In the long term, he is thinking about managing and promoting fighters and fights. In one of his MATC business classes, he drafted a plan for a company that would bring Las Vegas-style hype for local sports combat events. House said he wouldn't mind being like Leonard Ellerbe, the CEO of Mayweather Promotions, which manages boxer Floyd Mayweather.
First, though, he'll celebrate getting his degree – a victory sweeter than any success he had in the ring. 
"I sacrificed a lot, had countless interruptions, went through many changes, but it was all worth it," House said. "I'm a fighter and I will keep fighting as long as I can to make myself a better life. I'm not going to stop."
About MATC: Wisconsin's largest technical college and one of the most diverse two-year institutions in the Midwest, Milwaukee Area Technical College is a key driver of southeastern Wisconsin's economy and has provided innovative education in the region since 1912. More than 25,000 students per year attend the college's four campuses and community-based sites or learn online. MATC offers affordable and accessible education and training opportunities that empower and transform lives in the community. The college offers more than 170 academic programs — many that prepare students for jobs immediately upon completion and others that provide transfer options leading to bachelor's degrees with more than 40 four-year colleges and universities. Overwhelmingly, MATC graduates build careers and businesses in southeastern Wisconsin. The college is accredited by the Higher Learning Commission.