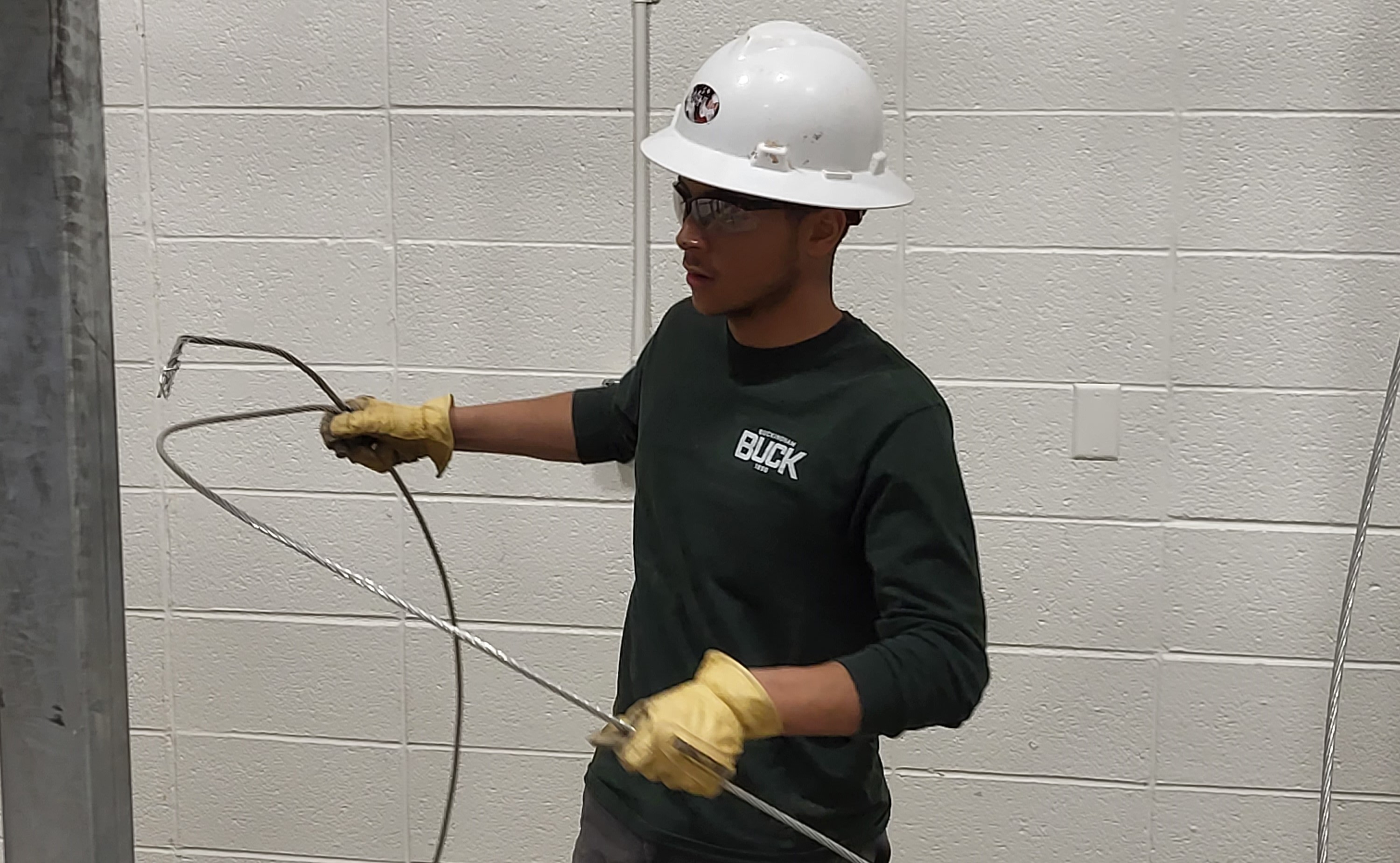 The job certainly isn't for everyone. But I think for me it will be a very, very fulfilling field. You can make really good money and learn a lot. My plan is to get hired on as soon as possible and start a really long career.
MILWAUKEE – Despite the harrowing heights, the high voltage, and the harsh Wisconsin weather, life on the line sounds mighty fine to Nathan Berrios.
For the past several years, the Milwaukee native has wanted to install, repair and maintain all-important overhead power and utility wires and cables.
"The job certainly isn't for everyone. But I think for me it will be a very, very fulfilling field," said Berrios, who graduated from Milwaukee Public Schools' Riverside University High School. "You can make really good money and learn a lot. My plan is to get hired on as soon as possible and start a really long career."
Berrios could be climbing poles as early as June 1 after completing the Electrical Power Distribution program at Milwaukee Area Technical College. And thanks to a full-ride scholarship program, Berrios will start his career with zero college debt.
In the fall of 2022, Berrios received the Ellen and Joe Checota Scholarship, a full-ride award that covers tuition, books, course fees, equipment, supplies and transportation. Unveiled in August 2022, the scholarship program helps eligible students pursuing technical diplomas and certificates earn their credentials and enter the workforce quickly. 
"It was just phenomenal that I didn't have to pay for almost anything," Berrios said. "I didn't have to break my back working extra shifts at work to pay for school."
Berrios got a taste of electrical line work at Riverside High School. In the summers before both his junior and senior years, he participated in a youth internship program with We Energies. The program pays students to learn about being line mechanics, gas technicians and design engineers.
During his first summer in the program, Berrios helped set poles and hang wires. "I was outside, I was operating all kinds of equipment. I did something different almost every day. I was never doing the same thing," he said. "I was always moving and grew to love that. Plus, the pride that the linemen had in what they did and what they do every day was something I really admired."
That admiration was so strong that he decided he wanted to join them. "I wasn't sure exactly the route I was going to take, but I knew I wanted to go into the trades," he said. "I have always been a hands-on person. I'm not a guy who can be at a desk. I can't still sit for the life of me. I also didn't want to build up a bunch of debt."
MATC checked all his boxes. In the fall of 2022, he enrolled in the Electrical Power Distribution program, currently based at the college's Mequon Campus. This August, MATC will offer the program in Milwaukee's Metcalfe Park Neighborhood, near We Energies' Metro North facility located near North 31st and 32nd streets and West North Avenue. We Energies is donating yard space, a classroom instruction trailer and a small pole yard for field instruction.
Berrios, who lives in Milwaukee, drives to the Mequon Campus four days a week for classes and works at a local Subway sandwich shop every Friday. 
After enrolling at MATC, he received an email about the Checota Scholarship program, applied, and received one. 
Find out about the Checota MATC Scholarship program
Berrios' scholarship became critical after Berrios had his car stolen last year. He said he had enough money in his savings account to purchase another car, but he probably would not have if he had to pay tuition.
"I probably would not have been in school without the scholarship," he said. "It really helped."
Berrios is in the process of getting a job with WEC. He recently completed the Construction and Skilled Trade Selection System examination (CAST), a battery of tests used to gauge an applicant's aptitude and ability to learn and process new information, which provides an indication of the likelihood of success on the job.
He also had an interview and will soon take a physical performance test to measure his physical capabilities necessary for jobs that routinely perform these tasks. 
Berrios, who has five brothers and sisters, said he will be the first in his family to earn a college degree. He'll receive a technical diploma at MATC's Spring Commencement on Sunday, May 21, at Fiserv Forum in Milwaukee.
"I hope that by graduating I can be an example to my younger siblings on how to be successful," he said. "I hope I show them what dedication and hard work looks like."
Learn about MATC's Electrical Power Distribution program
About MATC:
Wisconsin's largest technical college and one of the most diverse two-year institutions in the Midwest, Milwaukee Area Technical College is a key driver of southeastern Wisconsin's economy and has provided innovative education in the region since 1912. More than 25,000 students per year attend the college's four campuses and community-based sites or learn online. MATC offers affordable and accessible education and training opportunities that empower and transform lives in the community. The college offers more than 170 academic programs — many that prepare students for jobs immediately upon completion and others that provide transfer options leading to bachelor's degrees with more than 40 four-year colleges and universities. Overwhelmingly, MATC graduates build careers and businesses in southeastern Wisconsin. The college is accredited by the Higher Learning Commission.