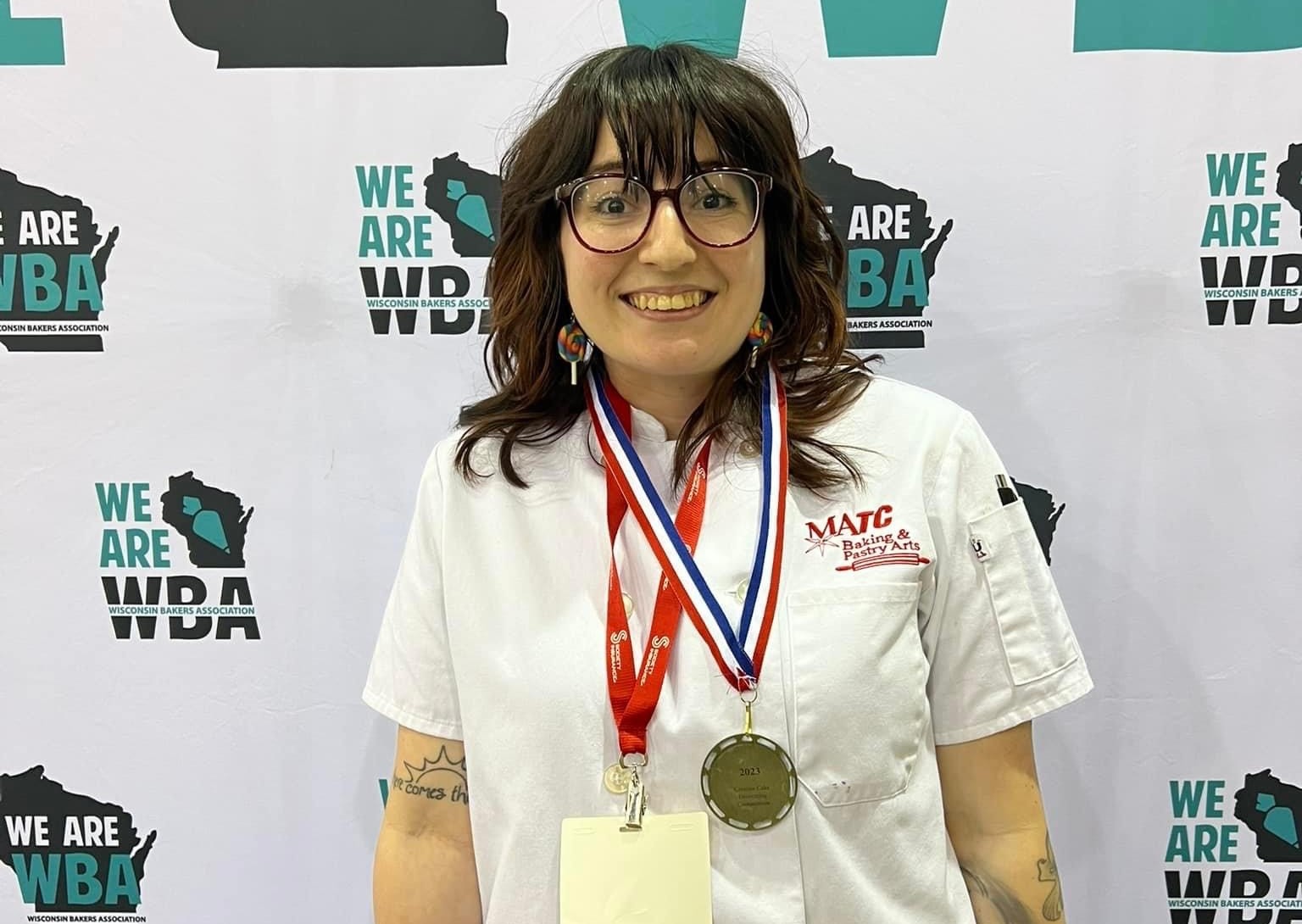 These students decided to challenge themselves, put themselves out there, and they all did a fantastic job. This was a chance for them to realize how talented they are.
MILWAUKEE – For years, baking a cake baffled and bewildered Mandy Schenn.
"I was really bad at it," said Schenn, who grew up in Fairchild in northwestern Wisconsin. "I didn't know how to frost a cake. Even my family didn't think I was good at it."
But since enrolling in the Baking and Pastry Arts program at Milwaukee Area Technical College in the fall of 2021, Schenn's baking skills have heated up and risen high. Now she's winning prizes for her creations.
On Tuesday, March 21, Schenn was one of four MATC Baking and Pastry Arts students to win medals at FreshEx 2023, a one-day, statewide food and restaurant trade show held at the Wisconsin Center in downtown Milwaukee.
At the show, the Wisconsin Bakers Association sponsors an annual baking competition. This year more than 50 entries were submitted in four categories by bakers with various skills levels, from student to professional.
Schenn and Noelia Contreras won gold medals in their categories, while Margie Story won a silver medal and Alexander Jordan took home a bronze. 
See full FreshEx contest results
"These students decided to challenge themselves, put themselves out there, and they all did a fantastic job," said Holly Baumann, chief instructor in MATC's Baking and Pastry Arts program. "This was a chance for them to realize how talented they are."
Contreras, who grew up in Milwaukee the daughter of Mexican migrant workers, spent almost a week making, baking and perfecting her brightly-colored cake that highlighted her Hispanic heritage.
"I was surprised to get the gold," Contreras said. "There's so much work that goes into making these cakes. Everything has to be edible. It can be pretty stressful."
Contreras and Schenn shared emails and photos of their progress. They also volunteered at the FreshEx show, helping out while nervously awaiting the results of the judging.
"There was definitely some strong competition there," Schenn said. "The competition gave us a chance to step outside of our boundaries and see if we could do something like this." 
Both Contreras and Schenn arrived at MATC after the COVID-19 pandemic altered their life plans. Contreras was working as a medical assistant and raising four daughters; Schenn was studying English at the University of Wisconsin-Parkside in Somers. 
Both turned to baking as a way to fill the time after the world shut down. When the pandemic subsided, they kept making cakes and pies. 
With four daughters back in school, Contreras found buying cakes for special events was getting too expensive, so she made her own. Friends, family and neighbors heard of her prowess, so she started a small cake making business.
Contreras and Schenn are among five students in the Baking and Pastry Arts program on track to graduate in the winter.
"MATC has great resources and great support," Schenn said. "It's nice to have the tools to succeed. We're learning what we need to learn for the real world in a Grade A culinary facility.
"Plus I really love showing my family and friends what I can do now, and what I am learning here," Schenn added. "For me, it's great to see the progress I have made."
Find out more about MATC's Baking and Pastry Arts Program
About MATC: Wisconsin's largest technical college and one of the most diverse two-year institutions in the Midwest, Milwaukee Area Technical College is a key driver of southeastern Wisconsin's economy and has provided innovative education in the region since 1912. More than 25,000 students per year attend the college's four campuses and community-based sites or learn online. MATC offers affordable and accessible education and training opportunities that empower and transform lives in the community. The college offers more than 170 academic programs — many that prepare students for jobs immediately upon completion and others that provide transfer options leading to bachelor's degrees with more than 40 four-year colleges and universities. Overwhelmingly, MATC graduates build careers and businesses in southeastern Wisconsin. The college is accredited by the Higher Learning Commission.