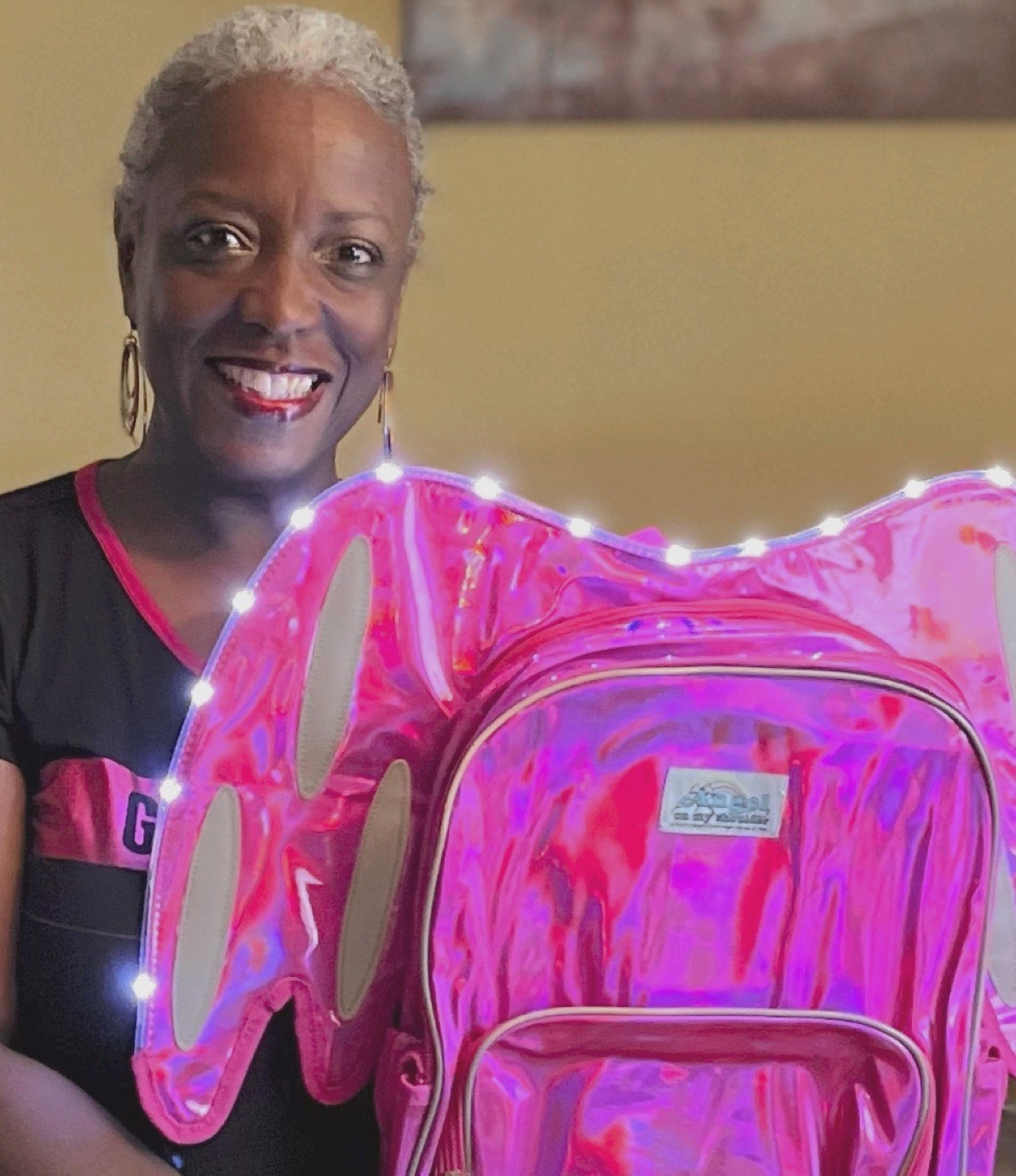 I've never done anything like this before, so I am learning as I go. There have been some bumps along the way, some forks in the road and some discouraging times, but I never once said that I would quit.
MILWAUKEE – For Kim Coleman, there are no coincidences in life.
There are, however, plenty of portents, harbingers, signals and messages that she heeds and follows.
It was several such signs that compelled the Milwaukee Area Technical College graduate and retired MATC Public Safety officer to start her own business, making backpacks trimmed with reflective material and lights so children can be visible while walking or riding in the dark.
"Everything happens for a reason," Coleman said.
Everything includes the time in 2002 when her daughter Dionna Hayden, then 19, was hit by a car outside of MATC's Student Center (S Building) on State Street. Hayden told her mother the impact launched her into the air, but she landed on the ground softly, almost gently.
"She told me it felt like angels had lifted her up and placed her down," Coleman said. 
A decade later, Coleman was driving with the same daughter and saw a boy wearing a backpack and riding a bike. A skateboard was sticking out of the backpack and Coleman, for the briefest of seconds, swore the boy had wings like an angel. 
Coleman connected the perceived wings with her daughter's accident 10 years before and decided she had received a message: Design what she calls her Angel On My Shoulder Backpack.
"I couldn't get the image out of my mind," Coleman recalled. "I felt it was ordained for me to do these bags. I went home and started sketching."
Coleman, who was born and raised in Chicago in a family of nine other brothers and sisters, was an artist at an early age. She often drew pictures of the houses across the street. In kindergarten, she created a picture of Dr. Martin Luther King Jr. on his birthday. In high school, she took an Advanced Placement studio arts class.  
After graduation, she moved to Milwaukee, where one of her older sisters lived, to attend MATC and study art. In 1990, she earned an associate degree in what was then called Commercial Art.
But as the single mother of two daughters, Coleman discovered working for MATC paid better than being an artist. So started a 30-year career working at the college, including a 20-year stint as a public safety officer. She retired in 2019.
"After seven months of retirement, I couldn't sit still," Coleman said. She took a job at a local childcare center, then she started her backpack business, which perfectly coalesced her love of children, her ingrained sense of duty to protect and serve, and her passion for art and creativity.
She completed a design and went to MATC's Entrepreneurship department to get help constructing, marketing and selling her product.
"She walked into my office and we started working on it," said Armen Hadjinian, longtime lead faculty of MATC's Entrepreneurship department. "She built a prototype out of cloth, then paid to have it done in vinyl to make it as close to the finished product as possible."
Coleman's brightly-colored backpacks have removable light-up wings and reflectors that make wearers more visible to drivers. Coleman patented the design, paying for the legal process with money she and one of her daughters earned on a game show. She had 1,000 backpacks manufactured and they were delivered on her daughter's birthday last July – another sign, Coleman said.
Customers can see her backpacks on her website www.myzoelife.com or on her Facebook page https://www.facebook.com/zoelifeangels/.
"I've never done anything like this before, so I am learning as I go," Coleman said. "There have been some bumps along the way, some forks in the road and some discouraging times, but I never once said that I would quit."
Her dream now is to make her backpacks available in stores. "Everyone who has got one has loved it. I have got a lot of positive feedback," she said. "I'm learning to be patient and trying not to be anxious. I know I was born for a purpose. I will keep holding on to my dreams and passions."
About MATC: Wisconsin's largest technical college and one of the most diverse two-year institutions in the Midwest, Milwaukee Area Technical College is a key driver of southeastern Wisconsin's economy and has provided innovative education in the region since 1912. More than 25,000 students per year attend the college's four campuses and community-based sites or learn online. MATC offers affordable and accessible education and training opportunities that empower and transform lives in the community. The college offers more than 170 academic programs — many that prepare students for jobs immediately upon completion and others that provide transfer options leading to bachelor's degrees with more than 40 four-year colleges and universities. Overwhelmingly, MATC graduates build careers and businesses in southeastern Wisconsin. The college is accredited by the Higher Learning Commission.