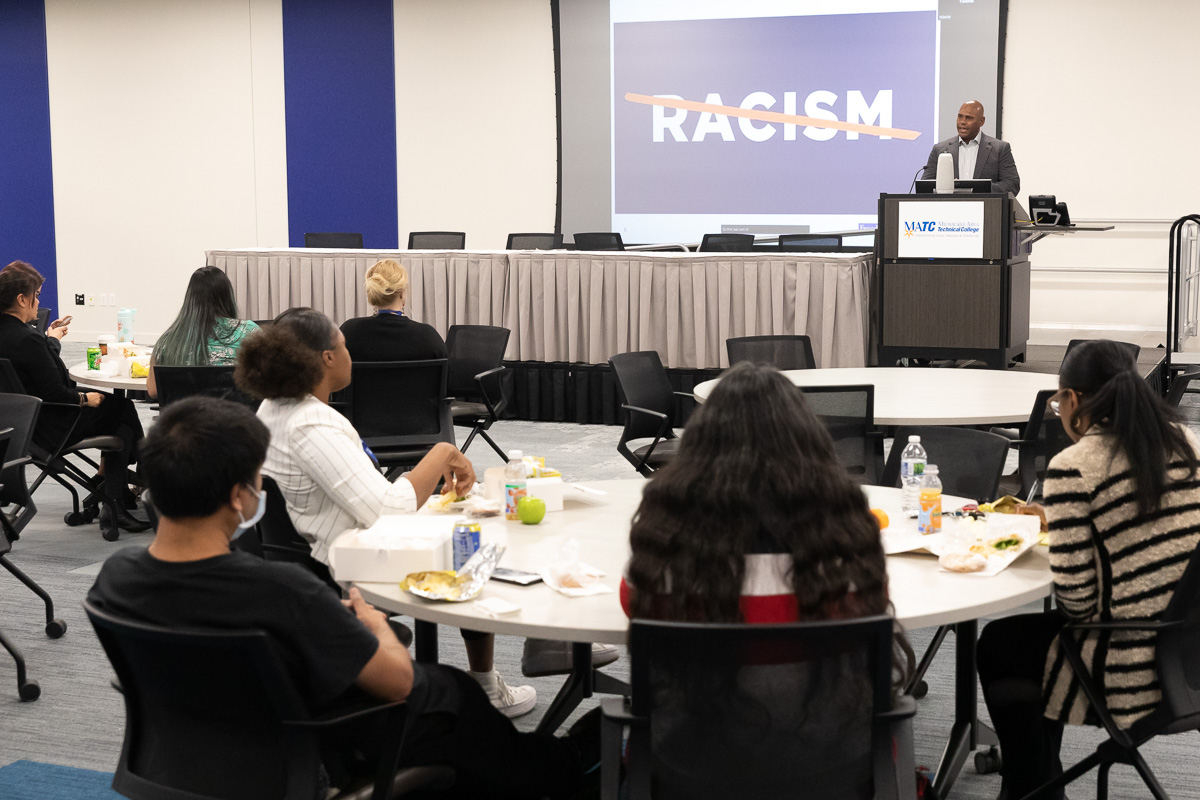 To have these conversations, we need to be comfortable with being uncomfortable. These conversations need to be transparent. We need to be vulnerable and admit words and actions can hurt.
MILWAUKEE – Playing high school football back in the day, Eric L. Conley – many times the only Black athlete on the field – was ready for anything: Being grabbed by the facemask, getting punched after the whistle, having a racial slur screamed in his face.
"My coach told me that someone at some point would call me (the n-word)," said Conley, who serves as executive vice president at Froedtert Health and president of Froedtert Hospital in Milwaukee. "I appreciated that he had the respect for me to have a direct conversation about it."
Making the world a more diverse, equitable and inclusive place takes more such honest, authentic conversations, even if they are painful, said Conley on March 1 at Milwaukee Area Technical College's Downtown Milwaukee Campus. His appearance was sponsored by the college's Diversity, Equity & Inclusion Committee. 
"To have these conversations, we need to be comfortable with being uncomfortable," Conley said. "These conversations need to be transparent. We need to be vulnerable and admit words and actions can hurt."
Conley shared his own experiences as a Black man growing up in predominantly white Erie County, Pennsylvania, attaining two college degrees, and being a leader at several large hospital systems across the country.
In high school, Conley came from one of only five families of color in the 10-school district. "I was taken out of certain classes to satisfy uncomfortable parents," he recalled. "Because I was an athlete I was accepted on the field, but not as much anywhere else. I watched and saw these things. These experiences shaped me as a leader."
He earned a bachelor's degree in hospital administration from Slippery Rock University, where he also played on the college's baseball team. He went on to receive a master's degree in health and hospital administration from The Ohio State University.
He worked for various medical systems on the east coast and the Midwest, moving up the leadership ladder. "I once was told don't ever let the color of your skin stop you from taking an opportunity, because there will be opportunities you don't get because of the color of your skin," Conley said.
Find out about MATC's DEI efforts
Conley came to Froedtert in 2018 as chief operating officer and became president in 2020. Today he manages Wisconsin's largest healthcare system: 751 beds at 10 hospitals and 45 health centers spread over seven counties. 
Under his watch, Conley said Froedtert has made a commitment to eradicate racism, has worked to hire more people of color as leaders, and has engaged minority communities about how best Froedtert can serve them.
Conley admitted that today's polarized political atmosphere has made having real conversations about race more difficult, but it's not impossible.
"When you talk to people one-on-one, when the heat is turned down a bit, something different can happen," Conley said. "When we engage people as human beings, you can ask questions about why people feel the way they feel or believe what they believe."
Conley also believes people of color should speak out whenever they feel they need to. "You can't allow fatigue to set in. We need to take any and all chances to talk," he said. "I'd rather have the privilege of talking about racism than experiencing it."
About MATC:
Wisconsin's largest technical college and one of the most diverse two-year institutions in the Midwest, Milwaukee Area Technical College is a key driver of southeastern Wisconsin's economy and has provided innovative education in the region since 1912. More than 25,000 students per year attend the college's four campuses and community-based sites or learn online. MATC offers affordable and accessible education and training opportunities that empower and transform lives in the community. The college offers more than 170 academic programs — many that prepare students for jobs immediately upon completion and others that provide transfer options leading to bachelor's degrees with more than 40 four-year colleges and universities. Overwhelmingly, MATC graduates build careers and businesses in southeastern Wisconsin. The college is accredited by the Higher Learning Commission.