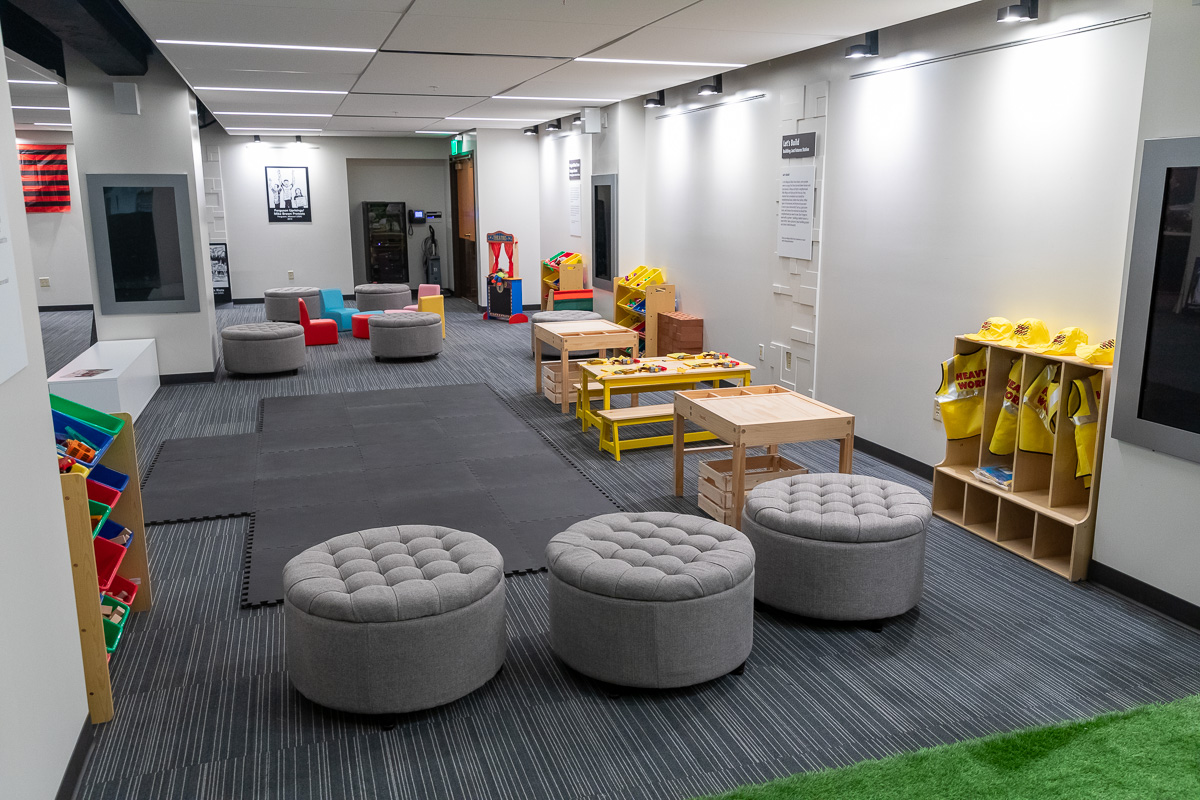 "MATC is the perfect vessel, the perfect vehicle for this message, because of our stated values and our commitment to diversity, equity and inclusion. Hosting this work demonstrates that commitment."
MILWAUKEE – Powerfully demonstrating its commitment to help eradicate prejudice and discrimination, Milwaukee Area Technical College is the inaugural host of a unique museum exhibition pilot where children can safely explore the perils of racism and learn ways to end it.
The Magical Black Tears Experience is an interactive exhibition pilot that teaches children ages 4-12 how direct action can create a more just and fair society for Black people. 
The free exhibition pilot is in MATC's Create Gallery, on the first floor of the Main Building at the college's Downtown Milwaukee Campus. Starting Feb. 1 – the start of Black History Month – the gallery will be open 9 a.m. to 7 p.m. Monday through Friday.
The exhibit was inspired by the book "Magical Black Tears: A Protest Story," written by Decoteau J. Irby, Ph.D., illustrated by Dominique Duval-Diop and published by Derute Consulting Cooperative.
Dr. Irby initially developed the concept of writing about protests in 2016 after he awoke from a dream. He sketched the storyline and put it aside until the Black Lives Matter movement grew in 2020 after the murder of George Floyd. His children increasingly asked him questions about Floyd, Trayvon Martin, Michael Brown, and Sylville Smith in Milwaukee's Sherman Park neighborhood. Most of those incidents are referenced in the book and/or exhibit.
Jacqueline Robinson, Ph.D., faculty and instructional chair of MATC's social sciences department, belongs to the cooperative and curated the exhibition pilot.
"We use museums as a tool to see and experience other cultures and other social experiences," Dr. Robinson said. "We can use them as tools to navigate a diverse society."
MATC, which last year unveiled a five-year diversity, equity and inclusion plan to improve and enhance the college community for all students, faculty and staff, is the ideal place to host this exhibition pilot, Dr. Robinson said.
"MATC is the perfect vessel, the perfect vehicle for this message, because of our stated values and our commitment to diversity, equity and inclusion," she said. "Hosting this work demonstrates that commitment."
The exhibition pilot, which is appropriate for children from all racial and ethnic backgrounds, uses interpretive tools that foster imaginative play, problem-posing and problem-solving to enlighten and inform children about the importance of direct action.
The exhibition pilot has several segments. At a creative station, participants can write protest signs, use bullhorns to voice opinions, make speeches, sing songs or recite poems. In a rumpus room, they can engage in cooperative play, work on puzzles, and play with puppets. At a building section, children can use play tools, blocks and magnets to construct things. In the magical garden, participants can plant flowers.
"The themes are all about working together, playing together and building together," Dr. Robinson said. "The lesson is we can alleviate racism in this country, but we all need to work together to make it happen."
In the book, events unfold in Maya's neighborhood and she wants to know what is happening. Her curiosity leads her on an eventful journey to find answers. Ultimately, Maya and her brother Kyle discover the magical power of everyday people taking direct action to make the world a better place.
"I want my writings to convey the broad range of Black artistic expression, education and enterprise, direct actions, and so much more that contribute to Black people's progress," Dr. Irby wrote on his website. "I hope my writings inspire people to create a more just world."
The collective hopes to turn the exhibition pilot into a traveling exhibit that can be shared by children around the country, Dr. Robinson said. "There is a lot of excitement around this exhibition pilot," she said. "That's why so many have invested so much into it."
Personnel from MATC's Creative Arts, Design & Media pathway, the General Education Pathway, the Office of Student Experience, the Office of Diversity, Equity and Inclusion, and the Printing Services Department expertly assembled and installed the exhibition pilot, Robinson said.
"Everyone, especially the Printing Services Department, has been amazing," she said.
Outside groups supporting the exhibit are the Black Child Development Institute, the Milwaukee County Office of Equity, the City of Milwaukee Office of Early Childhood Initiatives, and Embrace Improve Empower LLC. 
Robinson said there will be several events held at the exhibition pilot during Black History Month. The author is scheduled to appear at MATC on Friday, Feb. 10. She also hopes area schools will bring students to engage in the exhibit.
"This is for children, for communities, and it's accessible," Dr. Robinson said. "It's a view through the eyes of children, who are our future."
About MATC: Wisconsin's largest technical college and one of the most diverse two-year institutions in the Midwest, Milwaukee Area Technical College is a key driver of southeastern Wisconsin's economy and has provided innovative education in the region since 1912. More than 25,000 students per year attend the college's four campuses and community-based sites or learn online. MATC offers affordable and accessible education and training opportunities that empower and transform lives in the community. The college offers more than 170 academic programs — many that prepare students for jobs immediately upon completion and others that provide transfer options leading to bachelor's degrees with more than 40 four-year colleges and universities. Overwhelmingly, MATC graduates build careers and businesses in southeastern Wisconsin. The college is accredited by the Higher Learning Commission.