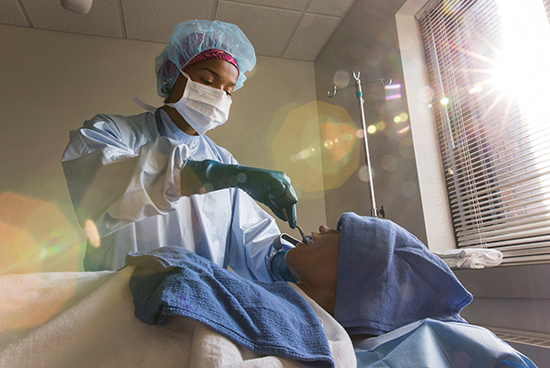 Lesha Knowles was drawn to Milwaukee Area Technical College's surgical technology associate degree program because she likes the intensity, fast pace, and opportunity to work side-by-side with physicians as they perform surgery. "Sometimes my chest is racing during surgery," she said. "I have to remind myself to breathe. But after you pass that first instrument, you know what's coming next. I love that feeling. Everyone in that room is part of the team."
Surgical technologists work in operating rooms to ensure that the room is sterile, that equipment is functioning properly and that necessary instruments are ready for use by surgeons. They also prepare the patient prior to surgery and assist with surgery.
"As surgical technologists, we try to be two or three steps ahead of the surgeons," Knowles said. "Surgeons want to reach out and have the instruments they need put in their hands without having to ask for them. So we need to understand what the surgery involves."
Knowles learned about MATC's surgical technology associate degree program while she was a certified nursing assistant (CNA) at a rehabilitation center caring for the mother of MATC surgical technology instructor Susan McNeely. McNeely's mother encouraged Knowles talk with her daughter about becoming a surgical technologist. The two connected and McNeely helped introduce Knowles to the program.
"It was a blessing to have Lesha as a student," McNeely said. "I look forward to working with her as she begins her new career. Eventually, I believe Lesha will be in a position to help train our students during their clinicals."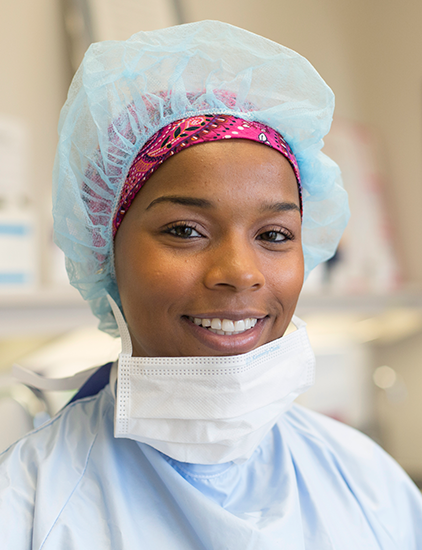 Serves on Surgical Technology Advisory Committee
Knowles currently serves as a student representative on MATC's Surgical Technology Advisory Committee, sharing feedback about the program with industry representatives and MATC faculty and staff. She is enthusiastic about serving on the committee and being in the program.
"It's great that people come together with the common goal of helping to make this program stronger," she said. "There are many jobs for surgical technologists, and instructors really try to help students find the right fit. The surgical technology program is wonderful. Hospitals love MATC grads. When someone finds out that you are an MATC student or graduate, they say, 'I know you worked hard to get here.' MATC's program has a great reputation."
Knowles' clinical rotation is at Froedtert Hospital and the Medical College of Wisconsin, where she also works as a CNA. She will graduate from MATC on Dec. 16 and begin a position as a surgical technologist at Froedtert on Jan. 9.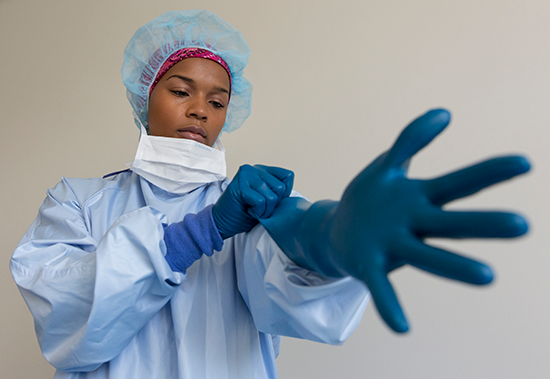 She compares working in the operating room with being part of a team or a family. Family and teamwork are extremely important to Knowles. She and her three siblings had a challenging upbringing. Their mother was "in and out of the picture" and Knowles has never met her father. Her grandfather tried to hold her family together, she said. "I loved my grandpa so much. He was the father figure in my life. He was the glue that held us all together."  
An Army veteran, Knowles' grandfather told the children stories about the military. Knowles became so interested that she joined the Junior ROTC at Bay View High School. She enjoyed learning about the military, wearing uniforms once a week and being part of the group. Again, she was drawn to being part of a team or a family. "I see the military as one big family," she said. She is considering enlisting in the military in the future.
Adopted at Age 16
After their grandfather died, Knowles and her siblings were placed in foster care or institutions. Following difficult experiences with foster care, Knowles decided she wanted to stay at St. Anne's Home for Girls until she was 18. That all changed in 2005 when she met Suzette Knowles, who was to become her second mother.
Suzette volunteered at St. Anne's while raising two young foster children. She planned to adopt a young child, but fate stepped in. Suzette and Lesha developed a strong connection. Their bond grew and eventually Suzette asked Lesha if she could adopt her. At age 16, Lesha agreed to become part of Suzette's family.
The surgical technology program is wonderful. Hospitals love MATC grads. When someone finds out that you are an MATC student or graduate, they say, "I know you worked hard to get here." MATC's program has a great reputation.
"I wasn't planning on falling in love with my adopted mom, but I did," Lesha said. "We made a family with the foster kids. There was so much love. I love how family-oriented my adoptive mom is. She is the mother you see on TV who cooks dinner and wants to be with you." When Lesha was younger, Suzette often worked nights as a nurse and took Lesha to work with her, so they could eat dinner together and she could look over Lesha's homework during her dinner breaks.
Over the years, Suzette has become an unofficial second mother to Lesha's siblings as well. They all call her "Mom" now. Lesha's biological mother also is part of their big, blended family. "Both my moms are there for me 100 percent," Lesha said.
Earned Money for College as Model and CNA
Suzette encouraged Lesha to pursue modeling while she was still in high school with the hopes of making her feel more comfortable in social situations. Lesha has participated in beauty pageants and other competitions, fashion events and commercials. Working as a CNA and modeling helped pay for college.
"Modeling gives me a little life beyond school and work. I always bring my homework along," she said. "I'll be in hair and makeup with my flash cards in my lap." Knowles knows she will eventually "age out of modeling," but for now she plans to continue some modeling while working as a full-time surgical technologist.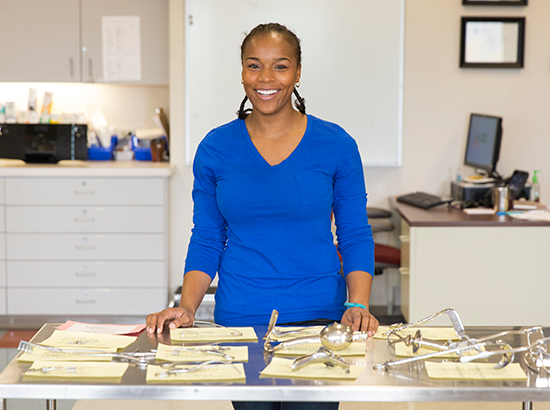 "I'm looking forward to my new job at the hospital. I love Froedtert," she said. "It's a teaching hospital. No matter how old you are, you should always keep learning."
For more information on MATC's surgical technology associate degree program, visit: http://www.matc.edu/health_sciences/degrees/surgical-technology.cfm